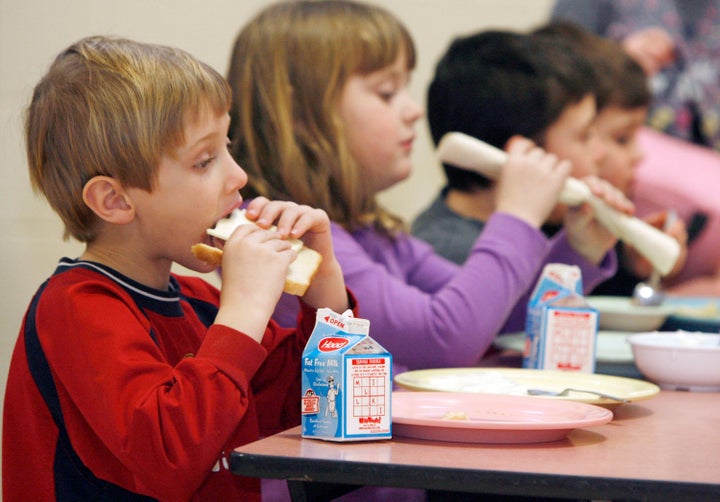 A mere day's drive from New York City, there exists a "hidden America" -- a place of beautiful mountains, family values, and such extreme poverty that many in America are astounded to learn something of this scale exists here. When most people think of poverty, they think of places like Africa and Haiti, not America. But poverty here in the United States does exist, and it is more prevalent than most Americans know or would like to believe.
In 2009, I had just launched Rockin' WaterTM a fortified children's beverage. As a mother of four young kids, I was frustrated because I couldn't find products that tasted great and were also good for my kids. So I worked with a registered dietician to develop a fortified beverage with the nutrition kids need and a taste they'll love.
Shortly after the launch, I happened to watch a special on ABC called "A Hidden America," with Diane Sawyer. As I sat there watching this special report on poverty in America, with tears in my eyes, I knew this was my calling -- with the vitamins, fiber and antioxidants in Rockin' Water, I felt we could help with some of the nutritional issues affecting children in Appalachia.
Two weeks after seeing the report on TV, I rallied my community of Old Greenwich, Conn., around this issue and got the tremendous support of the local schools, school children and families in the community. The outpouring of help was tremendous, with donations of personal care products, clothing and school supplies pouring in -- enough to fill a 50' semi tractor trailer truck full of supplies to take to Appalachia. We were on our way to Kentucky.
With me traveled my "Mom Brigade" of several other women all dedicated to the cause of helping children with nutritional education. We took 6,000 bottles of Rockin' Water to donate to the schools, food banks, community centers and daycare centers in the community of Martin County. NBC Nightly News with Brian Williams heard of our efforts and captured part of that first trip for a "Making A Difference" segment and has since been down to Kentucky with us a second time for additional stories on NBC Nightly News and the Today Show.
After a whirlwind time of being in Kentucky, driving close to 1,000 miles (in the state of Kentucky alone) on that first trip and meeting the most amazing people, I knew there was so much more to do. And that meant coming back and working with the local community to help them resolve their issues of poor nutrition and poverty. While some may find this hard to believe, we knew this was fate -- especially after Diane Sawyer was on the second leg of our trip home, a connecting flight out of DC to New York. Here we were, all the way at the back of the plane, and I looked up and saw Diane Sawyer at the front of the plane. My traveling companions thought I was hallucinating from being so mentally and physically exhausted from our past couple days. We were able to get her a note, telling her that her special had inspired a group of Moms to travel to Kentucky to make a difference. The next morning, back in my office, Diane Sawyer called to personally acknowledge our efforts.
At that time, the Rockin' Appalachian Mom Project (RAMP) a 501c3 non-profit organization, with the mission of teaching, feeding and sustaining families in Appalachia through nutrition, was born.
Fast forward two years and our idea of making a difference through nutrition education, working family-to-family, Mom-to-Mom, and kid-to-kid to teach, feed and sustain, has generated more than 14 trips to Martin County, Kentucky, with each trip bringing more nutritious food and items to help the residents there, including supplies of Rockin' Water for the schools, food banks and community centers. And to help sustain this effort, Rockin' Water donates two-cents from every bottle sold to RAMP.
The Rockin' Appalachian Mom Project (RAMP) has taken a group of Moms on each trip to Kentucky, working on a small scale to bring about real change for this poverty-stricken area. One of the major differences that RAMP has been able to accomplish is that RAMP keeps coming back. As a Mom and a businesswoman, I always keep my word, and I promised the community of Martin County that I would be back and help them.
A turning point in RAMP's work in Martin County, Kentucky came last summer when Whole Foods Market mid-Atlantic region heard about RAMP's efforts and decided to dedicate one of it's team building days to working with RAMP and coming to Kentucky to help build a large community garden and chicken coop that serves 150+ families that live in a remote hollow and rely on the Homecoming Food Pantry, one of the projects RAMP sustains. 60+ management team members from Whole Foods Market came to Kentucky, including mid-Atlantic president Ken Meyer. After a hugely successful day toiling in 90 degree weather, working with the local residents and accomplishing so much, Whole Foods Market's mid-Atlantic division took the unprecedented step and gave RAMP a two-year commitment to help RAMP achieve it's mission to teach, feed and sustain the community of Martin County.
Focusing on nutrition, RAMP has several projects currently in progress:
School Backpack Snack Program -- RAMP works with the public schools to identify children with hunger issues, and provides nutritious food in backpacks to go home with the children on weekends and during school breaks. Most of the meals these children eat are at school. When they are not at school, these children go hungry, so the Backpack Snack Program assures that the children will have healthy food to eat and will be able to start the school week each Monday healthier. RAMP currently serves 120 children at six public schools, but the need is greater than the resources, with up to 50 children at each school that could benefit from the program, and RAMP is currently looking for funding to help extend these efforts.
Nutrition Education -- RAMP is working with the schools and community centers to provide nutrition education to school-age children and their families. Some of the seminars include how to grocery shop, preparing easy, healthy meals (with produce and food products readily available in the area), canning techniques and healthy alternatives
School Salad Bars -- in conjunction with Whole Foods Market, RAMP has now installed salad bars in all six schools to serve healthy alternatives during the school lunch time.
Homecoming Food Pantry -- one of RAMP's first commitments was to the Homecoming Food Pantry to stock the food pantry with nutritious food. The pantry serves 150+ families that live in a remote hollow and do not have access to healthy food options.
Community Gardens -- RAMP has built one large community garden (and chicken coop) and is now building three more gardens at some of the public schools this spring. It is the hope that these gardens will provide healthy food options on an on-going basis for the community and help create sustainability by providing a means for the students and families growing the produce to sell excess at farmer's markets and can the food for use in the winter months.
RAMP has also brought together community leaders, educators, and other services to form a coalition to tackle these issues together. In recognition of RAMP's work, RAMP received a proclamation from the Governor of Kentucky Steve Beshear last February declaring the month of February to be RAMP month in the state of Kentucky.
A goal of RAMP's is to eventually create a food co-op program that will provide healthy food alternatives, create jobs and provide long-term sustainability in the area.
Martin County, Kentucky was selected as the first community RAMP would help. Martin County is one of the poorest counties in the Appalachian region, with 35.3 percent of residents that live below the poverty level. The average income is $22,841 -- which is at the poverty level in the U.S. And most of the families that live there have school-aged children. The prospect of jobs is grim and the access to fresh produce and healthy food is limited.
With 13,070 residents, RAMP felt like the size of the community was a feasible one to create a program that can hopefully be used as a pilot program for other poverty-stricken areas of the United States. In addition, no President since the days of Lyndon Johnson in 1964 has ever stepped foot in Martin County. RAMP would like to see this change and hopes its efforts will bring to light a problem in America that isn't going away, but one that seems to be growing.
In the meantime, RAMP and Rockin' Water will continue to do their small part in helping the community of Martin County achieve sustainable change through nutrition. Rockin' Water is proud to be a small, start-up company, one that can help bring about change through a sustainable business model of giving back to the community which it serves.
RAMP's 15th trip to the area is scheduled for May 18-19 and a group from RAMP and Whole Foods Market's mid-Atlantic region will be in Martin County planting four gardens, working with the schools on the salad bars and Backpack Snack Program, and working with the Homecoming Food Pantry and community leaders to come up with a plan for change.
Amy Guerrieri is the CEO of Rockin' Water and Rockin' Products and the founder of the Rockin' Appalachian Mom Project (RAMP).


Related
Popular in the Community