For West Virginia's biggest utility company, coal is no longer king. Rather, like many deposed regents, it's now in a power-sharing coalition.
Chris Beam, 48, the newly minted chief executive of Appalachian Power, is looking to build solar and wind farms despite favorable new coal policies coming down from the governor's mansion and the White House.
"The current administration in Washington, D.C., is very pro-coal, which is a good thing, but they run in four-year increments," Beam told HuffPost by phone last week. "The last administration was not pro-coal. So, what we try to do as a company is we try to look more long-term."
Beam, a native of Wheeling, West Virginia, who has spent 27 years at Appalachian Power, said the company plans in 20- to 40-year increments ― and looking out that far, the plummeting price of renewables makes solar and wind more attractive investments.
"Our investments have to span what could be multiple governors in the governor's mansion or multiple presidents sitting in Washington, D.C.," Beam said. "We don't get into the four-year swing based on who is sitting in what chair, but more around what is the best thing to do from our customers' perspective."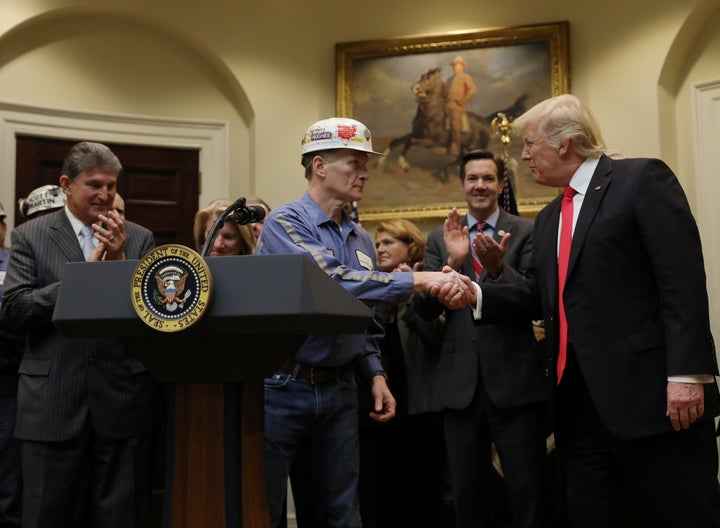 Appalachian Power already has 495 megawatts of wind energy, bolstered by its purchase of a 20-year contract for 120 megawatts last June. For now, it doesn't sell any solar energy. The Charleston Gazette-Mail first reported on Appalachian Power's plans.
Part of the company's push into renewables comes from a desire to attract more corporate customers, like Google, Amazon or Walmart, which have set goals for powering their operations with 100 percent zero-emissions energy. Beam declined to name any specific companies he's been courting.
"These corporations are setting targets that they have to meet from a renewables perspective, and that's being driven by their boards of directors," Beam said. "That's an input for us."
Appalachian Power is far from alone. This week, Virginia's largest utility announced plans to power 1.3 million Virginia and North Carolina homes with solar by 2042. Last week, Duke Energy Corporation, headquartered in Charlotte, North Carolina, said it wants to cut coal use by one-third. Even a coal museum in Kentucky went solar last month, citing it as a cheaper energy source than coal.
Still, Beam shies away from the debate over climate change invigorated by President Donald Trump, who has dismissed global warming as a Chinese hoax.
In its first 100 days, the Trump administration relaxed rules on methane emissions, lifted a temporary moratorium on federal coal leasing and signed an order to review the Clean Power Plan, the sweeping Obama-era regulation to cut emissions from the utility sector.
"We're past the argument on climate change."
To be clear, an overwhelming body of peer-reviewed research indicates that a huge increase in greenhouse gas emissions, chiefly caused by the burning of fossil fuels, is warming the planet and altering the climate. The uptick in violent storms, droughts and the rapid retreat of glaciers are already tangible symptoms of climate change, scientists say. Yet a decades-long Big Tobacco-style disinformation campaign orchestrated by oil and gas interests means there's still a political debate over the issue.
The swift collapse of the coal mining industry over the last decade has also led to political sparring. Coal was once the economic engine of Appalachian states like West Virginia and Kentucky, but demand has plummeted as cleaner-burning natural gas ― made cheap by advancements in hydraulic fracturing, or fracking, technology ― has become the go-to fuel for the utility sector.
Coal's decline was hastened by a nosedive in demand from China, which until 2012 purchased U.S. coal at a rapid pace to fuel its booming steel industry and double-digit economic growth. As China shifts away from coal, laying off thousands of its own miners, demand seems unlikely to return anytime soon, if ever.
But coal executives and their mostly Republican allies, including Trump, have blamed environmental regulations for coal's decline, saying the Obama administration waged a "war on coal."
Rules like the Clean Power Plan certainly didn't help, but the coal industry was crowded out of the market, not suffocated by regulations ― as everyone from the libertarian magazine Reason to billionaire Bloomberg L.P. CEO Michael Bloomberg to coal companies themselves agree.
As energy issues become even more politicized, Beam said he prefers to avoid the debate altogether. But he should have significant support for investing in renewables: Fifty-four percent of West Virginia adults believe global warming is already happening, though a little less than half recognize that it's mostly caused by human activity. Seventy-five percent support funding research into renewables, and 67 percent favor regulating carbon dioxide as a pollutant.
"We're past the argument on climate change," Beam said. "What we're trying to do is the right thing for the environment. We believe reducing our CO2 footprint is a good thing to do."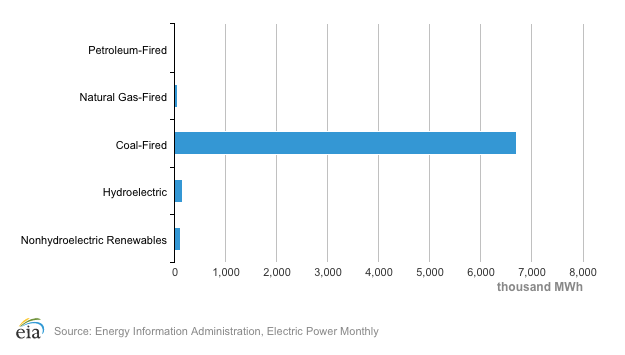 Yet even as more energy sources come into play, coal still reigns supreme in West Virginia. In 2014, 95.5 percent of the state's power came from coal-fired plants, and that ratio hasn't changed much over the last three years.
"We still burn a lot of coal," Beam said. "We are also pro-coal. We don't want anybody to lose sight of the coal facilities we have."
"We're not saying we're going to walk away from that," he added. "But the thing is, as we solicit the market, we're starting to see wind and solar be competitive with natural gas and coal. And price is always going to be a very high determining factor."
Popular in the Community