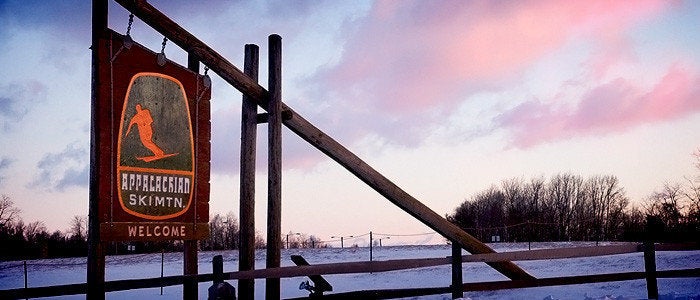 Appalachian Ski Mountain in North Carolina is a popular destination for skiers and snowboarders. As part of a series on ski resorts, Huffington Post Travel offers our guide to Appalachian Ski Mountain, featuring all the key information snow lovers need to know before they hit the slopes.
The Basics
The Bavarian-style resort of
is nestled in the Appalachian Mountains in Blowing Rock, North Carolina, about 90 miles northwest of Charlotte. Formerly called Blowing Rock Ski Lodge and purchased at a public auction, the family-owned lodge offers convenience and comfort, with Wi-Fi, heated sidewalks and an inviting fire in the Lodge's dining room. The family-friendly resort also offers
for first-timers as well as children's programs and an ongoing calendar of activities for all ages.
The Mountain
The skiing fun begins in mid-November at Appalachian Ski Mountain and lasts through most of March. The mountain's peak elevation is 4,000 feet, with a vertical drop of 365 feet. Since the resort is nestled in the mild climate of North Carolina, Appalachian Ski Mountain makes 100 percent of its snow, with
machines that can cover the whole mountain in fresh snow nightly. The manufactured snow on the mountain has a dry quality that allows it to last longer than natural snow.
Trails And Lifts
Appalachian Ski Mountain offers
, with three rated easy, three moderate and three difficult. The slopes are generally short and beginner-friendly, with the longest one, Orchard Run, a half-mile in length. All of the slopes are well-lit and equipped for nighttime skiing. There are three well-kept terrain parks at Appalachian Ski Mountain and six ski lifts, including two quad chairlifts, a double chairlift, two conveyor lifts and a handle-pull tow.
In The News
Appalachian Ski Mountain celebrated its 50th anniversary during the 2011-2012 ski season.
included free admission to the first 100 guests on opening day, plus the ongoing Golden Scavenger Hunt, featuring 50 items painted gold in honor of 50 years of skiing at the resort. The resort's rich history includes forming the
in 1969-70 and beginning the first extensive college-accredited program for skiing. The prestigious college drew several celebrities to the mountain, including Olympic gold medalist Jean Claude Killy, astronaut Charles Duke and the Rossignol Racing Team.
Cost
A basic lift ticket for an eight-hour pass costs $36 weekdays and $55 weekends and holidays for adults during the regular ski season and $21 weekdays and $33 weekends for seniors 60 and older and children 12 and younger. Each child 5 and younger is free with the purchase of an adult ticket. Appalachian Ski Mountain also offers unlimited yearly passes: $480 for individual adults or $735 for families of two, with a third person costing $330 and each additional person $220. Equipment rentals for skis, boots and poles are $15 to $27; snowboard and boot rentals are $20 to $31. More pricing details are available on the
. Ski and snowboard lessons cost $18 for a one-hour group lesson or $43 for a one-hour private lesson.
Apres-Ski
Appalachian Ski Mountain offers a variety of other family-friendly activities, including outdoor ice skating overlooking the slopes and the Blue Ridge Mountains and snowboarding. The mountain includes four chalets called
, with each vacation home offering its own unique charms. The 46,000-square-foot, Bavarian-inspired lodge offers dining rooms with views of the slopes and healthy and American fare. There are also nearly 100 restaurants, many of them family-owned, within 10 miles of Appalachian Ski Mountain.
WATCH: Appalachian Ski Mountain
A family of nighttime skiers hits the slopes at Appalachian Ski Mountain.