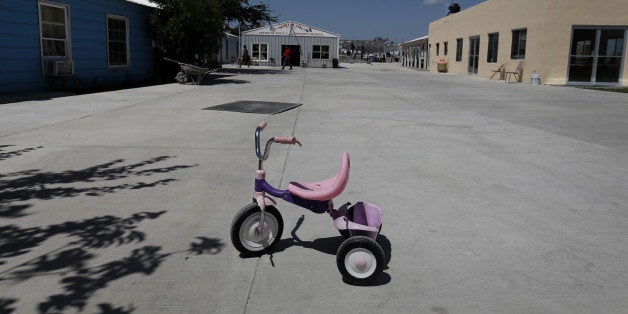 More North Americans have learned about root causes of Central American displacement and migration this summer than any other time in recent memory. We are horrified by the violence -- and feel indignant about the culpability of United States' failed drug war policy. The economic root causes, which we have heard less about, need our attention too.
The Textile and Apparel Industry has built tremendous wealth as beneficiary of the Dominican Republic-Central America Free Trade Agreement (CAFTA-DR) passed by the U.S. House of Representatives by one vote in 2005. CAFTA-DR and subsequent Free Trade Agreements changed the economic landscape in the region, turning countries into mega-enclaves of textile manufacturing for brand name apparel sold in U.S. stores. Companies that manufacture Jockey, Hanes, Fruit of the Loom, Lee, Wrangler, Adidas, New Balance and The North Face top the list.
On August 1, 2014, the Transnational Institute for Grassroots Research and Action (TIGRA) challenged the Textile and Apparel Industry's top manufacturers in Central America, the Apparel 10* to launch a multi-million dollar Fund to address the humanitarian crisis at the US-Mexico border. The Fund's purpose is to support legal representation of refugee minors in the U.S. and to ensure resources are available for Central American NGOs to help children now being deported, to safely reintegrate. TIGRA challenges the Apparel 10 to show leadership and take responsibility for the well being of families that helped create their wealth. We requested an answer within 30 days and still await a response.
The Economic Roots of the Central American Refugee Crisis
Since the implementation of CAFTA in 2005, Textile and Apparel Industry corporations have benefited the most from low tariffs on goods, low wages, relaxed labor and environmental standards, and state-funded infrastructure projects (roads, buildings, and hydroelectric dams to power their factories). This arrangement has generated $70 billion in revenue for its largest players in the region, more than any other industry that CAFTA serves according to the U.S. Department of Commerce. For U.S. textile exporters, Honduras, El Salvador, and Guatemala represent the biggest yarn and fabric markets in the CAFTA region. More than 75 percent of refugee minors come from this region known as the Northern Triangle.
U.S. Job Loss and Increased Poverty Wages in Central America
From 2000-2012, 565 textile plants closed in the United States, shedding more than 400,000 jobs. According to the Central American-Dominican Council of Textiles and Apparel, there are over 600 apparel factories in these countries, employing over 220,000 workers paying as low as $160 a month. Fruit of the Loom, owned by Berkshire Hathaway, is the largest private sector employer in Honduras. It employs 20,000 workers in Honduras and in El Salvador. A typical textile worker in the United States earns $37,000 a year. In Guatemala a worker earns $4,500 -- and in Honduras, its $2,490.
Destroyed Rural Economies and Decreased Food Security
The sector most affected by CAFTA in Central America is agriculture. Many local farmers and food producers are unable to compete with US-subsidized imports of rice and corn. With a weakened rural sector, more people look for work in cities, especially in the maquiladoras that spring up around urban centers. Less than 20 years ago, more than half of the region's population lived in the countryside; today, it's a little less than a third and decreasing rapidly. Increased competition for jobs in the maquiladoras will likely result in wages being pushed further down.
UCLA Professor and sociologist Dr. Leisy Abrego has documented what happens when families cannot survive and farmers cannot compete with low-priced food commodities that have been subsidized by the U.S. government. Dr. Abrego says workers are forced to seek opportunities elsewhere and migration becomes their main option. For her book, "Sacrificing Families: Navigating Laws, Labor and Love Across Borders," she interviewed dozens of Salvadoran parents impacted by the maquiladora state. One mother Sonia, 29 years old, was waiting to migrate as soon as her visa came through. Her own mother migrated when Sonia was 8 years old. "I have nothing here to stay for. If I work in a maquila here, I mean, I might as well work for a factory over there and make more money. Here in a maquila, you make $114 per month. That's not enough. I don't know what I'll work over there -- taking care of kids or something."
CAFTA's Link to Economic Instability and Regional Violence
San Pedro Sula, capital of Honduras (the third largest exporter of apparel and textiles to the U.S.) is the site of 122 apparel and textile factories concentrated in 23 industrial parks occupying expanses of land once suitable for growing crops. It is also the most violent city in the world based on a study by Mexico's Citizens' Council for Public Security and Criminal Justice. Government repression against human rights activists and US drug war militarization are the major factors for increased violence.
CAFTA's impact on the current migration crisis began with increased violence as a result of governments in the region implementing repressive zero tolerance policies to prepare for multinational investors. Central American countries wanted to show investors they were tough on crime with harsher replicas of the Zero Tolerance policy pioneered under former New York Mayor Rudy Guiliani and NYPD Commissioner Bill Bratton. At the time, Central American governments ignored recommendations to focus on violence prevention and intervention with social integration programs including investment and collaboration around sustainable job creation with livable wages. The ties between economic insecurity via CAFTA, resulting drug trade and violence and subsequent migration are now undeniable.
Unprotected Workers Throughout Central America
According to the Solidarity Center, "Honduran labor laws do not protect workers from the health and safety risks posed by textile factory work... The majority of clothing and textile workers are women who face particular challenges in the workplace, including sexual harassment, denial of maternity leave and forced pregnancy tests during the job application process." In one of the factories operated by multinational Korean-owned company, Kyungshin-Lear, women were forced to wear diapers "for the sake of efficiency." And Hermosa Manufacturing workers from El Salvador are still fighting Adidas for wage theft when it abandoned its factories while still owing workers $825,000.
Free-trade laws do not hold corporations accountable for negative local impacts, but people are suffering because of CAFTA-DR. The apparel industry, which has profited above all other sectors, has a moral duty to respond.
Industry Leaders Need to Show Leadership When the Political Class Can't
The United States Congress left for summer break on August 1 without addressing this humanitarian crisis. Since then, the Obama administration has fast-tracked hundreds of deportations, and some have unfortunately met the violence they flee from. According to San Pedro Sula morgue Director Hector Hernandez, 42 children have been killed since February, and one teenager shot dead hours after coming back home. The administration sends three planeloads of women and children a week back to Honduras.
According to Kids in Need of Defense (KIND), asylum seekers with legal representation are four times less likely to be deported immediately than those without. But immigrants facing deportation are not entitled to court-appointed lawyers, nor can most afford it if presented.
To respond to this challenge, the California State Legislature is considering a bill to provide $3 million to nonprofit legal groups in the state to represent unaccompanied minors. "Helping these young people navigate our legal system is the decent thing to do," says Governor Jerry Brown who is in support of the pending legislation and a standout among national political figures for showing courage on the issue. Extending this legal protection to thousands will require millions more.
TIGRA challenges the Textile and Apparel Industry to contribute their fair share.

It's the decent thing to do.
Popular in the Community