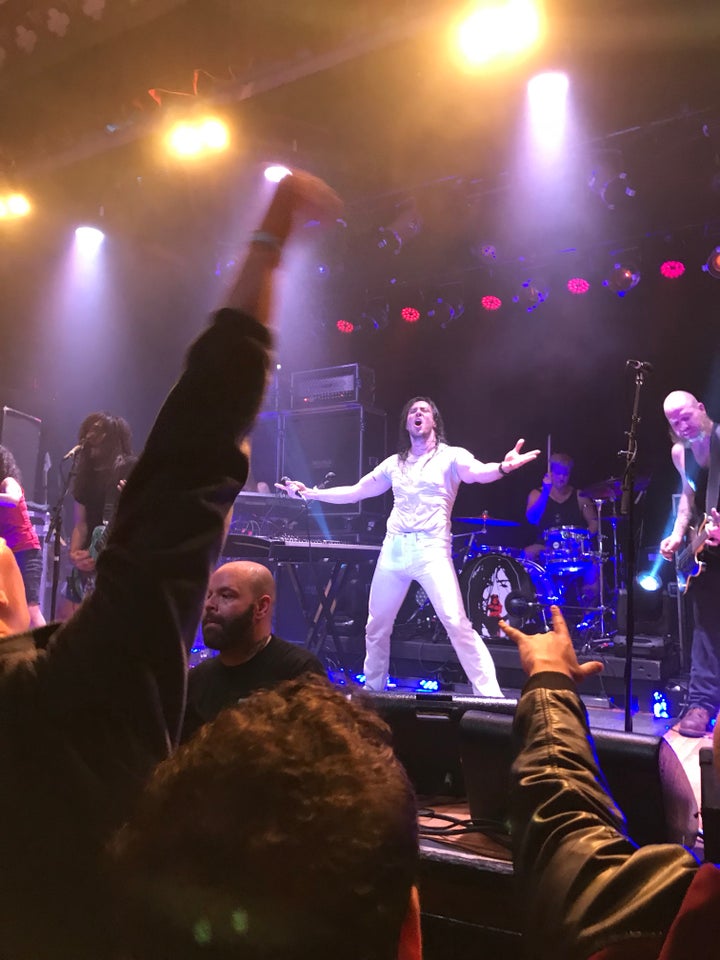 Live concerts are up there on my top five things to do. Ever. I love everything about the experience. I am fully committed as an active participant and will soak up every drop of energy a performer is ready to give. But the thing about live shows is you never quite know what will happen. When you think about, so many things have to come together perfectly for a show to have a major effect on someone. The sound, the lights, timing, communication, audience reaction... You get the point.
BUT SOMETIMES A SHOW IS SO OUTSTANDING THAT YOU CAN BARELY REMEMBER THE LIGHTING AND CAN ONLY DESCRIBE IT IN ALL CAPS BECAUSE YOU ARE STILL RIDING HIGH OFF ITS ENERGY.
Here's what I knew about Andrew W.K. before attending his show in Brooklyn on Friday the 13th: He had long hair and always wore a white t-shirt and white pants on stage. He had a song about partying hard.
Here's what I didn't know: He, and his music, are unbelievably infectious. He has the power to transform the energy and mood of every person in the room. And he puts on one of the greatest live shows I have ever seen.
Andrew W.K. does indeed sing about partying. A lot. When I wasn't jumping and crashing into the happiest strangers I have ever been around, I tried to pick up on what he was saying. His songs were about being in love, letting go of tension (and partying), having a fun night (partying together), getting along (so let's party) and working all day (partying all night). In between songs, he spoke about staying positive, about being in this together, and encouraged everyone to keep going.
"In between songs, he spoke about staying positive, about being in this together, and encouraged everyone to keep going."
While some may scoff at lyrics and guitar riffs that don't read as incredibly deep or poetic, I am now firmly convinced that Andrew W.K. could heal the damn world. My face still hurts from smiling so much. For somewhere around two hours, I let go of every ounce of stress that was piled up in my head and body. Work, deadlines, annoying people, the Trump administration, the news, and anything that I had experienced or thought about that week. And I wasn't alone.
Never have I attended a show where every single person in the room was actually happy. And I mean every one. From security guards to the back of the room, I was hard pressed to find someone not smiling, yelling with glee, jumping, or dancing. When my girl and I decided to snake our way to the front of the stage, not one person was annoyed or complained as we pushed through. At one point we were surrounded by a high percentage of men who were smiling and singing a song called "She Is Beautiful" and not one person used the crowd to act inappropriately.
"I never knew girls existed like you. But now that I do. I'd really like to get to know you." - lyrics from "She Is Beautiful"
When we made it to the front, we were part of the nicest mosh pit I have ever participated in. For those unfamiliar, a mosh pit is an open space - usually in front of the stage - where high energy and lots of body contact happens. It's bodies smashing into bodies, and it's physical and rough. I have seen serious fights break out in mosh pits. I have walked away with someone else's blood on my shirt. I have had my shoes ripped off my feet. Over the years, it's become an area that I haven't felt safe ― this space of "controlled violence" can very quickly feel like a large group of very aggressive men whose next move is unpredictable.
"Andrew W.K. could heal the damn world. My face still hurts from smiling so much."
As someone who loves to be close to the performers and in the thick of the energy, it sometimes frustrates me that I can't enjoy a show because a group of men are too powerful and intimidating to be around. I am not saying women don't join mosh pits; I certainly have. What I am saying is mosh pits typically turn into a heavily male-dominated space that can feel like they're about to lose control on one another, and maybe light a car on fire.
I have attended shows where men are not just aggressive, but have groped me or acted inappropriately. They have used the space to their advantage - if I am squished in the middle of hundreds of people, who will know if someone's hand ends up on my breasts? Perhaps one of the things I loved most about the Andrew W.K. experience was that it was the first show I have attended where the mosh pit felt more like a room of radiating happy people. Yes, we were crashing into one another. We were sweating and pushing and jumping. We were smiling and laughing and all in this crazy moment together. It was hands down the happiest room in all of Brooklyn last night.
In a time where anxiety and stress feel at a constant 8.5 out of 10, it was transformative to just let it all go for a few hours. To be in a safe space where I could use my body to connect with music, without hesitation or threat, was the greatest gift Andrew W.K. brings to the table. The man radiated good vibes and positive energy, and frankly may be spirit animal. In an interview for Meet the Regulars (trust me, you should own this book), he says,
I like the idea that everything is positive. So even the bad stuff, and sad stuff, and painful stuff, it's all part of this colorful adventure. And there's different flavors and shades of colors within in it. But if we have that overriding sense that it's a positive experience, we can appreciate all of it.
HELL YES, ANDREW. HELL. YES.
I may need to send him a personal thank you basket for reminding me that life IS positive. Yes, there have been more moments than not that feel like everything is burning and maybe humanity is hopeless. But dammit does his show remind you that we can let it go, even just for a few hours, and connect with strangers and smile and be HAPPY. The man's motto is spreading cheer by partying. And you can party in a way that is fun and not hurtful to others. It is something I understand completely and agree with, with every fiber of my body.
Do yourself a favor and go see Andrew W.K. live. The performance is a shot of endorphins, love, energy, positivity, and cheer that will leave you drenched in so much sweat (a lot of it not your own), that you could likely pee your pants and no one will know. Oh, and you will feel like YOU ARE GLOWING WITH THE JOY OF A MILLION SUNS.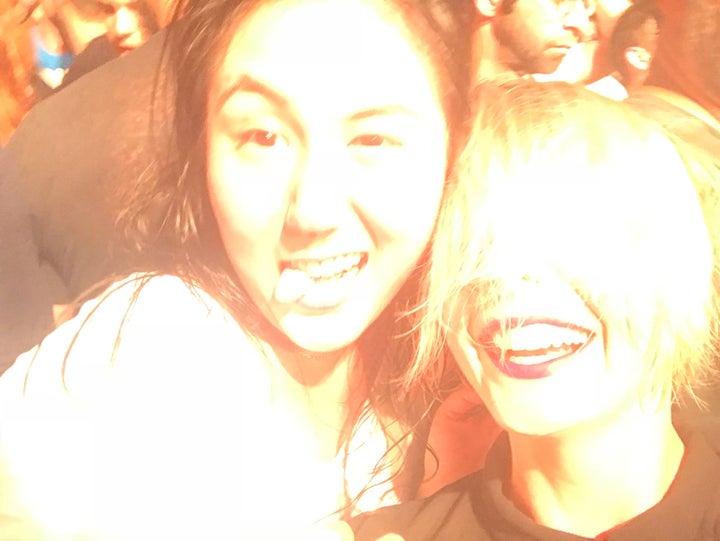 Popular in the Community