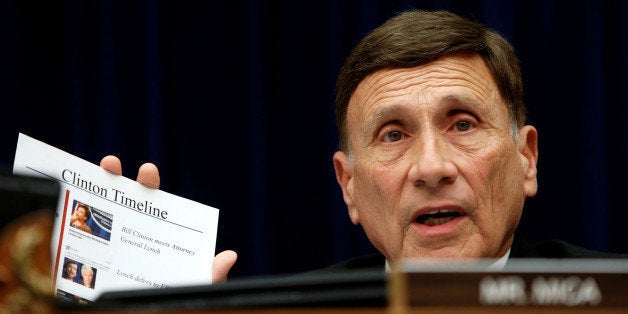 In a blatant and partisan abuse of power, The House Oversight and Government reform Committee approved a contempt of Congress resolution against Bryan Pagliano for failing to appear and discuss the setting up of Secretary Clinton's e-mail server.
Mr. Pagliano had previously asserted his constitutional right against self-incrimination before the House Select Committee on Benghazi. His attorneys advised the Oversight Committee that he would continue to assert his rights before them and even went so far as offering to do so before a closed session. But no, the Committee insisted that he appear at a public (and no doubt televised) hearing for the sole purpose of stating that he would not answer their questions. Now why would that be? There is no other explanation other than they want to have a TV moment to publicize and embarrass Secretary Clinton. If there is another valid explanation, I welcome hearing it.
Rep. John Mica-R-Fla. does offer one, but it is ludicrous. He argues that Pagliano's refusal "will destroy the committee." (I suspect many people would not be too upset if this is how they conduct themselves.) But here is the winner: "We cannot have people come here and deny the right under the Constitution for us to question them" Really? Asserting one's fundamental Fifth Amendment rights under the Constitution violates the Constitution? Congress has the right to conduct hearings, subpoena witness and hold them in contempt if they refuse to testify, but not as Paglianos' attorney said: "when political forces masquerade as proper government functions."
Will Congress ever address the problems actually facing the country or will they continue to devote their time and the taxpayers' money to trash their political opponents?
Calling all HuffPost superfans!
Sign up for membership to become a founding member and help shape HuffPost's next chapter