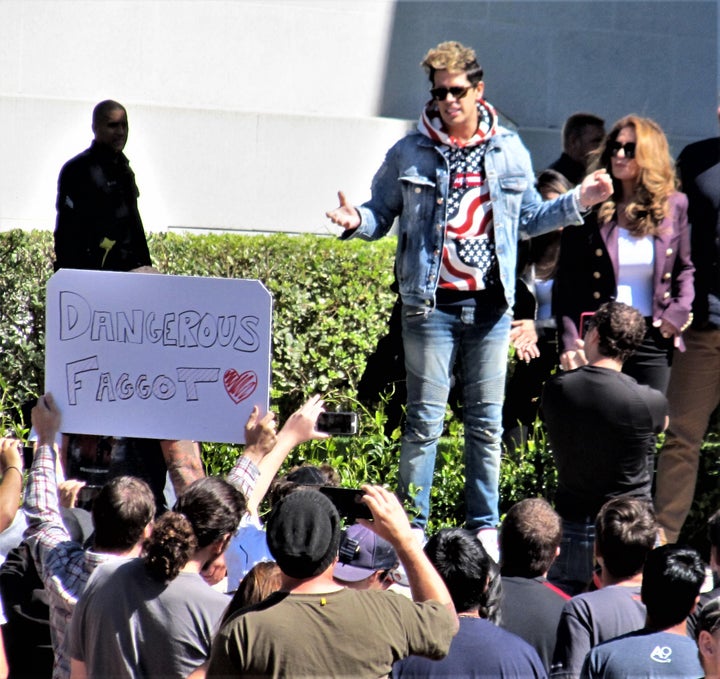 This is how Yiannopoulos' raucous exit looked. [Video credit: Paul Iorio]
Here's a clip of Milo holding signs at Sproul. [video credit: Paul Iorio]
Milo Yiannopolos appeared in Berkeley yesterday in the manner of someone who had been told by police that they couldn't guarantee him a safe exit from the event. You know how that is?  You go to a concert in a high crime neighborhood and spend the whole show worrying about leaving at midnight.  So, you leave early, very early.
Well, that's sort of what Yiannopoulos did yesterday afternoon at the University of California, where he appeared, unamplified, for a nervous 20 minutes in a cordoned-off Sproul Plaza in front of a few dozen people. 
Outside Sproul, there were hundreds of onlookers, protesters and heavily armed police.  The security was well-planned and executed by the university;  the cops were prepared for a platoon but very friendly at the same time.  (Wearing all that armor in hot weather in a potentially hostile environment and still keeping your cool is quite a feat for anyone in any profession.)
And the expensive security ― nearly a million bucks ― worked.  No riots, no fires, no major injuries, no Black Bloc militancy.  All to protect the right of an Ann Coulter imitator to press the buttons of the left, which he had and has every right to do.  Without the threat of the militant faction of Antifa, security would've cost next to nothing.    
Watching the whole thing from the western perimeter of Sproul, as I did, it looked sort of like a pricey film shoot; two dozen extras (on an otherwise empty set) surrounding the main actor. "Bye Bye Birdie" came to mind. Something high schoolish. Milo looked like an actor playing a candidate for student council president, or some such. 
Nobody in my area could hear him, but we could see him wave a flag, hold up irreverent signs, sign autographs, self-consciously mug for cameras.   
And, yes, his exit from the event was fraught with risk, as he had to walk across campus ― swarmed by activists but protected by police ― to get to his car, parked near the campus police headquarters.  
As some have noted, Free Speech Week, which this event was supposed to have been a part of, lasted only 20 nervous minutes.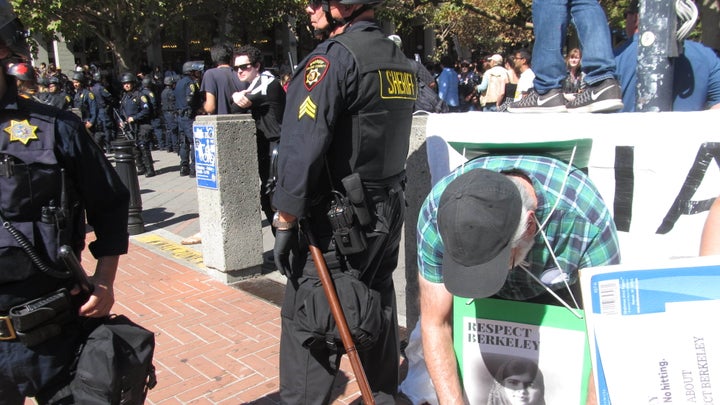 REAL LIFE. REAL NEWS. REAL VOICES.
Help us tell more of the stories that matter from voices that too often remain unheard.