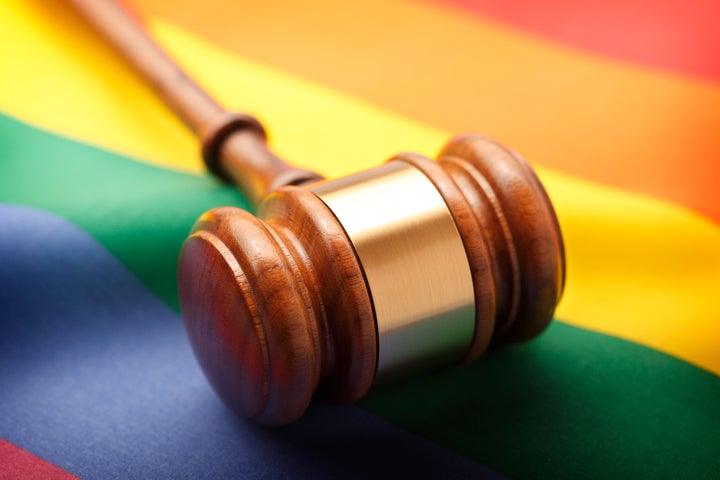 A three-judge panel of the 5th Circuit Court of Appeals this week lifted a lower court injunction that had stopped the implementation of what many legal observers and LGBTQ activists view as the worst, most dangerous legislative attack on LGBTQ people yet.
The law allows for businesses and government employees to decline service to LGBT people, and that includes bakers, florists, county clerks and even someone working at the department of motor vehicles, based on religious beliefs. It allows for discrimination in housing and employment against same-sex couples or any individual within a same-sex couple. Businesses and government, under the law, can regulate where transgender people go to the bathroom. The law allows mental health professionals and doctors, nurses and clinics to turn away LGBT individuals. It also allows state-funded adoption agencies to turn away LGBT couples.
The law could have a wide impact beyond LGBTQ people as well, allowing for broad discrimination against many people. According to Americans United for the Separation of Church and State, under the law:
a government clerk could refuse to issue a marriage license to a couple because one person had been previously divorced;
a taxpayer-funded adoption agency could refuse to place a child with a happy and loving family because the parents lived together before they were married;
a taxpayer-funded organization that provides shelter to kids who have suffered child abuse could turn away a pregnant teenager;
a counseling group practice could refuse to see a mother and her teen who is experiencing severe depression because the woman is unmarried;
a counselor could refuse to help an LGBT person who called a suicide hotline;
a fertility clinic could refuse to treat a veteran and his partner because they are not married;
a car rental agency could refuse to rent a car to a same-sex couple on their honeymoon; and
a corporation could fire a woman for wearing pants.
U.S. District Judge Carlton Reeves had ruled the law unconstitutional ― a violation of the Establishment Clause ― in July of 2016 in a consolidated case, the plaintiffs in which included the Campaign for Southern Equality and LGBTQ-affirming churches and ministers. He issued a preliminary injunction. The 5th Circuit this week lifted that order, in a unanimous decision of the three-judge panel. Judge Jerry Smith, writing for the court, basically argued that the plaintiffs do not have standing because they have not yet experienced discrimination ― which, of course, wouldn't happen until after the law is in effect, which makes it a bizarre ruling:
The Establishment Clause is no exception to the requirement of standing. It is not enough simply to argue that there has been some violation of the Establishment Clause; The plaintiffs claim they have suffered a stigmatic injury from the statute's endorsement of the Section 2 beliefs. That stigma can be a cognizable Establishment Clause injury, but even such stigmatic injury must be concrete and particularized.
The court allowed that "a future plaintiff may be able to show clear injury-in-fact" but until then it did not see discrimination. That's appalling, since the law on its face is all about discrimination and exclusion.
Roberta Kaplan, lead counsel in the Campaign for Southern Equality's case and the attorney who successfully argued against the Defense of Marriage Act before the Supreme Court, issued a statement saying she would seek to have the entire circuit court hear the case, an "en banc" review.
No matter the outcome, the case will likely be appealed to the U.S. Supreme Court (which, of course, may or may not take it up).
In its 2014 Hobby Lobby decision, in which the Supreme Court ruled that the arts and crafts chain, and thus any closely-held corporation, could refuse to offer certain forms of contraception in its employer health care plan based on the religious beliefs of the owners, Justice Anthony Kennedy, in his concurrence, appeared to limit "religious liberty" claims in a way that some LBGT legal experts believed would protect LGBT people and other groups from discrimination.
The high court had in that case affirmed a decision by the 10th Circuit Court of Appeals. But Neil Gorsuch, who then was a judge on the 10th Circuit and wrote the Hobby Lobby decision, unlike Justice Kennedy later on, was very broad in his decision favoring "religious liberty," offering no caveats, prompting Lamda Legal to deem him "unacceptable" and "hostile" to LGBT rights. For that reason he's been viewed as a threat to LGBT rights on the Supreme Court, even though some of his former clerks and friends are gay and have implied he would protect LGBT rights.
Thus, this could be a test for the Supreme Court and the issue of religious exemptions to LGBT rights, as well as the first indication of the reach of Gorsuch's view of religious liberty.
Popular in the Community