A couple of weeks ago I went to see An American in Paris with a friend who was only in town for a few days. During the curtain call, instead of applauding for the ensemble, he had taken out his phone, powered it on and began gathering his belongings. I snapped: "APPLAUD." He promptly obliged. Afterwards I calmly, in a non-accusatory manner asked him why he didn't applaud right away. I expected the answer to be akin to: "I needed to check work email." That stuff happens. Instead he said: "I don't know why you care, it's not like any of them did anything special. None of them really stood out." Seriously. I replied: "Wow, you are the worst human being. You're never going to the theater with me again." I realize perhaps the first sentence was an overstatement, but I will keep my word on the ban. You see, to me, the ensemble is super important.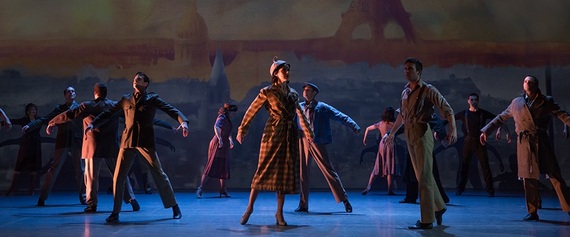 The actors in the An American in Paris ensemble for the most part aren't paid to stick out. It's not a show where there is a lot of ensemble shtick. There is no room for a very campy ensemble member. There might be a dancer or two that make an impression because his/her grace is more apparent, but it isn't a show where you are constantly seeing the personality of the ensemble. The ensemble is paid to dance precise routines and contribute to the overall beauty of the show. They are magnificent. We're talking about a show that is almost constructed from a series of elegant stage pictures. One ensemble member is off, it destroys the mood. It's not funny like if it happens in Cats. It's bad. So Caitlin Abraham, Kyle Brown, Attila Joey Csiki, Megan Dickinson, Ashlee Dupré, Laura Feig, Kurt Froman, Stephen Hanna, Derek Hanson, Dustin Layton, Marina Lazzaretto, Cory Lingner, Nathen Madden, Gia Mongell, Christy Morton,Charlotte O'Dowd, Candy Olsen, Kristin Piro, Rebecca Riker, Sam Rogers, Shannon Rugani, Bradley Schlagheck, Jeffrey C. Sousa, Sam Strasfeld, Charlie Sutton, Tory Trowbridge, Mindy Wallace, Allison Walsh and Scott Willis you have my heartfelt thanks. I hope everyone who hasn't seen An American in Paris heads to the Palace to see you all (and the principals) before the show closes on October 9.
The ensemble of a show is so elemental to the magic of the theater. It's odd. In television and movies "the ensemble" is often thought of as a group of principals. Sometimes in the theater we refer to an "acting ensemble," but generally in the theater the term has taken on a connotation of "less than." These are the people that don't have a character name. They exist in both plays and musicals though somehow in plays a name like "neighbor" or "townsperson" usually manages to get attached. In musicals it is often a list of folks after the word "Ensemble." They are on something called the "pink contract" and for those that have been on a white contract the move back to a pink contract might be as scary as getting pink gum on Christian Louboutins.
Not everyone in the chorus dances--there are indeed some musicals (à la Fun Home) where almost no one dances--but I'm going to focus on dancers. These people are working hard. Most of them deserve applause, as I believe 99.9% of the world recognizes. (Note that I do not believe in applauding vigorously for every show or performer, so each individual audience member should make the decision on whether the product is worthy of applause. I simply do not agree that decision should be based on some ridiculous belief that the moniker 'ensemble' means you aren't doing anything special.)
A few months ago, Britney Spears blatantly lip synced at the Billboard Music Awards, but the world excused it because, Britney, and because of her supposedly amazing dance moves. Now Britney Spears is a great dancer for a pop star except she wasn't singing. When the world kept going on and on about her dancing, I thought: "I'm venturing to bet if there was a Lip Sync Battle between her and a Broadway dancer the Broadway dancer would kick her ass." When you go see a Broadway show, with the possible exception of maybe Matthew Bourne's Swan Lake, you aren't necessarily going solely for the dancing. It's not like going to see the ballet where that is your definite focus. In fact big dance solos are almost always absent from modern musicals. But just because there isn't a dream ballet doesn't mean dance isn't extremely, immeasurably important to most musicals. No one would argue with that fact--everyone in an audience would admit that a show's choreography is a huge part of that show. So why don't those same people all recognize how critical having the right dancers is? I know some do acknowledge this, but sadly not everyone. Clearly not even all my friends.
I'm always watching the ensemble. This little photo of my nephew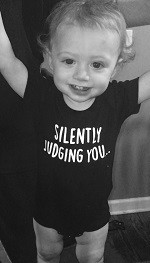 to the right in the onesie I bought him represents me watching the dancers in every big Broadway musical. As an audience member, who is by no means an expert on dance of any sort, I can tell when an ensemble is under-rehearsed or doesn't care. A few years back I saw The Phantom of the Opera and the principals were great but some of the ensemble members couldn't get "Masquerade" down. We're talking about a number where the dance involves a twirl, a kick, a few stomps and Vogueing and, yet, it was dismal. A while into some runs it almost feels like someone in charge stops caring. In musical comedies many in the cast--principals as well as chorus--get broader, which often leads to a seeming sloppiness. So when I went to see the final performance of Heidi Blickenstaff, Christian Borle, John Cariani and Kate Reinders in Something Rotten! and I thought the ensemble (which featured at least seven new members since opening) was looking great, I emailed the press agents to tell them. Because everyone in the show, not only the boldface names, make a tremendous difference to my enjoyment of a show. Sometimes what the leads are doing isn't all that interesting.
After I leave a musical I often loudly judge the principals; most times the judging of individual ensemble members remains silent. I don't go backstage, I don't wait after or immediately post something somewhere. I am noting everyone however. I'm pretty face blind (one of my closest friends claimed it took me three minutes to recognize him at a party), so it's not that I immediately know who each person is, but I spot people I like and then I look at the Playbill at intermission and remember what else I know that person from. If no one stands particularly out I remember general statements such as "great ensemble" or "bus and truck ensemble."
A couple of months ago I filled in teaching a college course on musical theater. The students had read some of my stories and asked me what inspired them. (They did their homework. A few asked me about composers I've written about over the years. One student asked me about a Los Angeles Times story I barely remembered writing on understudying in the John Doyle production of Sweeney Todd. That was inspired by a conversation with Donna Lynne Champlin. I'm fairly sure she wouldn't remember it either.) One student asked me what inspired my New York Times piece last spring about veteran ensemble members. The concept of that story came about because of something my friend Billy said, the odd things that interest me and Cameron Adams. There was a time when Adams might not have been in it--there were many wonderful people to consider and often a story morphs from initial idea to pitch to print--but the idea likely would not have existed without her. I was sitting watching rehearsals for The Unsinkable Molly Brown in Denver. There wasn't a ton of dancing in that production, so it honestly had nothing to do with her dancing in that show. It had to do with me remembering that the first show I saw when I got my first job as a theater reporter was The Music Man, featuring a young Cameron Adams in its ensemble. Then I started thinking about how many things I had seen her in through the years. She always stands out to me, partially because she doesn't have what we think of as a stereotypical dancer look but mostly because she is consistently great and always seems like she is having a good time. I saw her in a small scale revue at the York, but most of the shows I have seen her in were pretty dance heavy. I get winded if the elevator is broken in my apartment building and I have to walk five stories, so I began to think about how hard it must be for people to have the stamina to be a Broadway dancer after over a decade of being a Broadway dancer. I have a lot of friends who are barely-dancing actors, but I don't have dancer friends. (I don't know why. Perhaps it is my insistence on eating ice cream for meals and the fact that a big benefit of being friends with me--maybe more than my sparkling personality--is delivery of homemade baked goods, which is often dicey for any actor, let alone dancers.) So I legitimately had no idea what it took, mentally and physically, to be that good for that long.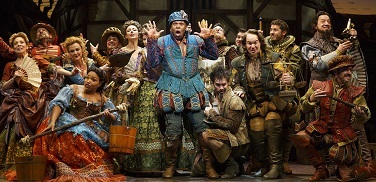 Each of the four people in that story--Adams, Lisa Gajda, Grasan Kingsberry and Sutton--were people I remembered watching in the ensemble of shows for years. Other outstanding veterans considered included (and I'm doing this from memory, I'm sure there were more): Aaron J. Albano, James Brown III, Paul Canaan, Paula Leggett Chase, Colin Cuniffe, Stacey Todd Holt, Angie Schworer, Eric Sciotto, Sarrah Strimel and Dennis Stowe. They are all delightful performers. I wholeheartedly applaud each of them. Schworer--who amazingly made her Broadway debut in 1991--is so well known that right now she can be seen in Atlanta playing a character tailored for, and based on, her in the world premiere musical The Prom. Also when I was outside Something Rotten! once someone asked her to sign a board with a montage of Angie Schworer photos. It was quite something.
And that is a nice thing: we are living in a world where more people know the names and personalities of individual chorus members. All the big Broadway websites do features on chorus people. The Ensemblist podcast exists to feature ensemble members as does the Broadway's Backbone podcast on BroadwayWorld (which I take it is a sort of similar podcast). Cameron Adams has a freaking Broadway trading card with a drawing of her on it. Actors' Equity Association has an "Outstanding Broadway Chorus" award which is given to the actors in the chorus of one Broadway show per year. Some other theater awards include similar recognition. This all gives fans of Broadway a greater chance to know the people on that stage that often go without individual accolades.
However anyone listening to The Ensemblist podcast was likely already loudly applauding for the ensemble before that podcast existed (if they were old enough to attend much theater before that podcast existed). It is incumbent on the rest of us to remember--and to tell our friends--how significant an impact those individuals have on creating the experience of a Broadway show. You can have great leads but a crappy ensemble will make it all seem messy. When an ensemble is off its game, the show suffers to an extraordinary degree. On the other hand, I hate horrible shows less when the movement is impressive.
So to all the good Broadway dancers out there (and you know who you are), your work is valued. It's not always going to get the most applause or a standing ovation but it is nevertheless impactful. I'm sure most of you know this. I'm sure you don't need some writer who can't run a mile telling you. I'm simply hoping that everyone else recognizes it along with you.
If you want to contact me, you can find me on Twitter @CaraJoyDavid. I also welcome emails at carajoy@gmail.com. Please do not send me a Facebook message if we are not friends on Facebook. I will not see it.
Photo of the original An American in Paris ensemble by Matthew Murphy for An American in Paris and the original Something Rotten! ensemble by Joan Marcus. Sorry replacements.
Related
Popular in the Community