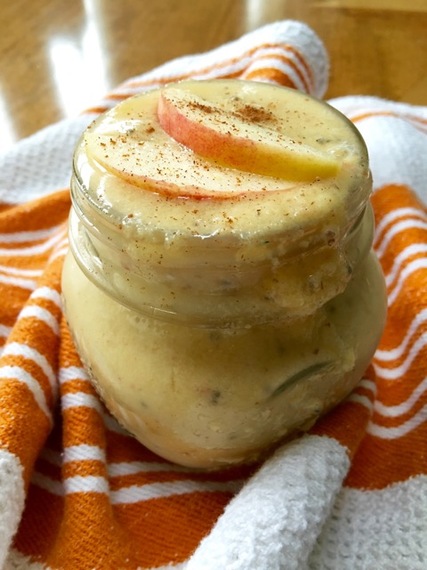 You will 'fall' in love with this easy to make all natural smoothie. It's energizing and filling enough to enjoy for a quick breakfast. We often drink it to refuel our energy stores after a moderate-rigorous workout.
The Apple Almond Butter Smoothie provides a healthy balance of carbohydrates, protein, fat, and fiber while also offering a refreshingly sweet and nutty flavor.
We recently added chia seeds to the recipe. Chia seeds promote heart and brain health. The omega-3s, fiber, and antioxidants in the seeds help to regulate our appetite, blood sugar levels, and boost our immune system-essential for weight loss and weight management.
In a blender add...
(2 servings)
1 apple (honey crisp), cored and chopped
1 mango, peeled, seeded and chopped
1 tablespoon almond butter
1/2 c almond milk
1 teaspoon flax meal
1 teaspoon chia seeds
1 c crushed ice
*top with apple slices and cinnamon
~Blend and enjoy the benefits of fueling your body healthy!
If you try this recipe let us know! Leave a comment or post a picture and tag #pronutritionkitchen