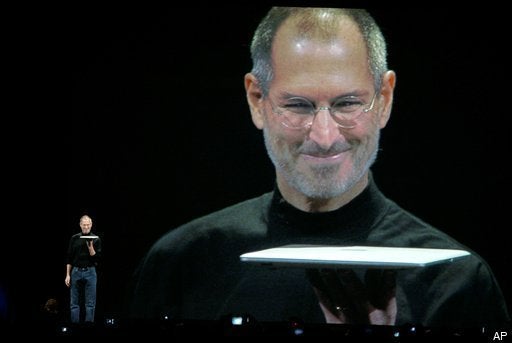 See the pictures at the end of the post!
10.06 Steve Jobs getting to the point
10.09. The sound of intense typing filling out the room while Steve Jobs is explaining why netbooks are not good
10.10 it is the iPad: people giving a big hand
10.11. the media technocrati is in the room, sucking every word Steve Jobs says in his white sneakers
10.13 Demo now - Jobs says it is more intimate to use it than a laptop. Jobs sitting on a chair and demoing the iPad
10.16 Jobs surfing on the New York Times and the Time Magazine, showing how good iPad is for reading and surfing
10.18. This is actually funny, the amount of attention the iPad gets - as if we would be enlightened by a gadget, or it would make our lives significantly better.
10.20 I'm missing the crazy Macheads in this launch: the event is dedicated only to VIPs and to press - no Burning Man style Macfans let in. Where's the good old MacCraziness? The event takes places in a smallish auditorium at Yerba Buena Center, not in a huge hall
10.28. This is a true gathering of the Silicon Valley techblogger and media experts. I spotted Walt Mossberg from WSJ's AllThingsDigital, photographer Rick Smolan from the Day in the Life, and of course, the TechCrunch star MG Siegler blogging his fingers off
10:34 Good news for livebloggers: iPad's battery life will have a batterylife of 10 hours. No worries about the scarcity of power outlets
10:38 a blogger next to me getting anxious - his macbook is running out of battery life, and there are no power outlets in our row - sorry, mate! hang on there!
10:40 oh cool. Now about the New York Times and their collaboration with iPad
10:42 maybe iPad really will make a difference in the ways how we consume news, as iPhone did? At least the NYT thinks so, giving a presentation about the NYT app for iPad
10:48 The presentation of Electronic Art got the audience a bit excited - other than that, the people don't seem to be super excited. Why is that? Is it because we are mostly cynical journalists?
10:59 Am I sensing the atmosphere right - a bit of a disappointment in the air? iPad is not so much different from iPod Touch. Can't ask anybody whether they agree - everybody is so focused on sharing the event with the world!
11:26 iBooks store is cool. So is the price of the iPad, starting from $499 - these made the audience happy
11:34 I like this by Steve Jobs: We all tried to be at the intersection of technology and liberal arts, be intuitive. So that they are easy to use, and fun to use.
11:35. Now the wi-fi started to work more seamlessly - but the event is over. Now rushing to the hands on section and getting my hands on the device.
2:26 Wow! Got my hands on the iPad. feels light, sleek, almost like a friend already. It's very intuitive to use, similar to iPhone. Good for reading. IBooks store is like iTunes, funky and easy to use
1:03 Sitting at Peet's, and pondering whether I'd like to get the iPad. Unfortunately, it doesn't fit into my Marimekko designer's handbag. Maybe I should get a new handbag AND the iPad?
1:36 Would I have a need for a new device? I'm using iPod, iPhone and Macbook already - although I'm fascinated by Steve Jobs' description of iPad giving a more intimate feel to reading and web browsing
1:52 Trying to get some pics up - especially the one showing the size of the iPad, compared to my handbag. That is the most important thing, right?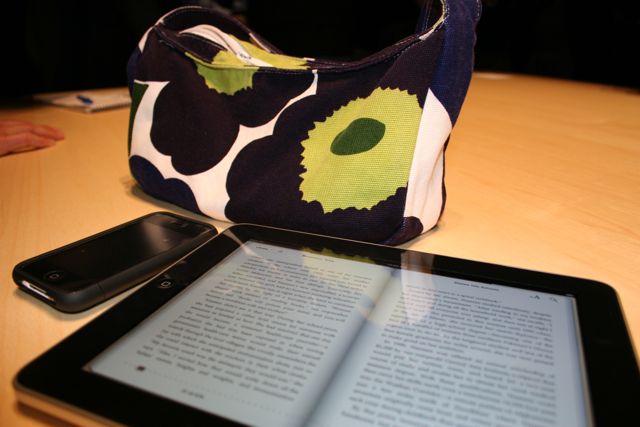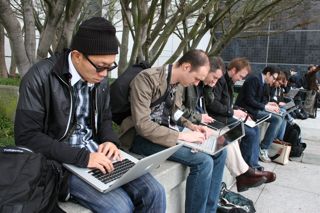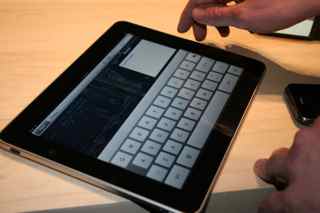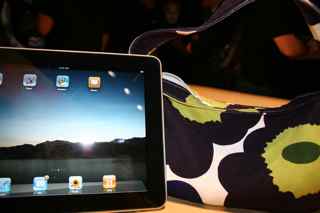 Ok, and then I'm done with this entry. More about the iPad in my post: In Bed with iPad - Getting Intimate http://bit.ly/cRY1WN
REAL LIFE. REAL NEWS. REAL VOICES.
Help us tell more of the stories that matter from voices that too often remain unheard.