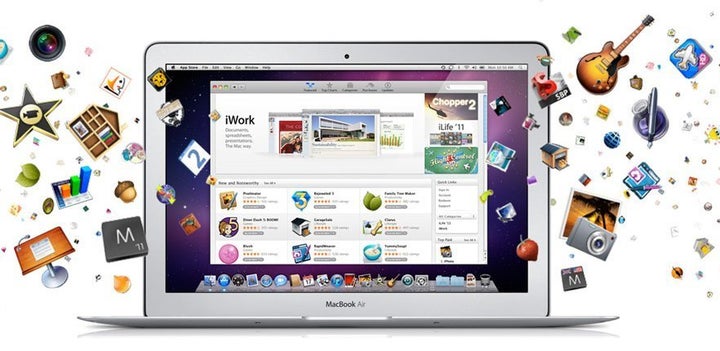 According to the Wall Street Journal, U.S. antitrust enforcers at the Department of Justice and Federal Trade Commission have begun to examine the details of Apple's new app subscription plan, which allows customers to purchase magazines, newspaper, and other content through Apple's App Store. According to "people familiar with the matter," regulators are still in the preliminary stages of examining the terms and have not yet begun a formal investigation. But the complex nature of proving antitrust violations, and Apple's own history with previous allegations, has some believing little will come of the increased scrutiny.
"Apple is still wrapped in Teflon when it comes to antitrust investigations," Jonathan Askin, a professor at Brooklyn Law School specializing in Internet law, told the Huffington Post in an email. "I'm convinced, at some point, a court will recognize the inordinate power that Apple wields over the Apple user community and define a market subject to antitrust scrutiny, but, for now, Apple seems immune from such charges."
Apple's recently-announced subscription offering has rankled content providers as it stipulates that publishers must pay Apple 30 percent of revenues earned on subscriptions originating via apps, while also mandating that sellers cannot offer the same material elsewhere at a lower price or link to stores where customers might access the same material in the apps themselves.
In accounting for the alleged antitrust probe, some speculate that Apple's subscription guidelines could be an attempt to quash competition and ensure users buy directly from their proprietary App Store on iTunes.
Apple's ability to deliver content to a large group of users who already have Apple logins and profiles containing credit card information makes it extremely simple for users to purchase subscriptions directly from Apple--content companies, on the other hand, might find it difficult to attract individuals to their own sites when Apple's App Store allows for such immediate, convenient payments. Apple's insistence that companies not offer lower prices outside of the store also encourages customers to stay within the Apple ecosystem, rather than look elsewhere.
In order to establish grounds for antitrust violations, the government would have to demonstrate Apple's dominance in the market--a case that could be tricky to prove as it would involve defining exactly which market Apple dominates. Apple's iOS operating system, which powers the iPhone, among other devices, claims 15.7 percent of the global smartphone market, its share less than that of Google's Android operating system, which commands 22.7 percent of the market. The iPad remains the dominant tablet--it held over 95 percent of the market as recently as November 2010--but the coming influx of Android-powered tablets is expected to erode its lead. Apple does, however, still rule the app market: The company has 82 percent of app market share, compared to Android's 4.7 percent.

Regulators in Europe have also begun to examine Apple's subscription plan for potential antitrust violations, but there too it seems that unlikely to amount to much.
"The boundaries of such relevant market(s) are not clear, as the sector is relatively new and evolving, as there are several comparable platforms and devices...and as the consumer demand for electronic and/or print magazines is unclear and evolving," EU Commissioner Andris Piebalgs told Reuters.
According to Bloomberg, Apple is also being investigated for allegations that they are engaged in anti-competitive behaviors in the mobile advertising market, and is also under examination by the Justice Department for their practices involving iTunes.
Even if regulators do not charge Apple, their scrutiny and concern could be enough to have a positive effect on the company's behavior.
"A little scrutiny by the Federal Trade Commission would probably go a long way to let push Apple to recognize the prospect of antitrust concern," Askin told the Huffington Post. "Every new powerful industry player is always shocked the first time the 'A' word is invoked against it, and often revised its behavior towards its community, its vendors and its competitors to stave off antitrust action."

REAL LIFE. REAL NEWS. REAL VOICES.
Help us tell more of the stories that matter from voices that too often remain unheard.