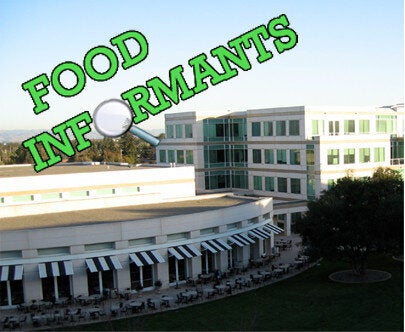 Food Informants is a week-in-the-life series profiling fascinating people in the food world. We hope it will give you a first-hand look at the many different corners of the food industry. Know someone who would make a great Food Informant? Tell us why.
"James" is an Apple employee. He works at Caffe Macs, the on-site cafeteria of Apple's campus in Cupertino, Ca. Reminiscent of Google's epic food offerings, Caffe Macs is pretty much a corporate food court dream-come-true.
Read James's diary below to learn about the amazing range of food options that Apple offers to its employees, and Steve Jobs's favorite gelato.
Monday, September 12
10:05am: Bike over to the stop and take VTA Bus 23 toward De Anza College. The trip to the Apple Campus at 1 Infinite Loop typically takes an hour. I like Mondays because, when I get to work, the fishermen Apple contracts are in the back filleting their catch from the weekend. This week: sea bass and halibut from the Channel Islands and salmon from Monterey Bay. If I'm lucky, they'll slice sashimi straight from the fish and treat some of the workers in the back with soy sauce and wasabi. Today not so lucky though.
11:00am: Clock in at Caffe Macs. My manager typically assigns where I'll be working for the morning shift on the spot, but sometimes I tend to just go wherever I enjoy working most, which is the juice bar. I grab a white apron from the back, load up a cart with organic fruits and veggies and head over to my station. Until 11:30, I'm squeezing wheatgrass shots and maybe taking one for myself each day. Each shot comes with a side of orange juice for $1.50.
11:30: All I'm doing is serving fresh squeezed juices. Our menu has three: an antioxidant juice, a carrot-ginger and a special, which is typically pineapple, papaya, or whatever fruit a chef from the back has extra of. This job gets messy. I've lost a great number of jeans and shoes due to wayward beet juice staining my clothes blood red.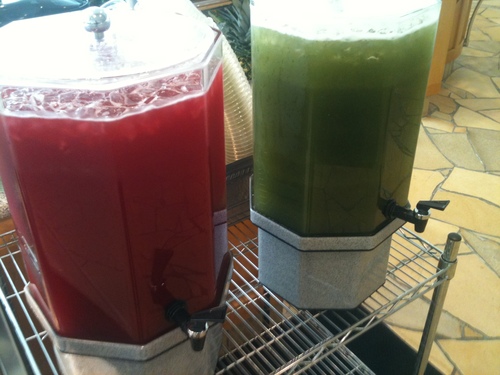 1:00pm: First break. Definitely my favorite part of the day, because it's lunch time I can eat any of the dishes. Today I picked up a seared ahi steak with a ginger lime sauce. Dishes range from $5 to $8, though Caffe Macs employees are allowed to eat most anything they want for free. I was a bit timid with the food the first day I worked here, though reading that Apple profits are upwards of $60+ billion keeps me from feeling guilty if I also pick up a burrito.
1:15pm: Finish serving juices until lunch ends at 1:30. Juice bar closes at that time as well, though the adjacent gelato bar stays open the entire day. Some days I'm told to look out for Steve Jobs, who strolls in from time to time to grab a burrito, some lemonade and gelato. My first encounter was when he came up and asked me for a crème brulee gelato in a large cup. I, thinking the task was simple enough, scooped it and asked how him how it looked. "B plus," he said with a slightly stern look, then said thanks and moved on. I only served him once more since, this time two scoops, "80% caramel pecan, 20% chocolate macadamia." Said it looked good and proceeded to pick up lemonade. I usually spend until 3:00pm cleaning the juicers and the station.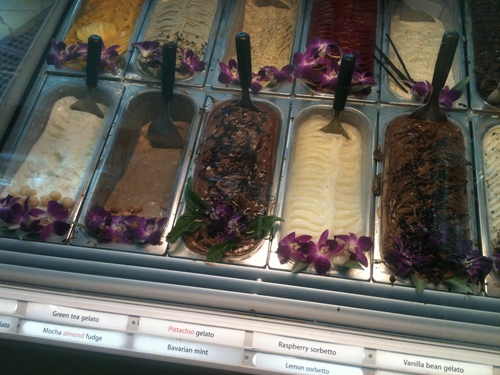 3:00pm: Lunch time. This is during the caffe's off hours, so only the salad bar, sandwich bar, maybe the burrito station and some grab n' go sandwiches and sushi are available to eat. I'm typically too full from eating the first break to eat much more during lunch, so I grab a bowl of blueberries. Even during the off hours the food seems abundant. Long trays of raspberries with buckets more in the back gets me wondering whose little hands braved the thorny bushes to populate those buckets, and how long it took.
3:30pm: Morning crew is gone, so our work force is cut by half for dinner, which starts at 5pm. This time of the day is the most tedious, as looking for something to do beyond restocking napkins and cutlery (about seven minutes worth of work) gets difficult. I typically wipe down surfaces or sometimes work the register, ringing up people for $0.50 PB & J sandwiches or coffee from the bar. Latte's are $1.75, $2.00 for a double shot.
4:45pm: Last 15 minute break.
5:00pm: I typically work the iPhone/MacOS dinner register. The company pays its software engineers up to $12 for dinner, which is typically enough for a dinner entree and a small salad from the salad bar. Some people grab 12 cans of soda at $1 each or some crazy combination of random food that adds up to that amount. My job is to scan their ID's into the system with the dollar amount of food they buy. I turn into a robot for this part of the day, adding up food prices in my head, punching them on the register, and wishing them a good night. I get the same group of people every day, but don't have too much time to make small talk. The point is to not have any line at all at my register.
7:15pm: Close the register and help finish whatever cleaning needs to happen in order to get out at 7:30. I'm typically bolting around the caffe, as getting out any later than 7:33 means I miss the 7:39 bus back home.
Tuesday, September 13
10:05am: Always catch the same bus every day, puts me in around 17 minutes before the start of my shift, enough time to get breakfast. Usually cottage cheese and blueberries, sometimes seaweed salad.
11:00pm: I'm working the smoothie bar today. Pretty easy: blend together fruit, ice, and juice. Nothing more.
1:15pm: First break. Tuesdays and Thursdays are my favorite for lunch, due to the tapas bar they have outside. Today, baked raclette cheese, marinated mushrooms, miniature octopus, salted almonds, and some fish pastry. Delicious.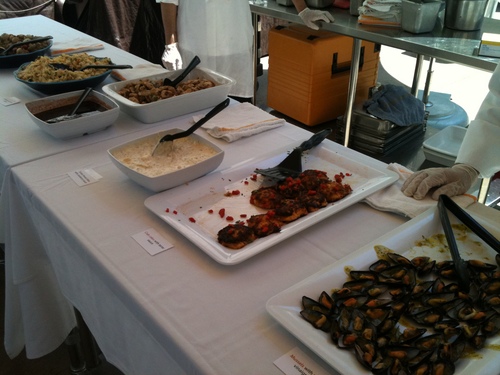 1:30pm: More register, though the crowd dies down significantly at this time. It's usually the same people that come in for coffee or Red Bulls. Everyone's pretty friendly, though I routinely get people who assume that, because I work in a service job, I must be too uneducated or unqualified for "full-time office jobs." Actually, my job at Caffe Macs is full time, and I have my BA in Linguistics, speak three languages and am working on my MA. Though I definitely don't mind making $12 an hour doing mindless work (some others in position started at $14). I know a lot of people my own age with "full-time office jobs" that make the same or less. It's a rough job market.
5:15pm: Restocking drinks. At dinner time, when it's just me doing this, the job can get tiring. A lot of lifting boxes of drinks in the back and restocking the coolers. The moment you restock a drink, someone takes it. Drink in, drink out.
Wednesday, September 14
10:05am: Read HuffPost on my phone on the bus to work. [Editor's note: We did not make him write that!]
11:00am: Yes! Get to work the outside register, which means standing out in the sunny day working the only quiet register. I mostly ring up people who order tacos, pizza or tempura from outside.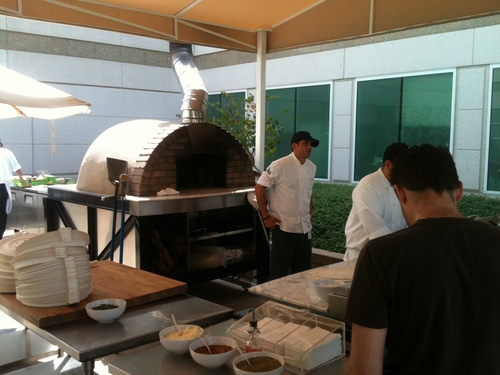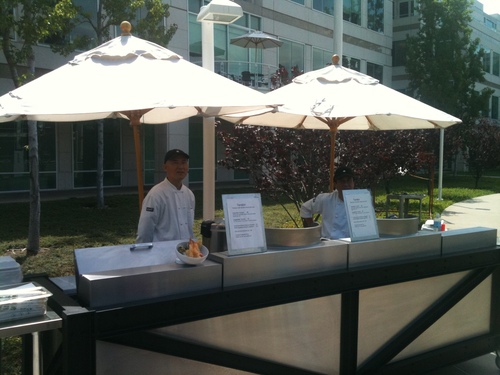 1:00pm: Break time. Today one of the chef's made a giant paella! I take two bowls.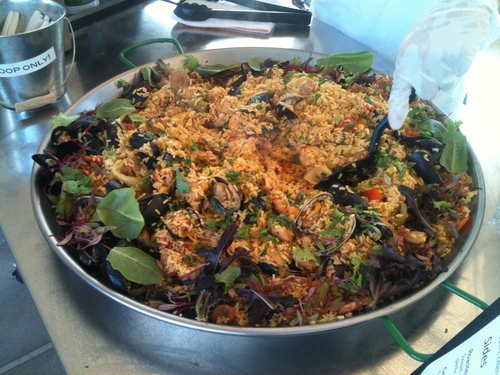 3:00pm: Lunch time. Go visit a friend who works at a coffee bar in building IL 1 (1 Infinite Loop), sit down and have a coffee next at a table next to Apple's Grammy and three Emmy awards. I'm not entirely sure why they won them, though.
3:30pm: Never noticed how many hipsters work for Apple.
4:45pm: Break time. Every day I'm amazed by the abundance of food. Sugarcane from Honduras, pineapple from Kapalua, There is no beef or pork, save for the salami and roast beef in the sandwich bar and a hamburger from the grill. Everything else is fish and chicken. The food is always healthy and organic. Apple employees for the most part look healthy. Food price and waste seem to mean almost nothing here.
5:00pm: iPhone register tonight. This time I'm allowing myself to play music on my iPhone.
Thursday, September 15
11:00am: Today I'm put on the register, which, during lunch, becomes crazy. The register work's childishly easy. A customer comes up with a $6 or $8 a dish plus a drink, you do the simple math, "$7 dollars please," hit the "$7" button on the register and they pay with cash, credit card or they scan their ID cards for payroll deduction. Every day, thousands of people file in and out of the Caffe for lunch and being on register for this time is an excruciating two hours of fast, but simple, addition. The flow of customers is constant. I typically try all I can to avoid this job simply because I don't like handling BPA-laden receipt paper. I read about the dismal amount of the chemical on receipt paper somewhere on HuffPost once and have submitted a request for BPA-free receipt paper, though the managers at the Caffe have bigger fish to fry.
1:00pm: I grab the vegan dish for lunch, a veggie burger. The vegan dish is usually the tastiest on the menu and the chefs that work it are super cool.
3:30pm: Wander around refilling tea, napkins, etc. I'm annoyed by people who put plastic in the compost and compostable waste in the regular waste bin, so sometimes I fill this time sorting trash. When will people learn!?
4:45pm: Break. The choices for dinner are typically two main dishes the grill chef makes (usually curry dishes or breakfast-for-dinner), a quesadilla bar, and a pasta bar on Tuesdays and Thursdays. I grab some tacos.
Friday, September 16
6:30am: Today the company is throwing a beer bash for all employees, a giant beer party in the afternoon that typically happens once every two weeks. Sometimes they have musical guests; I've worked bashes with Colbie Caillat and Maroon 5 performing. Always "adult contemporary" music. I don't have to serve beer today, so I work the morning hours. I get a ride from a friend and crawl into work half asleep.
7:00am: Replenish pastries as the breakfast bar. I can't contain my yawning.
8:45am: Have the chef make me a smoked salmon and Humboldt fog omelet. Life is just horrible sometimes.
9:00am: Wrap up breakfast and prep the juice bar with fruits and veggies for the lunch rush.
11:00am: Lunch. Panko-encrusted salmon with a hoisin ginger sauce.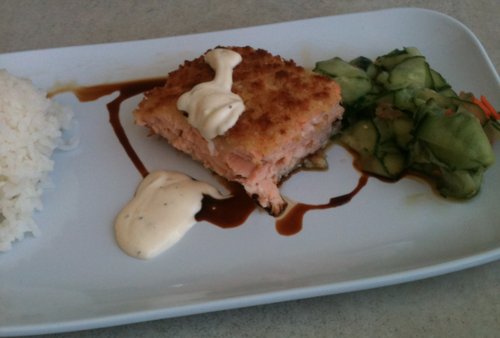 11:30am: Juice bar. Damn, spilled an entire antioxidant juice all over myself: a waste of a handfull of kale, a beet, two kiwis, an apple and a half and a few carrots.
1:45pm: Deep clean the gelato freezer. Take home leftover grab-and-go sandwiches and salads for lunch. I try to take as many as I can fit in my backpack, but everything else goes straight into the compost bin. I wish it could be donated to homeless shelters, but apparently there are politics preventing unfortunately. Anyway, excited for the weekend!
See previous Food Informants here: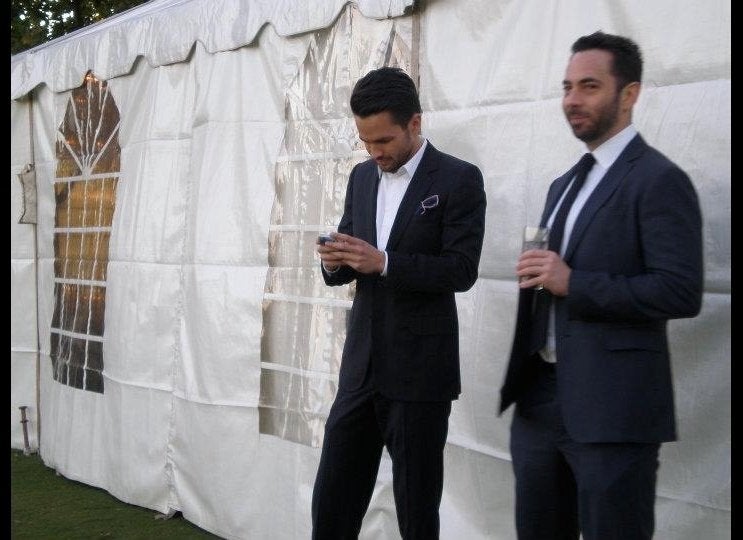 Food Informants
Related