Slated for launch in 2016 and originally applied for to the Cupertino City Council by Steve Jobs a few months before his passing in 2011, Apple's new headquarters has been under steady construction for some time. However, from the ground you can see nothing more than "Under construction" signs posted on walls, and the progress of the campus has largely been hidden from the public gaze.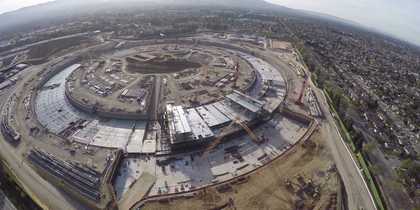 Apple's Campus 2 mega-project is showing major progress in its "Spaceship" Ring, where interlocking concrete slabs are building a foundation for a steel structure that is already beginning to reach upward by four stories.
The company continues to operate eight office groups on the east side of N Tantau Ave (which is the eastern boundary of the Campus 2 site), along with at least four other office blocks between E Homestead Road (the north boundary of Campus 2) and Stevens Creek Blvd, not including two other large office sites on Vallco Parkway, which is located south of the 280 freeway (the south boundary of Campus 2). All of these buildings are within Cupertino, just west of the boundary of the adjacent city of Santa Clara.
Not only does the campus want to enhance worker productivity, it will do so while setting a new standard for sustainable design. When completed, the campus will be composed of 80 percent green space and will be powered by 100 percent renewable sources, including one of the largest solar arrays in the world. The project is scheduled for completion next year at an estimated cost of $5 billion.
REAL LIFE. REAL NEWS. REAL VOICES.
Help us tell more of the stories that matter from voices that too often remain unheard.