Steve Jobs appeared before the Cupertino City Council on Tuesday night to present Apple's plans for a massive, futuristic-looking campus.
With the council's approval, Apple will start construction on the new Cupertino offices, which will be located on property purchased from Hewlett-Packard. According to Patch, Jobs said Apple plans to "break ground next year and move in by 2015."
Jobs then showed off illustrations of a ring-shaped building, which he said will have a 12,000-person capacity. "It's pretty cool," Jobs remarked to the council as he flipped through illustrated slides of the proposed campus.
Mac Rumors posted Jobs's description of the building:
It's a little like a spaceship landed. It's got this gorgeous courtyard in the middle... It's a circle. It's curved all the way around. If you build things, this is not the cheapest way to build something. There is not a straight piece of glass in this building. It's all curved. We've used our experience making retail buildings all over the world now, and we know how to make the biggest pieces of glass in the world for architectural use. And, we want to make the glass specifically for this building here. We can make it curve all the way around the building...
Apple's plan will increase the site's office space from 2.6 million square feet to 3.1 million square feet, but the company will significantly improve the grounds around the offices, too, Jobs said.
The former HP campus currently features 20 percent landscaping. "It's pretty bad," admitted Jobs. The redesigned campus, however, will feature 80 percent landscaping, with twice the amount of indigenous trees. Most of the parking space will be relocated underground, Jobs also noted.
"[W]e're proud of Apple," Councilmember Kris Wang told Jobs at Tuesday's meeting, according to Patch.
"I'm proud to be in Cupertino, too," Jobs replied.
Check out pictures of Apple's plans for the new campus (below) and watch Jobs's 21-minute presentation to the Cupertino City Council. What do you think of Apple's proposed campus? Let us know in the comments.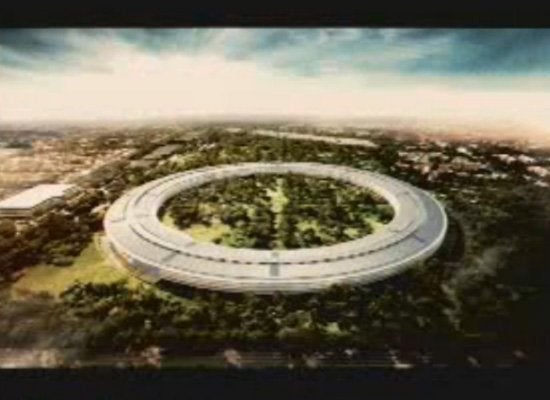 Apple's Futuristic Cupertino Campus
Related
Popular in the Community