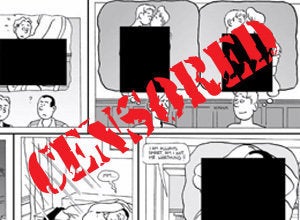 Apple's censors are raising eyebrows again.
Several animated frames of the comic featured two naked men locked in an embrace. Although there was no frontal nudity, the app was rejected--then later approved, but only after the frames were partially covered by black blocks.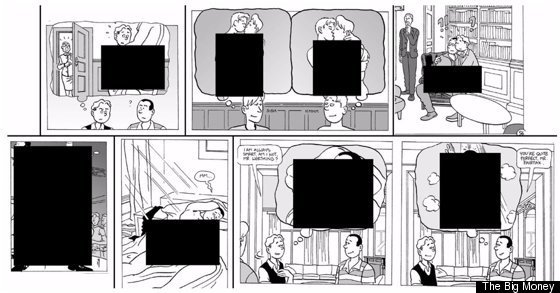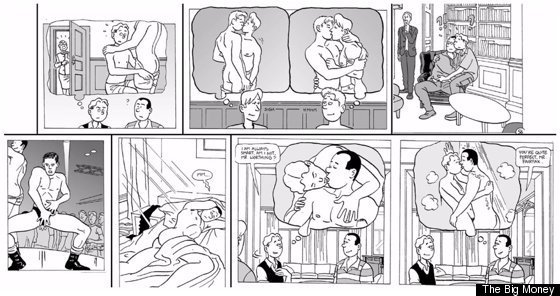 Image credit: The Big Money/Prism Comics
The App Store reversed its decision Monday and allowed the app's developers to resubmit the original comic--minus the black boxes, TechCrunch reports. Apple called the comic's reject a "mistake."
Similarly, a graphic novel called Ulysses Seen, based on James Joyces's Ulysses, was censored last week because of nudity; however, TechCrunch writes, Apple also reversed this ban Monday and invited the creator to resubmit the app.
As Prism Comics reports, some smaller publishers complain that Apple has been more tolerant of explicit content when it comes from larger publishers, like Marvel. App developers voiced a similar complaint earlier this year: Apple's App Store, without warning, removed some 5,000 "explicit" apps showing women in lingerie and bikinis, while Playboy and Sports Illustrated's swimsuit apps were not included in the purge.
This is hardly the first time Apple's censorship policy has raised eyebrows. The company has previously banned R-rated content--as well as apps that criticize public figures--only to later reverse their decision after review.
In response to criticism over its no-porn policy, Steve Jobs has reportedly said that Apple had a "moral responsibility" to keep racy materials off the iPhone, promising consumers "freedom from porn." "Folks who want porn can buy and Android phone [sic]," he emailed one upset customer.
Related
Popular in the Community