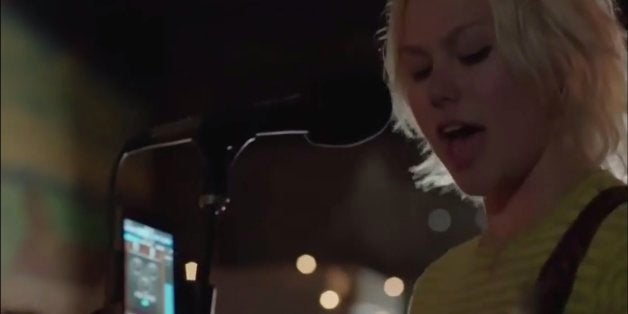 During the primetime broadcast of "The Voice" and the NBA playoffs Tuesday night, Apple unveiled a new, lengthy advert for the iPhone 5S, its high-end smartphone.
It's a fun spot, featuring several musicians covering the opening to the popular 1988 song "Gigantic" by Pixies, while artists demonstrate the various artsy things you can do with the iPhone.
But the song choice is rather interesting for a button-up company like Apple, given the song's sexually charged lyrics. Fans have speculated for years about whether or not the lyrics describe a couple having sex, with someone else watching.
You may not be able to tell from the spot itself. Apple's ad only features the chorus and not the rest of the of the song, including these lyrics from the second verse:
Gigantic, gigantic, gigantic

A big big love

Gigantic, gigantic, gigantic

A big big love

Lovely legs they are
What a big black mess
What a hunk of love
Walk her every day into a shady place
He's like the dark, but I'd want him
We reached out to Apple and TBWA\CHIAT\DAY, the ad agency Apple frequently uses, to see if they had a comment.
But like many Pixies songs, "Gigantic" is abstract and metaphorical, making the song's precise meaning hard to nail down. Maybe in context, Apple's use of the repeated "gigantic" lyric may be meant to highlight the iPhone's seemingly limitless capabilities (as depicted in the ad).
As they say, sometimes a cigar is just a cigar.
Related
Popular in the Community