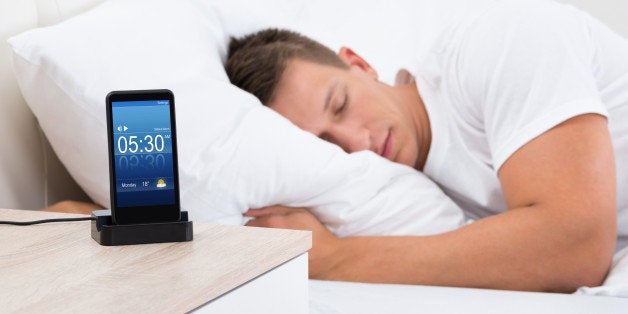 When you think of the basic functions of a smart phone, things like a calculator, a camera and an internet browser probably come to mind. How about a tool to help with your sleep habits? In an effort to improve the health of their users, Apple is introducing a sleep monitoring feature as a part of their iOS 10 update set to launch this fall.
I first heard about this new tool from a friend who is beta testing the update before it comes out. Knowing I'd be excited to learn about this new feature, my friend provided me with information about the app. They were also kind enough to send me photos of what the feature looked like.
The feature is called "Bedtime" and will have its own tab within the Clock app each Apple device is equipped with. The tool's setup process asks five simple questions that configure the most optimal "Bedtime Alarm" and "Wake Alarm" for the user. The app asks how many hours of sleep the user needs each night--and even says that "most adults need between seven and eight." I am particularly happy about that suggestion, as getting seven to eight hours of sleep a night is the optimal amount of sleep all adults should aim for, according to the Centers for Disease Control and Prevention.
Bedtime also incorporates when the user wants to wake up during the week, what unique sound the Wake alarm should play, and when to remind the user that it's time to go to sleep. All of these components are to ensure the user improves their sleep quality.
The Bedtime and Wake Alarms work with the Health app on Apple devices in order to track and store the user's sleep data. As noted directly in the feature, Bedtime "calculates hours in bed by analyzing your motion and device usage." The app also shows the user's "Sleep History," encouraging users to keep their sleep bars for each day aligned with each other by going to bed and waking up at the same time each day. This is another example of Apple incorporating essential scientific information into its products, as the National Institutes of Health explains that following a regular sleep schedule is proven to help you get a better night's sleep.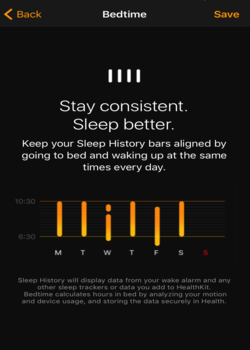 Apple is not the first company or developer to create a sleep monitoring tool. There are several sleep applications currently available for Apple and Android users to download. I have tried a few of these apps myself and have found them to be helpful. However, some cost money and are not automatically a part of the device.
I could not be more thrilled about the addition of Bedtime to Apple's software update. The fact that Bedtime will be a free feature automatically available to all Apple device users speaks to the growing acceptance and emphasis of improving one's sleep health.
It is very encouraging to see big companies like Apple taking the health of their customers seriously and treating it as a necessity for one's device. I am optimistic that the readiness and convenience of the feature will inspire customers to try it and use it consistently. Hopefully this is a giant step forward in the #SleepRevolution!
Calling all HuffPost superfans!
Sign up for membership to become a founding member and help shape HuffPost's next chapter