Apple presents itself as a company that values diversity. Indeed, the tech company is led by Tim Cook, the only openly gay chief executive on the Fortune 100 and a vocal advocate for LGBT rights.
But the facts on the company's inclusion of women and people of color tell a more complicated story.
Earlier this month, Apple's board voted down a shareholder proposal urging the tech giant to move faster to diversify senior management and its board of directors -- "two bodies that presently fail to adequately represent diversity (particularly Hispanic, African-American, Native-American and other people of colour)," reads the proposal from Antonio Avian Maldonado II. Maldonado is the creative director of music company Insignia Entertainment, and holds around 600 shares in Apple.
Apple has exactly one black man and two women on its eight-person board. There is one black woman and two white women on its 18-member executive team.
The board is "a little bit too vanilla," Maldonado told Bloomberg Business last year. "I want to nudge them to move a little bit faster."
Diversity proposals aren't that uncommon, Bloomberg noted. And boards don't like them. Since 2000, not a single one has been approved.
The proposal for Apple is short on specifics; Maldonado wasn't asking Apple to fire any senior folks. In fact, it is not unusual for a large public company to add directors to its board in order to diversify.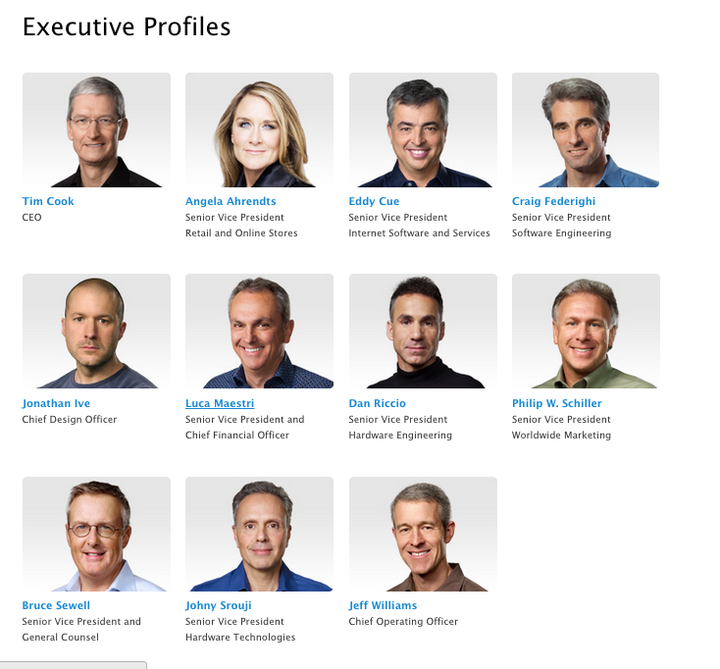 "We believe that the proposal is unduly burdensome and not necessary," it said in a public filing, recommending a vote against the proposition. "Apple has demonstrated to shareholders its commitment to inclusion and diversity, which are core values for our company." The company told The Huffington Post it had no further comment.
And how exactly has the iPhone maker demonstrated its commitment? Mostly by spending money to help girls get into the tech field and creating a diversity webpage. Those are both fine things to do, but even the company's own data shows it hasn't been enough to move the needle.
Apple also says it has picked up the pace of hiring more women and minorities -- and the percentage of women and black people working there increased slightly from 2014 to 2015, according to new data.
Cook pledges his commitment to diversity on the dedicated webpage, but doesn't state any hard plans. Committing to deliverable goals, research shows, is one of the only effective ways to actually achieve diversity. It's something tech stalwart Intel has been trying out.
Mission statements, on the other hand, have actually been found to make conditions worse for minority employees -- as well as to foster anxiety among white employees.
"They may talk the talk but you gotta walk the walk, too," said Malli Gero, co-founder and president of advocacy group 2020 Women on Boards. Companies like Apple should take these kinds of resolutions seriously, she said, because leading tech companies set the example for smaller businesses -- many of which are even less diverse than the iPhone maker.
"It's a shame because it's such an important global company. You'd think they'd do better," she said.
Update: The percentage of women and minorities at Apple increased slightly from 2014 to 2015, according to data released by the firm on Jan. 19.
Related
Popular in the Community