Apple took a break from its usual product-filled homepage on Monday to showcase a photograph of Martin Luther King Jr. and one of the civil rights leader's most famous quotes: "Life's most persistent and urgent question is, 'What are you doing for others?'"
It's an odd choice for the company, given that Apple isn't doing much to help others… except for the same types of people who almost always lead major tech companies. Earlier this month, Apple's very white, very male board voted down a proposal to bring more diversity to its senior management team. The company's own diversity website shows that, like its board, Apple is overwhelmingly white and male: 69 percent of the company overall is male and 54 percent is white. Only 8 percent of employees are black.
The numbers have barely changed since 2014. And while Apple head Tim Cook says the company has hired a few thousand more minorities recently, that's a drop in the bucket given that the corporation employs about 115,000 people around the world. The upper echelons of Apple leadership remain white and male.
Apple did not immediately respond to The Huffington Post's request for comment on Monday.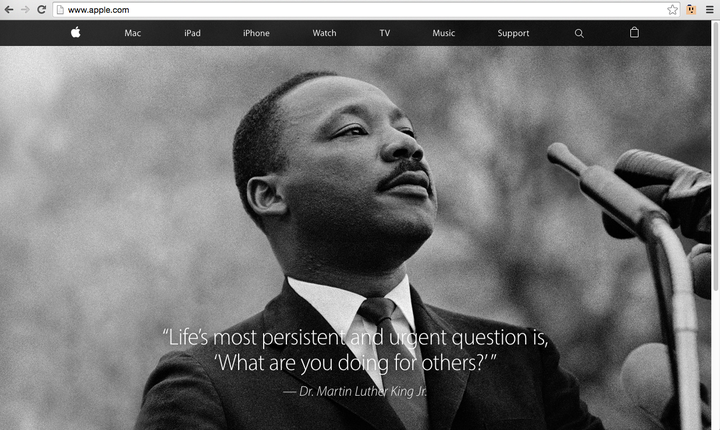 For what it's worth, Apple famously used archival footage of historically significant individuals -- including King -- in its 1997 "Think Different" campaign.
But "Think Different" did not arrive amid a call for Americans to acknowledge that "Black Lives Matter." Activists working to combat racial inequality in the United States view Martin Luther King Jr. Day as a rallying point -- they're using the #ReclaimMLK hashtag on social media to combat "efforts to soften, sanitize, and commercialize" the legacy of the famed civil rights leader.
"Impulses to remove Dr. King from the complex and radical movement that elevated him must end," reads a post on The Movement for Black Lives website. "We resist efforts to reduce a long history marred with the blood of countless people into iconic images of men in suits behind pulpits."
It's impossible to say for sure what Apple intended with its homepage dedication. But it certainly is an iconic image of a man in a suit standing behind a pulpit.
A glance at Apple's homepage from Sunday via the Wayback Machine might indicate where its interests typically lie: products, products everywhere.
Cook has said time and time again that he is committed to diversity. He made history in late 2014 when he came out as a gay man. But there's a lot of work to be done, and splashed images of leaders from decades past aren't enough.
Popular in the Community