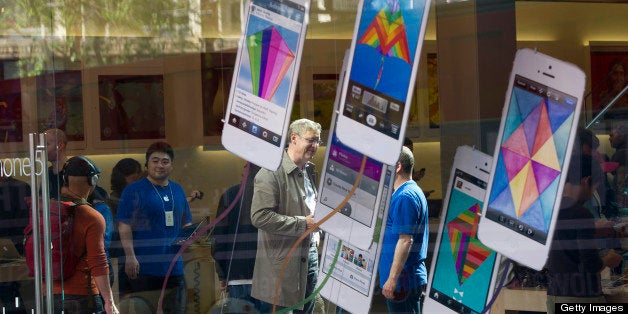 Apple is defined by its glitzy gadgets and flashy unveilings, but there were none to be seen on Tuesday when the company announced earnings. Instead, all eyes were drawn to a bit of nifty financial wizardry.
Reporting earnings for the quarter that ended March 30, Apple announced plans to buy back $60 billion in stock to prop up its falling share price. Apple's stock has dropped to about $400 from more than $700 in seven months.
"This is the largest share buyback operation of any company in history," said Apple chief financial officer Peter Oppenheimer on a conference call with investors and analysts. The company also boosted its quarterly dividend by 15 percent.
In some ways, the buyback underscores Apple's weakness in recent months. The company continues to enjoy massive sales -- customers gobbled up 37.4 million iPhones and 19.5 million iPads in the last quarter -- more than in the year earlier. But many question Apple's ability to innovate.
Analysts and pundits have been quick to point out that Apple hasn't had a significant product launch in months. The iPad Mini was the last, hitting stores in November.
Nothing Apple executives said on Tuesday did anything to prove those critics wrong. They withheld specifics about future innovations, retreating into the company's notorious veil of secrecy.
Apple chief executive officer Tim Cook noted that Apple sees a "potential for new product categories." But when pressed, he declined to talk about new products.
"I don't want to be more specific," said Cook on the call. "I'm just saying we've got some really great stuff coming in the fall and across all of 2014."
This means Apple will go nearly an entire year without releasing a major new product or breakthrough.
Oppenheimer seemed to dismiss rumors that the company was making a play for customers seeking lower prices, such as a rumored plastic-backed iPhone.
"We'll only make great products," said Oppenheimer on the call. "And this precludes us from making cheap products that don't deliver a great experience."
For now, Apple's core products remain strong, despite competition. The company reported sales of $43.6 billion in the quarter, beating analysts' estimates of $42.3 billion, on the backs of the iPhone and iPad. Profit fell 18 percent -- the first decline in more than a decade -- but still beat analysts' estimates.
The iPhone continued to fight off rivals. Apple's prized smartphone is about the lock horns with Samsung's Galaxy S4, which is launching on some U.S. phone carriers in the next few days. Gadget reviewers have widely touted Samsung's new phone as the biggest threat to the mighty iPhone.
Apple's iPad is combating, and surviving, in brutal competition as well. Not only does it have to fend off competitors like the Kindle Fire and the Nexus 7, but it must deal with a barrage of upstart devices from Sony, HP, and others, chomping away at the iPad's market share.
REAL LIFE. REAL NEWS. REAL VOICES.
Help us tell more of the stories that matter from voices that too often remain unheard.
BEFORE YOU GO
PHOTO GALLERY
7 Biggest Steve Jobs Flops