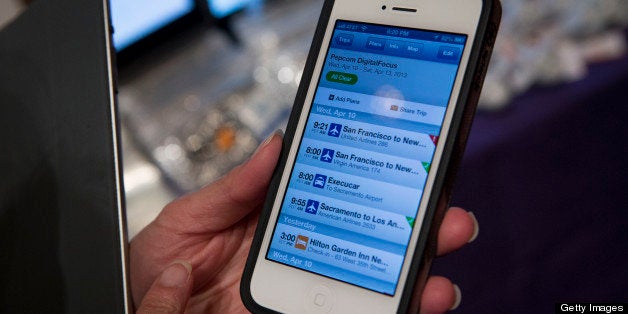 Apple has a lot of questions to answer.
A hurricane of rumors and conjecture has swirled around the company since January, and its stock has plummeted, falling from over $700 in September to below $400 last week. On Tuesday afternoon, we'll finally find out what's going on inside the company when Apple announces its earnings at 4:30 p.m. EST.
Apple has yet to launch a big new product in 2013, and observers are anxiously awaiting new models of the devices that have come to define the company: the iPhone and iPad. Perhaps an iPhone 5S or a fifth-generation iPad will be on the table soon, but for now, the earnings announcement could offer consumers a valuable glimpse into what's happening with those products.
Apple sold 35.1 million iPhones in the first quarter last year, generating $22.7 billion. On Tuesday, the big question is whether Apple can beat that record number again. Most analysts expect it to be topped, but not by much. The market saturation of smartphones has altered the industry's landscape, and Samsung has risen to become a stalwart competitor, with its Galaxy S4 smartphone widely lauded as the biggest threat to the iPhone's dominance.
"Apple created the smartphone market, others were caught off guard by what they created," said Brian Sozzi, CEO and chief equities analyst at Belus Capital Advisors. "Apple got a little complacent, and now others have caught up, if not surpassed, the company's smartphone innovation."
In addition, speculation about a shift toward a lower-cost iPhone model has run rampant after a photo of an iPhone with a plastic back hit the Internet last week. If true, the move could take a chunk out of Apple's biggest channel of revenue.
Tuesday's call will also give us a chance to see what's going on with the iPad, which may be losing some of its luster.
Analysts expect Apple to report 18 million iPads sold for the quarter. That's up significantly from 11.8 million in the same quarter of 2012, but it would represent a slowdown from the 151 percent bump in iPad sales from the previous year.
Like the smartphone market, the tablet market is packed with competition. It's not just successful devices like the Kindle Fire and the Nexus 7 causing waves, but a steady stream of distractions from Sony, HP, BlackBerry, and others continue to give consumers options beyond the iPad.
"I don't think [the iPad] has lost steam, it's that the market is saturated with products and the prices have seemingly come down," said Sozzi. "Remember, there are all sorts of re-sellers selling used iPads."
Apple's earnings conference call will be live-streamed on the web at 5:00 p.m. EST. You can listen in on it here.
REAL LIFE. REAL NEWS. REAL VOICES.
Help us tell more of the stories that matter from voices that too often remain unheard.
BEFORE YOU GO
PHOTO GALLERY
6 Things The iPhone Is Killing