 You could sum up everything Apple announced Tuesday afternoon in one word: Shrinkage.
With apologies to Jerry Seinfeld, in other words: Shrinkage.
The star of the show was the iPad mini, a tablet meant to be held in one hand and, presumably, to fend off cheaper tablets like Amazon's Kindle Fire HD and Google's Nexus 7. The iPad mini features a 7.9-inch display (compared to a 10-inch display on the new iPad); weighs 0.68 pounds (compared to 1.44 pounds); and is 23 percent thinner than the new iPad. It comes with a dual-core A5 chip, which powered Apple's iPad 2 when it was released in 2011, and features a 5 megapixel rear-facing camera and a front-facing camera for FaceTime.
Several configurations are available, including storage options of 16GB, 32GB, and 64GB; the iPad mini is also available in either a WiFi-only version or, for a little more cash and a data plan, a 4G LTE data-ready version.
A 16GB iPad Mini will start at $329 for WiFi only; the 16GB 4G LTE iPad mini starts at $459 and will be available in the U.S. on Verizon, AT&T and Sprint. Pre-orders begin on Friday, Oct. 26 and WiFi-only versions will start shipping on Nov. 2. (You can read all about Apple's littlest iPad ever here.)
iPad 3, We Hardly Knew Ye
Perhaps the biggest surprise of the day came with the debut of the fourth-generation iPad, an update to Apple's 10-inch iPad that comes just seven months after the introduction of the third-generation iPad with Retina display. The iPad 4 (but don't call it that!) is cosmetically the same as the third-generation iPad but has been updated with a faster processor, which Apple claims is twice as quick as the old iPad's chip, and a better-front facing camera capable of capturing HD video. Apple's new, smaller Lightning connector has also been appended to the bottom of the device, replacing the larger dock connector on the iPad 3.
Pre-orders for this device begin on Oct. 26. Orders will ship on Nov. 7.
All The Small Things: MacBook Pro, Mac Mini, iMac
The iPad, as we said, wasn't the only existing Apple device that got a little smaller at Apple's event.
Following up on the success of the MacBook Pro with 15-inch Retina display, introduced over the summer, Apple debuted a smaller MacBook Pro with Retina display: This one comes with a 13-inch screen and is much smaller than the current 13-inch MacBook Pro in several ways. It is 30 percent thinner (thanks, in part, to its jettisoning of the CD drive) and weighs 3.5 pounds, compared to 4.5 pounds for the old model. The MacBook Pro with 13-inch Retina display also adds the faster Intel Ivy Bridge processors and comes with 7 hours of battery life, 8GB RAM, and Apple's Mountain Lion operating system. A starter configuration is $1699, compared to $1199 for the non-Retina model; the 15-inch MacBook Pro with Retina display remains on sale but was not updated. (Read more about the new MacBook Pro with Retina display here).
The iMac all-in-one desktop computer received a makeover, with a new thinner body that is 8 pounds lighter and 80 percent thinner than the previous generation iMac (part of that is due to some fancy engineering from Apple, part because Apple has again removed the optical drive). Customers also have the option to add on what Apple is calling a Fusion Drive, which combines a traditional hard drive with the faster next-generation flash storage.
The iMac with a 21.5 inch screen starts at $1299 and will start shipping in November; the iMac with a 27-inch screen starts at $1799 and will begin shipping in December.
Apple also updated its Mac mini desktop computer with new processors and memory configurations; the new Mac minis are available immediately, starting at $599 for the base unit.
A smaller iPad has long been seen as a necessary weapon for Apple to combat cheaper tablets from Amazon and Google, whose Nexus 7 and Kindle Fire HD, respectively, have sold millions at a price point of $199. Perhaps anticipating the criticism that the iPad mini is much more expensive than those two machines, with a starting price of $329, Apple went on the offensive at its event, directly comparing the iPad mini to the Nexus 7 onstage. The larger display of the iPad mini (7.9 inches diagonally versus 7.0 inches diagonally) means more screen real estate for content, Apple exec Phil Schiller said; Apple also has 275,000 apps optimized for use on a tablet, far more than what is available in the app markets of Google, Amazon or Barnes & Noble.
Of course, those companies might argue that their tablets have richer displays, lower price points and better services for email and maps; it's likely that you will see some of those arguments in the coming weeks, as the holidays approach and the gadget-buying season heats up.
Apple's products, in other words, might be shrinking, but its battle against insurgent tablet-makers --Amazon, Barnes & Noble, Google, Samsung, Microsoft etc. -- is expanding.
Take a look at the slideshow (below) for photos of the new iPad Mini.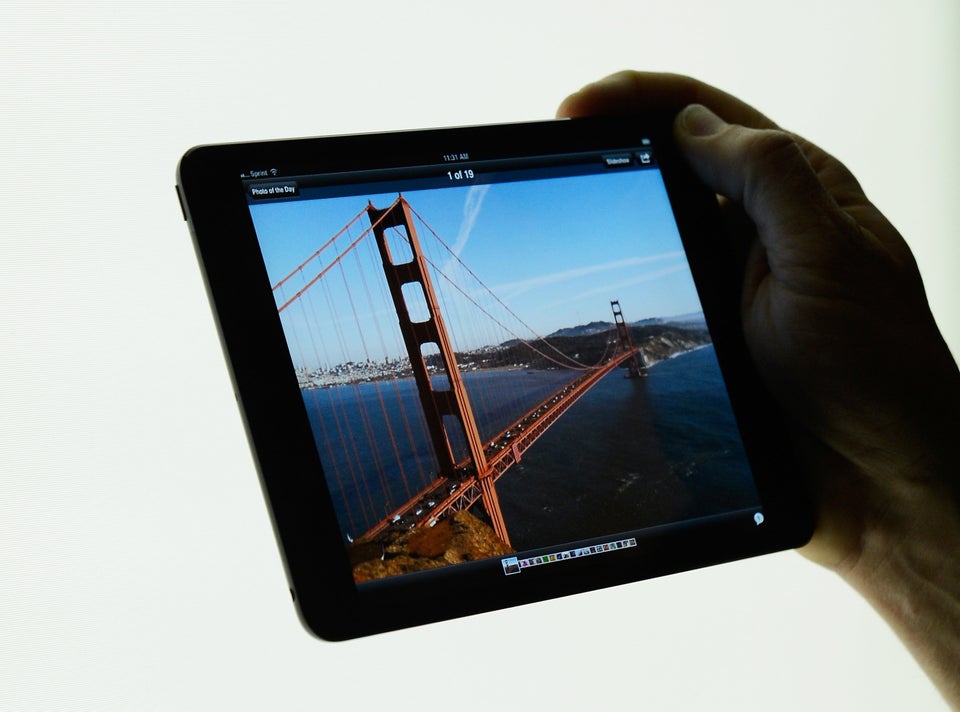 Apple's New iPad Mini
Popular in the Community