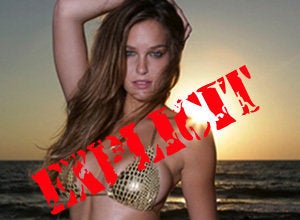 UPDATE 2/25/2010: Apple can't seem to make up its mind.
Gizmodo says the "Explicit" category, which made an appearance yesterday, has been removed.
According to an iPhone developer, the new "Explicit" option available this morning on the App Store submission software is now gone. He just got off the telephone with Apple, who confirmed the removal.

According to the developer, Apple said that, while they are thinking about it, "it's not going to happen anytime soon."
If Apple doesn't have intentions to roll out the "Explicit" app option, why did it go live, we wonder?
---
In a surprise move that comes just days after Apple removed 5,000 sexually suggestive apps from the App Store, Apple seems to have created a new category for "Explicit" apps that hints the Cupertino company could be lifting its sex ban.
Apple, notorious among developers for an ambiguous and sometimes draconian app approval policy, banned "objectionable" "sexy" apps from the app store earlier this week. As tech bloggers noted, the company was inconsistent in its app expulsion: Playboy and Sports Illustrated's swimsuit apps were untouched, while lesser-known developers had their salacious creations pulled.
Phil Schiller, Apple's head of worldwide product marketing, told the New York Times developers had been pitching "an increasing number of apps containing very objectionable content."
Explaining Apple's decision, he added,
It came to the point where we were getting customer complaints from women who found the content getting too degrading and objectionable, as well as parents who were upset with what their kids were able to see.
Now, it seems that the thousands of lingerie and bikini apps could potentially be readmitted under a new classification.
Apple has added a new "Explicit" category in the iTunes Connect system for App Store submissions. The category is included in drop-down menus that allow developers to select categories for their applications to be placed in, and appears alongside the traditional App Store categories such as "Books", "Entertainment", and "Games".
See a screenshot below:


Apple has not confirmed the new category, and although some developers claim they're unable to access it, multiple independent sources have confirmed the "Explicit" option. Mashable, and others, have speculated the apps may have been removed as "part of a very calculated strategy to make the app store more parent and child-friendly in light of the iPad's pending release date."
Check out some of Apple's most outrageous banned iPhone apps here.
Related
Popular in the Community