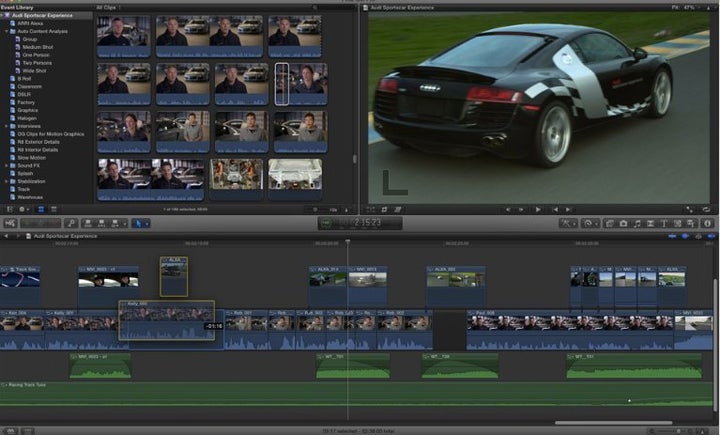 Apple has finally released the highly-anticipated new version of its popular video editing software, Final Cut Pro X, and it's a big change from previous editions.
The 64-bit Final Cut Pro X will be sold exclusively through the Apple App Store for $299.99. The program is not just an update, but a completely revamped program rebuilt from the bottom up.
"Just as the transcontinental railroad permanently changed 19th century America -- in a wide variety of ways -- Final Cut Pro X has the same capability," wrote video expert Larry Jordan. "I think that within the next 18 months virtually all of us will be running FCP X and wondering how we lived without it. It's that good."
Some of the new features you'll find on Final Cut Pro X:
- The Magnetic Timeline lets users arrange clips simply, so that clips slide out of the way, instead of the tracks that characterized the old Final Cut editions.
- Clip Connections can link clips to things like sound effects or titles, so that they stay synced when moved together. Other clips can be put together into a Compound Clip so that they can be edited as a single clip. Auditions lets users go between clip collections so you can compare alternative shots.
- Content Auto-Analysis scans imported content and tags it with information so that the program can create Smart Collections which could include distinction by the kind of shot it is, the sort of media it contains, or even the number of people in the shot. Clips can be manually tagged as well for easy organization.
- Rendering now takes place in background, which USA Today says contributes to faster editing speeds, and reduces interruptions. Different kinds of video footage in different formats can be put into the same file.
Final Cut Pro X has earned praise already. Macworld is impressed with the new release, writing of the software, "Apple breaks new ground—not just with its flagship video editor's interface and underlying infrastructure—but with the whole mindset of what it means to be a working professional video editor."
What do you make of it? Is it worth its pricetag? Let us know below.
Two other apps, Motion 5 for graphics and Compressor 4 for encoding are also available for $49.99 each.