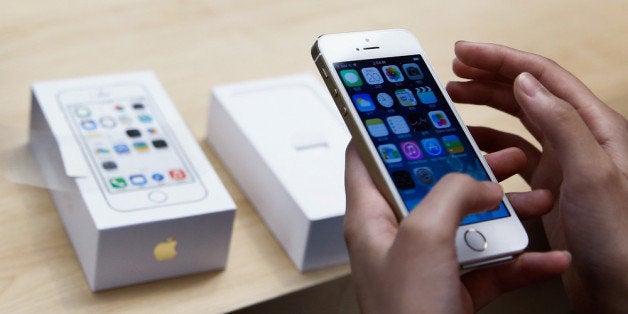 Like millions of others, Fred Kahl never used a passcode on his iPhone. The 48-year-old creative director said it was "kind of a pain in the ass" to punch in those numbers every time he needed his phone.
So he was eager to get Apple's new iPhone 5S, which comes with a highly touted new feature called Touch ID that was supposed to let him unlock his device simply by placing his finger on the home button.
But Kahl soon found that Touch ID is also a pain -- working for him less than half the time he tried it, he said. "I almost am ready to go back to not having a locked phone because it's more hassle than it's worth," he said.
Touch ID works by reading the iPhone owner's fingerprint and comparing it to a numerical representation stored on the phone. If the print matches -- or if it's a close enough match -- then the person gets into the phone, explained Bruce Schneier, a security technologist and fellow at the Berkman Center for Internet and Society at Harvard Law School.
The downside, of course, is that the iPhone would then be more likely to let in someone other than its owner, he said. But even if Apple made Touch ID less sensitive, the chances of someone who's not you gaining access to your phone would remain small. "That's okay," Schneier said. "If it's one in a thousand, or one in a hundred, who cares?"
Apple would not comment on whether it's working on software updates to Touch ID.
Many of the complaints in the Apple forum center on Touch ID working well for a short period of time and then deteriorating. That's been the experience of Brad Berkstresser, a 36-year-old attorney in Pittsburgh who bought the iPhone 5S the day it came out.
Touch ID worked really well for him for a few weeks, but then it started failing. He tried deleting and re-entering his prints, but the problem persisted. Now, he said, it works about one in every 10 times, unless he cleans the sensor each day and makes sure his fingers are clean and dry. Even then, the sensor gets less and less reliable throughout the day. For the many people who check their phones often, that's simply not a realistic solution. Now, Berkstresser only tries Touch ID once before sliding his finger to the left and entering his passcode.
"What's the point? It's almost an obsolete feature for me at this point," he said.
Apple advises those who are having trouble with Touch ID to rescan their fingerprints. Kahl, the creative director, said he tried that to no avail. "How many times are you supposed to go in and change the thumbprint?" he asked. "I want to have a little security, but I'm not sure if it's worth it never working."
And the problems with Touch ID are by no means on the scale of 2010's so-called Antennagate, when some iPhone 4 owners found their calls were dropped when they touched the device in a certain place. Steve Jobs apologized publicly for the problem and offered free bumper cases to those affected.
But the fingerprint sensor is perhaps the biggest single innovation that sets the iPhone 5S apart from its predecessor, as well as from the new, lower-cost iPhone 5C. And it's left some customers disappointed.
"That was one of the big features they were selling," Berkstresser said, "and it doesn't even work."
Related
Popular in the Community