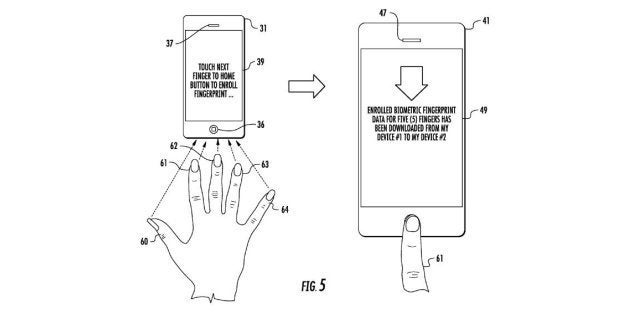 Apple may be envisioning a world where buying a latte is as easy as holding up your index finger.
A patent application published online Thursday by the United States Patent and Trademark Office would allow the iPhone maker to share your fingerprint data between devices via the cloud.
Apple already uses fingerprint technology in Touch ID, which allows individuals to unlock their phones and iPads with a fingerprint. The process is supposedly more secure and convenient than typing in a password.
The new patent, which Apple has not officially been granted, extends this idea to cover uploading and storing fingerprint data. The patent describes downloading fingerprint data to a second device after it's been collected. That second device would have a biometric sensor of its own, which it would use to match the fingerprint data you've already offered.
It's an appealing idea because, in theory, your fingerprint could be associated with a profile including relevant information and settings. Perhaps you could easily set up a new iPhone to make it feel like your old device with the touch of your fingerprint. The patent also suggests that vendors equipped with touch devices could charge you for products -- like coffee -- using your fingerprint.
Apple Pay already lets you buy things using your fingerprint on your own device, but the new patent opens the door to making purchases without pulling anything out of your pocket. It's possible you could just touch a vendor's iPad or iPhone instead.
The patent seems to represent something of a reversal from Apple's current status quo with Touch ID. When the fingerprint scanner made its debut in 2013, the company explicitly stated that an individual's fingerprint data is "never stored on Apple servers, and it's never backed up to iCloud or anywhere else." The new patent, which covers a cloud computing device capable of "uploading and storing the enrollment finger biometric data," would seem to be a different approach.
A representative for Apple told The Huffington Post via email that the company does not comment on patents. Some experts and politicians have expressed concern over the idea of storing fingerprint data.
When Touch ID was first announced, Sen. Al Franken (D-Minn.) said he was worried about security, noting that compromised fingerprints could spell disaster for individuals -- you can get a new credit card, but you can't exactly replace your fingerprints.
"There is an additional security concern. Someone could steal your credentials. If hackers steal credit card numbers, they can steal fingerprints," Bruce Schneier, a security technologist, told HuffPost via phone.
However, Schneier noted an important point: Apple doesn't store an image of your actual fingerprint. Instead, the company uses a "mathematical representation" of your fingerprint. In other words, hackers wouldn't be able to lift a picture of your fingerprint, but they could perhaps take the data that represents it.
Still, Apple has said not to worry.
"It isn't possible for someone to reverse engineer your actual fingerprint image from this mathematical representation," Apple says.
Hackers aside, fingerprint data can spell trouble in another way: You can't conveniently "forget" it. A judge recently ruled ruled that cops can force you to unlock your phone using your fingerprints, even though they can't ask for your password.
Calling all HuffPost superfans!
Sign up for membership to become a founding member and help shape HuffPost's next chapter