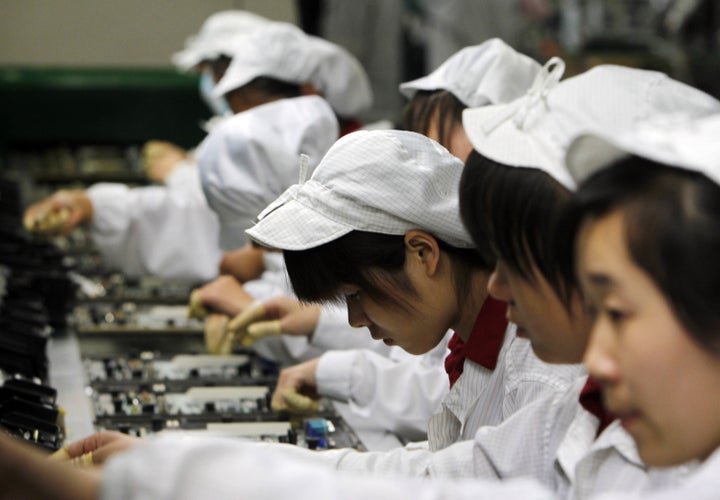 * Apple, Foxconn deal adds to view low cost era is over
* Deal coincides with rising wages, tighter labour force
* Workers have more choice, more power
* Some companies already responding by boosting conditions
By Clare Jim and Jonathan Standing
TAIPEI, April 4 (Reuters) - Foxconn Technology's agreement to improve the lot of its 1.2 million workers in China who make Apple Inc's iPads and iPhones is a signal that China is losing its title as the world's lowest-cost producer of everything.
It is not a pure economic argument, but an ethical one too that is gaining momentum following Apple's unprecedented decision to allow the largest investigation ever into a U.S. company's operations abroad.
And after years of squeezing the profit margins of contract manufacturers making the gadgets beloved by consumers worldwide, the time is drawing nearer when big brand names may have to forego some of their profits to overcome criticism their products are built off the back of mistreated Chinese workers.
"The time of low costs and cheap labour in China has come to an end," said Jay Huang, chief financial officer of Taiwan's Wintek, a maker of touch panels for Apple and other brands with annual revenues last year of some $3 billion.
"People think the market should offer cheap products; in the past they came at the cost of cheap labour in China and workers' rest time and welfare. But now we all agree that things have to improve, and as an ethical manufacturer we must improve the welfare of employees."
Wintek has boosted amenities for its workers, including the installation of video conferencing to call their families. Another Apple contract manufacturer, Pegatron, has reorganised some workers away from single-task jobs into multi-skilled teams.

In a landmark agreement last week, Apple and Foxconn agreed to tackle violations of conditions among the Chinese workers assembling the iconic gadgets of the American firm.
Taiwan's Foxconn, which also makes products for other names, including Dell Inc, Hewlett-Packard and Sony Corp, agreed to the changes after the independent Free Labour Association surveyed three plants and 35,000 workers.
Foxconn, whose subsidiary Hon Hai Precision Industry is the main assembler of Apple products in factories in China, will hire tens of thousands of new workers, eliminate illegal overtime, improve safety protocols and upgrade workers' accommodation and other amenities.
Apple is not the first big brand to respond to criticism over how its products are made. Nike Inc made sweeping changes in the 1990s after being rocked by similar criticism.
China's economics and policy direction now suggest workers are a more powerful force though. Labour shortages and double-digit wage inflation give workers more choice. They are more likely to jump to another job to secure higher pay.
The government has pledged to lift migrant factory workers wages to ease wealth inequalities in the country. In response, many manufacturers are shifting to cheaper inland regions to keep costs down.
"What makes it different this time is that there are more internal reasons," said Zhigang Tao, professor in the Faculty of Business and Economics at the University of Hong Kong.
"In the past they were foreigners such as U.S. labour groups who flagged awareness of China's labour rights; but now the bigger driving force is from inside China - a rising yuan, social harmony and wealth redistribution."
China has to change from low-cost and pollutive production to further its development.
"It's a turning point for the whole country. It's also part of the overall strategy to change to more domestic consumption and less exporting."

It remains to be seen how much major brands will give up so that their contract manufacturers can afford to upgrade conditions for workers.
Critics say there is often a gap between the rhetoric of high-flying corporate social responsibility and actual practices on the ground.
"In the past, there has been a brief moment of expose and outrage around revelations and promises are made. Then everything goes back to business as usual," said Thea Lee, deputy chief of staff for the U.S. AFL-CIO labour union group.
Hon Hai's results show it produced a profit margin in 2011 of 2.94 percent, down from more than 9 percent in 2001. Analysts say the profit margin on Apple contracts is possibly as much as 4 percent.
A teardown costing of Apple's iPad 2 by electronics market research firm IHS iSuppli shows a version that retails for $600 may cost less than $300 in components and just under $10 for manufacturing, leaving Foxconn with less than 2 percent of the retail price.
"Even though I don't expect dramatic changes, the critique right now helps contract makers to improve working environment," said Charles Lin, chief financial officer of Pegatron, which also supplies Taiwan's Acer Inc and Japan's Toshiba Corp.
"It's a social problem, so it shouldn't be just the contract makers' job to bear the burden. They have to have enough profit before they can make the improvements."
HP Chief Executive Meg Whitman, for one, recognises that Foxconn may have little room for manoeuvre on cost.
"If Foxconn's labour cost goes up ... that will be an industry-wide phenomenon and then we have to decide how much do we pass on to our customers versus how much cost do we absorb," she told Reuters in February.
Meanwhile, contract makers are looking for solutions.
In two factories, Pegatron staff work in a group and rotate through multiple tasks rather than doing a repetitive task on a traditional conveyer line.
"The pay is higher because of the multiple skills required in a worker, but then the productivity is also higher," Lin said. Pegatron had revenues last year of almost $13 billion.
As well as the video conferencing, Wintek has added new entertainment facilities in worker dormitories, including weight-training machines, pool tables, table tennis and audio facilities.
It has even increased food choices, for example western-style breakfasts.

"HERE TO WORK AND NOT TO PLAY"
To be sure, there are sceptics who say any change will only occur slowly.
Debby Chan of Hong Kong based activist group Students & Scholars Against Corporate Misbehaviour (SACOM) said the violations documented by the FLA had been known among non-government organisations for two years. So why had Apple ignored the issues for so long, she asked.
Small contract firms that lack a big backer like Apple will be under less pressure to take action on wages and conditions.
"Market chatter is that Apple is paying for Foxconn's pay rise this time; it's like a marketing fee for Apple because it cares a lot about its environmentally caring image," said Ming Chi Kuo, an analyst at KGI Securities in Taipei.
"For smaller component suppliers who don't have Apple paying the bill for pay rises, they face big cost pressure."
In a country with a minimal social safety net, many Chinese workers are solely focused on pay. They take jobs that offer the chance for a lot of overtime, even if working conditions are not great.
"I think we will more see improvements in working conditions as workers have better choices," said David Lee, a Hong Kong-based sourcing expert with Boston Consulting Group.
"But the main thing that attracts Chinese workers is pay. People are much more focused on how much money they can bring home, rather than living conditions and working conditions."
That's very much the view of one Foxconn worker.
"We are here to work and not to play, so our income is very important," Chen Yamei, 25, who is from the southern province of Hunan, told Reuters outside the Longhua plant in the south of China last week.
As for working conditions, she had no complaints.
"My brother owns a little factory here and the conditions are terrible." ($1 = 6.3060 Chinese yuan) (Additional reporting by Don Durfee in BEIJING, Tan Ee-lyn in LONGHUA, China and Jason Lange in WASHINGTON; Editing by Neil Fullick and Alex Richardson)

Support HuffPost
The Stakes Have Never Been Higher
Related
Popular in the Community