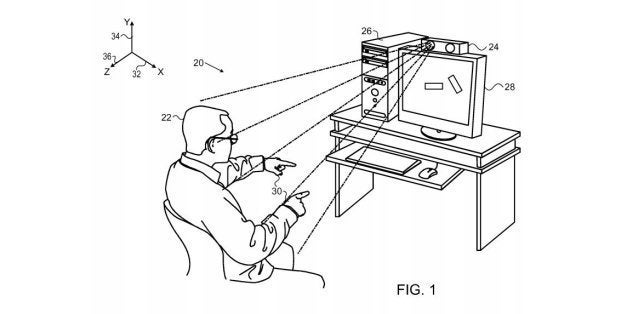 We're moving ever closer to a time when keyboards, touchscreens and computer mice seem about as relevant as IBM punched cards.
A new patent granted to Apple on Tuesday suggests that the computer giant is developing a user interface that will be controlled by hand motions.
Apple's patent nonetheless stands apart for a couple of reasons: It applies to a three-dimensional space, and it features a set of "transitions" that let the system recognize when it needs to be paying attention to the person in front of it.
In other words, it's solving the key problem of how a computer can observe your hand gestures via a camera and know when to act in response to them. As a point of comparison, the Kinect -- a motion-control device used with Microsoft's Xbox One video game system -- is adept at tracking an individual's hand movements, but can also sometimes pick up gestures from other people in the room or confuse body parts.
An example of motion controls using the Xbox One's Kinect device. (Source)
Here's how Apple's system will work, according to the patent: An individual sitting in front of a computer screen will be able to use "focus" and "unlock" gestures to get the device to pay attention. When a person is working with the device, it can track his or her motions. But to turn off the tracking, all the person has to do is lower his or her hand. The interface will also time out after a period of inactivity, the patent says.
In other words, you'll be able to make it clear to your computer that you want it to pay attention, and when you want it to ignore you.
In the patent, Apple draws a direct comparison between the "unlock" gesture and smartphone security, saying it's similar to pressing a series of keys on a device to gain access to it.
But it's clear that the company is very interested in motion controls, if its $360 million purchase of PrimeSense is anything to go by. That company previously worked on an early version of Microsoft's Kinect device.
Related