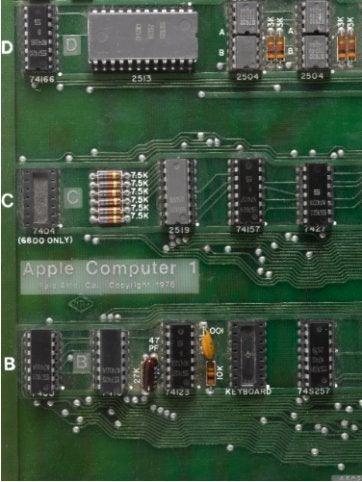 Sotheby's will auction off Apple's first computer this month in New York. Though the clunky 1976 model may be sorely outdated, it has become an iconic piece of computer history.
The Apple I circuit boards, which were hand-built built by Apple co-founder Steve Wozniak, shipped without a monitor, keyboard, case or other features of a full computer kit; it was up to the user to assemble the rest. This forerunner to Apple's personal computing devices did not have the sleek design, power or functionality of, say, the MacBooks we know today.
The operational computer set up for auction includes an Apple-I circuit board, microprocessor, video terminal, keyboard interface, memory chips and cassette interface. Sotheby's expects the item, which also comes with the original manuals in fair condition, to fetch between $120,000 and $180,000.
When the model first debuted in 1976, simplicity was the name of the game. Apple I used fewer components than its competitors and stayed on the market until the next year, selling for $666.66. The next generation, called the Apple II, was ready-to-go right out of the box and remained the main source of revenue for the company for years, until Apple revealed the Apple III in 1980, the same year the business went public. Apple III was followed by Lisa, which pioneered tech terms like "mouse," "icon" and "desktop," which are now staples in our computer vocabulary.
According to the Sotheby's listing, about 50 Apple I computers remain in existence, but only six are known to be in working condition.
Mike Willegal, an engineer who has indexed 42 Apple-I computers, said that number of working computers is a pretty good estimate.
"If a unit hasn't been powered up in more than five or 10 years, it probably shouldn't be counted as currently working. These old computers tend to fail over time, even if they are just sitting on a shelf," Willegal told Computer World.
Flip through the gallery below for our roundup of the 10 most iconic Apple products, Apple I included.
PHOTO GALLERY
The 10 Most Iconic Products From Steve Jobs's Career
Calling all HuffPost superfans!
Sign up for membership to become a founding member and help shape HuffPost's next chapter
BEFORE YOU GO