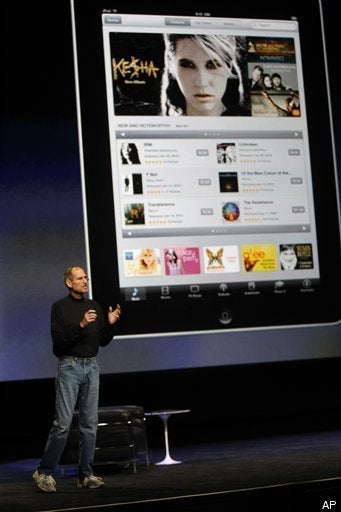 *See iPad pictures and video below*
Can the new Apple Tablet live up to the hype? We've got some early iPad reviews to help you decide.
UPDATED 1/28/2010 8:06 AM ET: CNET writes that the Apple iPad is 'just ahead of its time.'
No one should actually buy this iPad--between its inevitable first-generation bugs, fulfillment problems, and buyer's remorse over added features and price drops, it's heartbreak waiting to happen. Try to think of the iPad as, like, a proof of concept. A concept car, even. A work in progress, really.
Their suggestion is that rather than view the iPad as something between a laptop and a smartphone--something people have potentially little need for--Apple should position its new device as 'the actual replacement for paper.'
UPDATED 1/27/2010 5:25 PM ET: The biggest criticism of the iPad so far has been its name.
Features and capabilities aside, the web and Twitterverse are abuzz with snide, incredulous, and critical comments.
'iMaxipad,' 'iPeriod,' and 'iTampon' were trending topics on Twitter shortly after the iPad announcement (see screenshot below).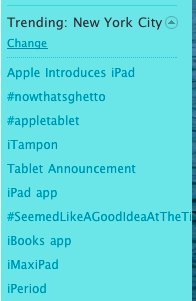 But it was the females in the crowd who read more into Apple's menstrual pun. They seemed to think Apple's name was indicative of a male-helmed team oblivious to the fact that they were pushing an insensitively-named product. "Surely no women were involved in naming it the iPad" was a widely-reTweeted sentiment. Another: "iPad: Proof not enough women work in the Apple Naming Department."
UPDATED 1/27/2010 5:08 PM ET: Engadget and TechCrunch have posted videos of the Apple iPad hands on. See them below.

Wired has a full rundown of the iPad's features.
The tablet is 0.5 inches thick and weighs 1.5 pounds.
It has a 9.7 inch display with 1024 x 768 pixel resolution. It also has capacitive multi-touch that's similar to the iPhone.
The iPad will have 16 GB to 64 GB flash storage.
It includes speaker, microphone, and accelerometer so you can use the device in both landscape and portrait mode. There's also a compass.
So far, Gizmodo has the most thorough hands-on look at the iPad.
Apple didn't really sell this point, but it's the single biggest benefit of the iPad: speed. It feels at least a generation faster than the iPhone 3GS. Lags and waits are gone, and the OS and apps respond just as quickly as you'd hope. Rotating between portrait and landscape modes, especially, is where this new horsepower manifests in the OS.
Gizmodo also names the iPad's 'fatal flaw:' its internet browser doesn't support Flash.
Many on Twitter greeted the iPad with a 'yawn,' comparing the new Tablet device to an oversized iPhone.
If you're wondering whether to give up your iPhone for an iPad, check out Engadget's handy tablet that compares the cost of 3G on an iPad vs. iPhone.
Check out photos and pictures of the iPad below.
WATCH:
WATCH:
WATCH:
Popular in the Community