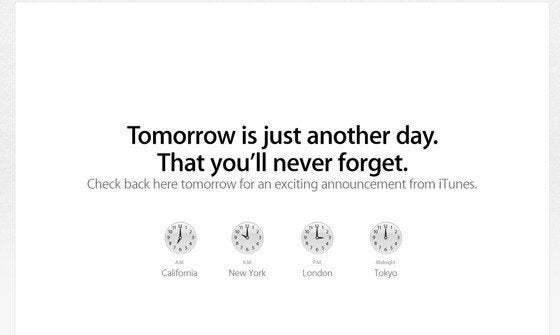 UPDATE: The Wall Street Journal reports that Apple's "exciting" iTunes announcement will be that iTunes is (finally) going to offer music from The Beatles.
The Journal writes, "The deal resulted from talks that were taking place as recently as last week among executives of Apple, representatives of the Beatles and their record label, EMI Group Ltd., according to these people, who also warned that there is still a chance that Apple could change plans at the last minute."
It's also, according to Apple, "a day you'll never forget."
Apple is promoting "an exciting announcement from iTunes" on its iTunes Store and website, Apple.com (See pictures below). According to the clocks shown with the text promoting Apple's forthcoming announcement, the news should drop at 7AM PT/10AM ET.
So what's the "exciting announcement" all about? Is it an iOS 4.2 update? A web-based version of iTunes involving Lala, which Apple acquired earlier this year? A music subscription service?
Apple recently announced that Ping, its iTunes-based social network for music, would be partnering with Twitter.
Tell us what you'd like to see--and what you think Apple will unveil--in the comments below.
LOOK:On Apple.com: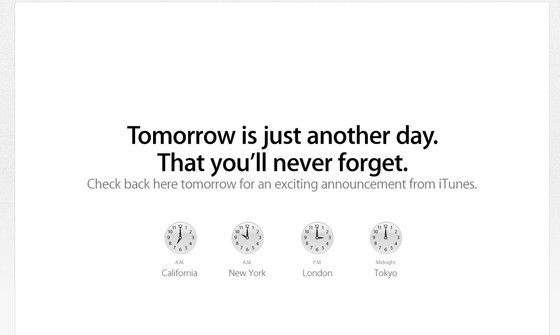 On iTunes: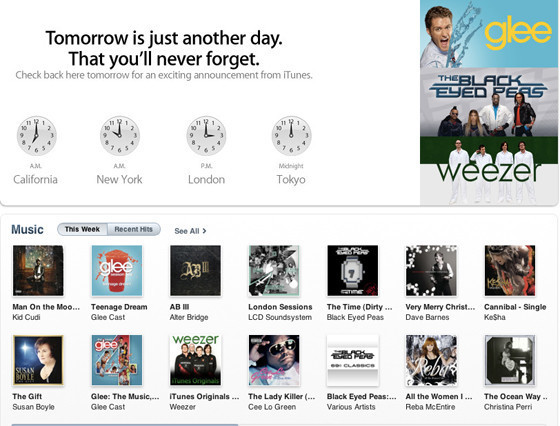 Related
Popular in the Community