 TAIPEI, March 28 (Reuters) - It promises to revolutionise television in the way the iPad did computing, and the chance to make Apple Inc's much-anticipated smart TV could explain Taiwan's Hon Hai Precision Industry's bold move to buy into 100-year-old Japanese firm Sharp.
Hon Hai took around a 10 percent stake in Sharp Corp, with the Taiwanese firm's billionaire founder Terry Gou putting his own money into a deal that marries Sharp's advanced TV technology with Hon Hai's expertise in making Apple products.
That could put the Taiwan firm in a strong position to push for orders to make the Apple TV, potentially taking the business from Korean rivals such as LG Display while furthering Hon Hai's aim to move beyond contract making and boost its brand profile.
"Hon Hai is already the assembler of Apple's iPhone and iPad, it needs the next driver, which is Apple TV," said Yuanta Securities analyst Vincent Chen. "It's something that Terry Gou cannot afford not to do. But this is a very big gamble."
It's a gamble because, Chen said, there is no guarantee that Sharp/Hon Hai would actually get the orders. For example, if Apple wanted to use the new AMOLED technology, an alternative to LCD displays, in the TV, Sharp would have to develop it because it does not yet have it.
Then there is the question of whether the device would be a big seller - not necessarily a given in the fast-moving technology industry just because other Apple products have been blockbuster successes.
The TV, said to be coming to stores later this year at the earliest, has, like most of the company's products, been the subject of much talk and rumour on Apple-related and other we b sites.
Likened to a giant iPad and christened by some the "iTV", the device could possibly have a 42-inch screen, and may have voice control via the Siri technology that runs on the latest iPhones. Reports have also said that Apple is seeking exclusive content for the device.
"We expect Apple to debut the iTV by the end of this year, and it is likely to adopt Sharp's 10th generation TFT production line to produce TFT LCDs for iTVs," Daiwa Capital Markets said in a research note seen by Reuters, referring to a technology that uses thin film transistors for improved LCD image quality.
"We believe Hon Hai will have better vertical integration in manufacturing for the Apple iTV following its stake acquisition of Sharp's (LCD) plant (in Japan)," the report said.
Hon Hai is the flagship listed unit of the Foxconn Group and the major manufacturer of Apple gadgets such as the iPad and iPhone.

While landing the Apple TV would be a coup for Hon Hai, it also stands to benefit in other ways from the deal with Sharp, through increased involvement with Apple on other products.
Sharp, unlike South Korea's Samsung Electronics, is not a competitor as well as a supplier to Apple. That could give the Sharp/Hon Hai team an edge, especially as Apple and Samsung are fighting patent lawsuits that could th r eaten their supplier relationship.
Hon Hai may also get orders from Sharp for contract making of the Japanese firm's TVs as well as more orders from Sharp customers, giving it a further benefit.
"Sharp is also one of the suppliers to Apple, the deal will help Hon Hai to tighten its relationship with Apple and give a boost to its capability," said Jamie Wang, Taipei-based analyst at technology research firm Gartner.
" Sharp will have the ability to compete for Apple orders; with Hon Hai's involvement it will be more competitive because they can offer better pricing," she said.
There are other risks too, however. For example Sharp rival Sony Corp is also a Hon Hai customer, and said on Wednesday it would not make any further investment in the Sharp LCD plant that Hon Hai acquired a stake in and in which Sony also has a stake.
Hon Hai would also become a competitor to fellow Foxconn Group company and LCD maker Chimei Innolux, increasing the group's output of panels while demand still remains subdued and prices fall.
Analysts at Macquarie noted in a research report seen by Reuters that as the top shareholder in Sharp, Hon Hai may face losses from its stake and may have to inject more money into Sharp.
The Japanese company has forecast a record 290 billion yen ($3.8 billion) net loss for the year to March..
Shares in Hon Hai rose as much as the maximum 6.9 percent allowed in a session in Taipei on Wednesday, before closing up 4.6 percent in a broader market up 0.11 percent. Sharp shares jumped 15 percent in Tokyo.

Related
Before You Go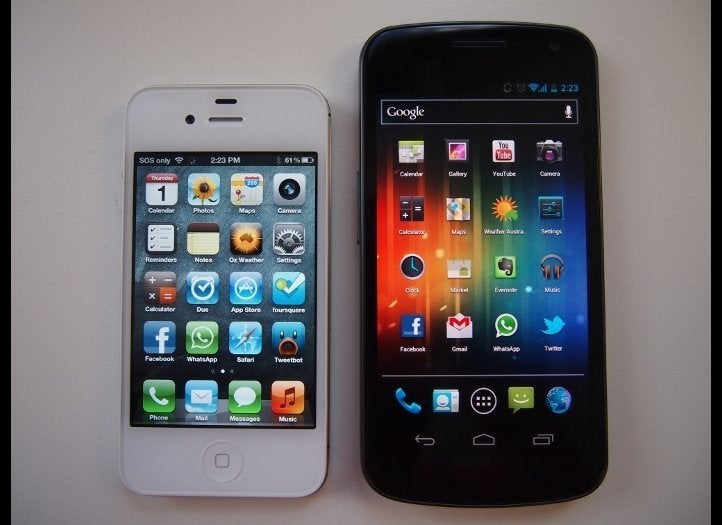 This Week In Apple Rumors: iPhone 5, Bigger Or Same Size?(CLONED)
Popular in the Community