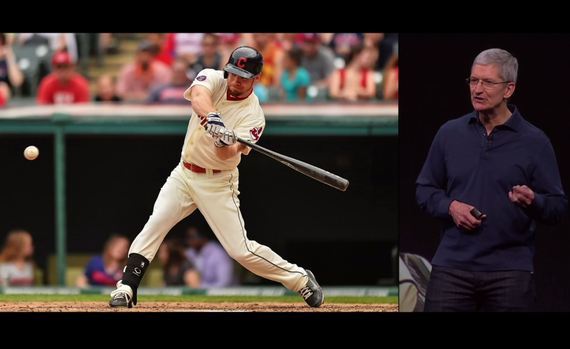 Last week, Indians slugger Brandon Moss hit his 100th career home run. Unfortunately for him, the ball landed in the Indians bullpen, prompting the team's relief pitchers to demand a "shopping list" of Apple products from Moss as a condition for turning over the souvenir.
Enter Apple's marketing wizards, who clearly recognize a golden opportunity when they see it. Less than 10 minutes into the company's June 8 Worldwide Developers Conference (WWDC) in San Francisco, CEO Tim Cook not only agreed to pay the pitcher's "ransom", he actually produced the home run ball, which Apple representatives had traveled to Cleveland to collect.
Flash forward to minute-17 of the conference speech and you'll see Cleveland make another appearance.
The Golden State Warriors may be Silicon Valley's home team, but when Apple VP Craig Federighi showed off the company's newest operating system, OSX El Capitan (while simultaneously busting colleague Eddy Cue for blowing off a team dinner to attend Game 2 of the NBA finals) he didn't use a picture of Steph Curry or Klay Thompson. He used a picture of the biggest name in the game, LeBron James.
Clearly Apple continues to lead the way when it comes to leveraging pop culture into creative and adaptive marketing campaigns. But the fact that Northeast Ohio played such a featured role in their WWDC strategy also says a lot about the growing reputation of our region.
In Silicon Valley, the world of sports, technology, venture capital and pop culture are all deeply intertwined. Apple did not set out to namecheck Cleveland; they simply looked for the biggest stories to pull into their event, and they found Cleveland front and center in the national conversation.
As an entrepreneur who helped create companies in partnership with Apple in the 80s and 90s, it was very inspiring to see my hometown touted by what has become one of the largest and most successful tech companies in the world. It also reinforces a story I wrote earlier this week that focuses on the fact that Silicon Valley and Cleveland have a lot more in common than basketball.
Clever marketing tactics aside, it's also important to note that Apple has been a true leader in promoting diversity and inclusion in the tech space, recently announcing that they will donate more than $50 million to increase the ranks of women and minorities in Silicon Valley and the tech industry as a whole. For organizations like JumpStart that work hard to build inclusive entrepreneurial ecosystems, this kind of commitment from such an industry heavyweight is truly inspiring.
Just think; if one ransomed baseball can bring this kind of attention to Northeast Ohio, what will happen if the Cavs bring home the NBA championship?
REAL LIFE. REAL NEWS. REAL VOICES.
Help us tell more of the stories that matter from voices that too often remain unheard.