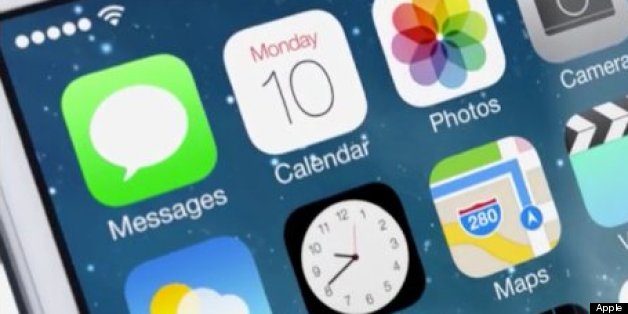 At Apple's annual developer conference in San Francisco on Monday, the company unveiled a revamped look for its iOS software, earning a standing ovation -- and one "I love you" -- from the several thousand developers in attendance.
The latest version of Apple's iOS software, which powers its iPhone, iPad and iPod Touch devices, marks a move away from Apple's trademark skeumorphic design, which relies on digital illustrations of real-world objects, and toward a "flat" design aesthetic that's recently become en vogue among tech companies.
"It's like getting an entirely new phone, but one you know how to use," said Apple's senior vice president of Software Engineering, Craig Federighi. Apple CEO Tim Cook dubbed it the "biggest change to iOS since the introduction of the iPhone."
Apple's iOS 7 boasts a brighter color scheme; simplified icons; a "cleaner" design for some of Apple's tools, such as iMessage and Calendar; and several new ways of controlling the device. For example, users can swipe from the left edge of the screen to navigate back to a previous page, rather than tapping a back button, or control basic phone settings from the phone's Control Center. The phone's screen will also tilt in the direction it's being held, allowing users a glimpse behind the icons.
What's most noticeable about iOS 7 is what isn't there: gone are the extra shadows and lines on apps like Weather, iTunes and Notes. The existing icon for the Camera app has been swapped for a simple illustration of a camera. The shadows on the text bubbles in iMessage have been traded for a flat blue-and-gray look, and the iPhone's phone buttons have gone from contrasting colors of gray to an almost entirely white screen.
"We completely ran out of green felt and wood, as well," joked Federighi as he demonstrated Apple's new Game Center, which previously looked inspired by the leather and green of a pool table. "This has got to be good for the environment."
In addition to highlighting a fresh suite of features, such as photo filters, that will set iOS 7 apart from its predecessor, Federighi highlighted how the "clean" update would allow applications to occupy greater real estate on the screen, and how applications such as iMessage, Mail and Contacts had traded their grayscale design for a whiter appearance, one that bears some resemblance to Google's own revamped suite of applications.
He also noted that iOS 7 would be translucent in places to give users "a sense of your context," so that they could see bits of their phone's background through the keyboard when composing emails or checking their notifications.
Apple's iOS 7 demonstration opened with a video -- one of several shown during the two-hour keynote -- that panned slowly over an Apple laptop while Apple design chief Jonathan Ive offered an overview of Apple's design aesthetic.
"We've always thought of design as being more than how something looks. It's the whole thing. The way something works on so many diferent levels," Ive said. "I think there is a profound and enduring beauty in simplicity."
Compare iOS 6 with iOS 7 below:
REAL LIFE. REAL NEWS. REAL VOICES.
Help us tell more of the stories that matter from voices that too often remain unheard.
BEFORE YOU GO
PHOTO GALLERY
iOS 7's New Look