Apple is launching a new generation of iPods.
It was 2012 when the tech giant last upgraded its iconic line of music players. On Wednesday, Apple announced it will release its "best iPod Touch yet," with new features and performance upgrades, including improved front and back cameras and access to the Apple Music streaming service. 
A new lineup of colors -- space gray, silver, gold, pink and blue -- will be available for all models in the iPod line, including the Nano and the Shuffle. 
The iPod Touch will start at $199 for the 16GB model, while the Nano (16GB) and Shuffle (2GB) will have a fixed price of $149 and $49, respectively.
But as the new line of iPods hits Apple Stores across the nation, let's take a moment to remember the original iPod, released almost 14 years ago.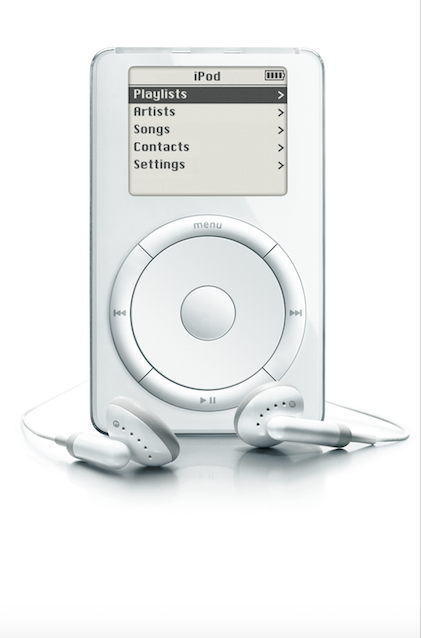 Apple introduced the now-defunct iPod Classic in October 2001. At the time, the device had only 5 GB of storage -- just enough to hold about 1,000 songs -- and featured a mechanical scroll wheel. It was priced at $400. 
Here is how late Apple co-founder Steve Jobs explained the new product at a Special Event on Oct. 23, 2001: 
What is iPod? iPod is an MP3 music player, has CD quality music, and it plays all of the popular open formats of digital music... But the biggest thing about iPod is it holds 1,000 songs. Now, this is a quantum leap because for most people, it's their entire music library. This is huge. How many times have you gone on the road with a CD player and said, "Oh, God--I didn't bring the CD I wanted to listen to." ... The coolest thing about iPod is that your entire music library fits in your pocket. OK? You can take your whole music library with you, right in your pocket. Never before possible. So that's iPod. 
 You can watch Jobs' full announcement in the video below:
In 2001 the iPod was, according to a NYTimes review, "the most beautiful and cleverly engineered MP3 player ever." With its quick display navigation, significant storage capacity and auto-sync with a computer, the iPod ushered in a new era.
Apple's first commercial for iPod in 2001. 
After the success of the first iPod, Apple continued to introduce updates to its portable music player, experimenting with new features, models and designs. The iPod line soon expanded to include the iPod Mini (2004-2005), the Nano (2005-present), Shuffle (2005-present) and Touch (2007-present). By September 2012, Apple had sold a total of 350 million iPods.
Today, these devices are far beyond the capacity of the original iPod: More than music players, they now boast high-quality cameras, messaging capabilities and built-in apps.  
None of that would've been possible without the original iPod. 
Calling all HuffPost superfans!
Sign up for membership to become a founding member and help shape HuffPost's next chapter