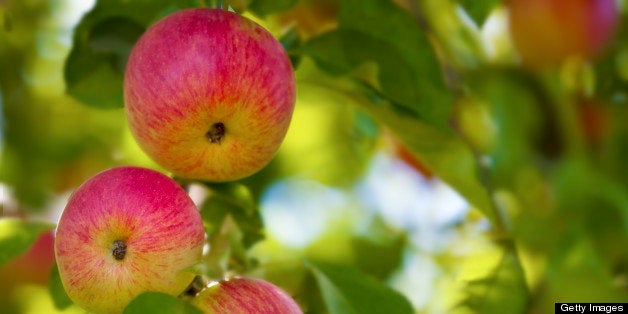 As a 20-year, recreational apple-picking veteran, and the founder of ApplePickingOrchards.com, my experience is that people seem to love apple picking, having been, or hate the idea of it, not having been. Most who have claimed that they hate it without having been, reason "it seems stupid."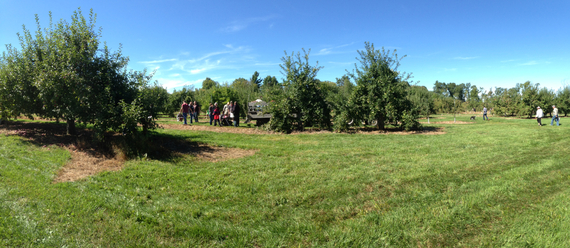 Apple picking as a day of fun is often so much more than just the harvesting of apples though, and has a lot more to do with what you make of the setting, and with whom you go. For me personally, apple picking evokes thoughts of scenic fields and vistas, maybe pumpkins, baby animal petting stations, artisanal homemade farm products, picnics with good food, tradition and all around good times with family and friends.
Almost all 50 states have pick your own ("PYO") apple picking orchards, even states like Texas and the deep south have apple farms. Naturally, depending on where you live, there are different varieties of apples grown, and that are ripe at different times of the season. This next few weeks of September and the beginning of October is the best time to go for most of the U.S. and Canada though.
When deciding on an orchard to visit, try to plan to go earlier in the day, and preferably on a dry day of course, unless you really like no crowds and enjoy a little rain. If you plan on bringing a pet, be sure to check the orchards policy, some allow them in the orchard on a leash. Look for what other interesting draws various orchards have, many also have PYO pumpkins, berries and other fruits, hay rides, a gift shop and animal petting barns. For years my family loved orchards in Vermont in particular, for the accompanying maple sugar candy and natural maple syrup often sold, before we eventually starting exploring the Massachusetts and New Hampshire orchards.
Picnic tables at an orchard are a lovely draw as well, as you can be sitting in the cool fall air, maybe munching on an apple cider donut, or sipping a glass of hot cider, savoring your own picnic foods. The scenery often can't be beat if you have timed the visit during the foliage weeks of later season apples like Macouns, McIntosh, Red Delcious, Jonathans and Granny Smith to name a few.
Lastly, I recommend going because people tend to be in a good mood apple picking, you see families and friends enjoying the outdoors, and you tend to see really cool stuff. Look at this neat vintage apple machine I saw last weekend at Cooks Farm Orchard as an example:
Apples are generally ripe when the stem of the apple is easily removed from the spur of the branch, this generally can be done with a gentle twist-and-pull motion. All "pick your own/PYO" orchards -- which should always be contacted ahead to before visiting -- can certainly give you information on which of their trees are ripe for picking. A tree with apples littered on the ground beneath it -- the "drops" -- is likely even a little past ripe for picking. Picking the apples slightly on the tart side allows them to store longer -- as does making sure that none in the bag have bruises.
Pick trees from the the bottom first typically, a lot of orchards can lend out a ladder if needed (although you seem to see this less now), and be mindful of not poking your eyes while up in the tree, a common injury. Place the ladder in a sturdy spot of course.
The old saying of "one rotten apple wrecks the bunch" is true. Be careful not to put any bruised apples in the bag, as they rot the fastest and take the others down with them. This is why as you pick the apples, its fairly important to place them in the bag gently, so that they don't bruise to begin with. Store in a cooler, dry spot, dry the apples off if it was raining, otherwise don't wash off the white 'blush' on the apple surface until ready to consume -- they will store longer.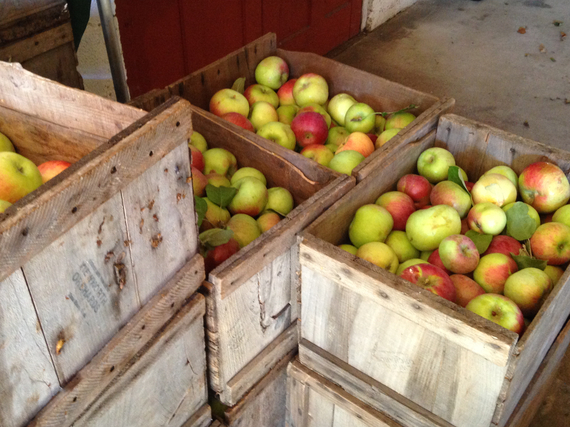 What to do with all those apples:

If you come home with two bushels of apples, and think, "now what?" know that there are a surprising amount of things that can be done with them other than just eating and baking with. The wood of an apple tree can be used as a great wood smoking chip for grilling poultry or fish. Apple essential oil is a fragrant addition to candles, soaps, lotions and more. Apples can be made into apple butter, jam, vinegar and many more foods other than pie. They can be dried out for a Halloween decoration, or of course dipped in caramel and put on a stick for a classic fall treat. At our website, we even have a tutorial on how to make decorative tea lights from apples.
The beauty of apple picking really lies in tradition. Tradition is not something that I can help you with, as you must make it for yourself. But it could encompass any and all aspects of the event: deciding where to go -- will you and your family go to the same spot each year for example? And also, things like what you will do while there. My father used to bring an outdoor stove, and cook dessert with the apples right off the tree, as we'd open some wine. We also take the same photo of ourselves walking in the orchard each year -- whichever we visit -- and we have done this now for a over 10 years.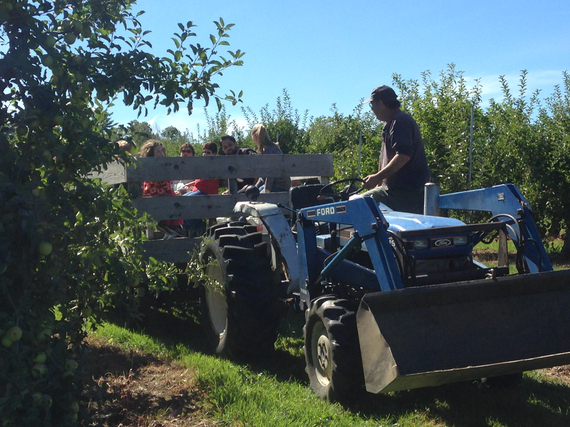 What you do with the apples afterwards -- and believe me just eating them is great -- is not nearly as important as the photos you take, the good food you eat at, and the time outdoors in beautiful scenery with loved ones. The tradition of apple picking is yours to create.
Do please feel free to get in touch with me for any suggestions on the pastime or to find an open picking orchard near you.
Related