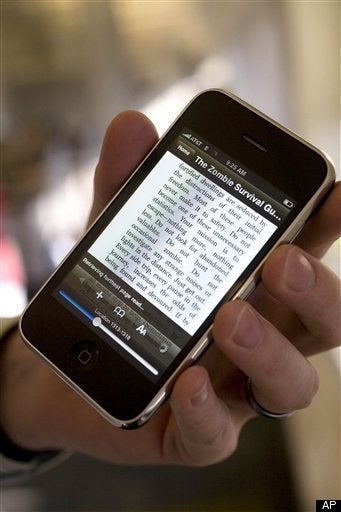 Everybody seems to be emailing you these days about the whole iPhone 4 antenna issue and giving you guys grief over it, but don't worry, I'm not writing you about that.
Back in December of 2008, I--or rather my Romanian developer, Alex Brie--submitted my self-published mystery novel, Knife Music, as a book app to your App Store. After waiting a week for it to be reviewed, I was stunned to learn my app was rejected for having "objectionable content" (your gatekeepers even sent a screen shot of the tawdry bit they didn't like).
I never thought my book was all that racy, although it does have some mature themes, such as teen suicide and male doctors' sometimes uneasy relationships with their female patients. But it wasn't any more risqué than many popular novels these days--or the lyrics to all those rap songs and R-rated movies you have in iTunes.
Anyway, after being disappointed for a couple of minutes, I realized, hey, wait, Apple just rejected my book! In my day job, I'm an executive editor at CNET, so I have decent instincts about what makes a good tech story, though it doesn't take a genius to figure out that anything Apple related--especially something with a negative slant--seems to light up the traffic numbers. All the major tech sites picked up on the story, including our own CNET News as well as your personal favorite, Gizmodo, and some more mainstream pubs.
Suddenly, a lot more folks were aware that my book existed. As I said, I self-published the thing, but not before having some frustratingly close calls with major publishers--or so my high-powered agent said. After so many passes, it was nice to get a rejection that turned out to be good!
The only problem was I didn't have an app and I really wanted one (it's not about writing the Great American Novel anymore, it's about writing the Great American App, right?). So, in an effort to adhere to Apple's standards, I stripped out every naughty word in my book. It wasn't that hard, because, as I said, I'm no Henry Miller. And lo and behold, once I did this, my app was approved.
Not surprisingly, I got a little grief for censoring myself, but I write for the Web, and I'm used to being flexible and updating my reviews and stories as companies upgrade their software and sometimes make critical fixes. When the app was accepted, it quickly shot to #7 in the free book apps list and stayed in the top 100 for four months until I took it down. I don't have to tell you how popular the iPhone is, but over 1,000 people a week were downloading the ebook and I was getting emails from readers in places as far away as Malta (yes, they speak English there).
All that awareness also helped sales of the paperback, which I published through Amazon (Booksurge) and on the Kindle, where I was selling it for $3.99 and it briefly hit #1 in the legal thriller category (this was before Grisham was published digitally, however).
Anyway, after a little over four and half months on the market, a local TV station in New York, NY1, did a story on the book, which led to some renewed interest from publishers and an eventual contract from The Overlook Press, which is publishing Knife Music this month in hardcover, with an ebook edition to follow from Penguin, which distributes Overlook titles.
Was it all due to my iPhone app? Probably not, but it was certainly a major help, and it may be the first iPhone app that's been turned into a hardcover book.
I'm also happy to report my developer recently submitted a new, uncensored Knife Music iPhone/iPad app--it's about 40 percent of the book, not the full book, but it is free--and it was approved, with a NC-17 rating (or whatever you guys call it). So there's definitely been some progress and glad you guys listened to all of the complaints from authors who felt their book apps were unfairly rejected.
Personally, now that iBooks has arrived, I think standalone, text-based book apps are a dying breed, but the future is bright for more graphically rich and interactive book apps. I only did the app again because you guys aren't allowing authors to submit free ebooks to the iBooks Store and neither is Amazon or Barnes & Noble without some special arrangement with the publisher. I also put the excerpt up on Scribd for a limited time, though the iPhone/iPad has two bonus chapters.
Anyway, thanks again. And thanks for having a good sense of humor about some of the Apple articles I've written over the years at CNET, including my latest series on the iPad and the one where I had you and Jeff Bezos going at it in a fictional conversation, discussing the arrival of the Kindle. You do have a sense of humor, don't you? If you don't, you know there's an app for that.
In finishing, I'd like to invite you to my reading on July 27 at Kepler's Books in Menlo Park (7 p.m.), just a couple of miles from where you live. I grew up in Palo Alto and much of Knife Music takes place in the area. Come by and support a great independent bookstore that was included in the Huffington Post's recent list of favorite independent bookstores.
David Carnoy

David Carnoy is an executive editor at CNET.com and the author of "Knife Music," a novel that has nothing to do with technology.

REAL LIFE. REAL NEWS. REAL VOICES.
Help us tell more of the stories that matter from voices that too often remain unheard.