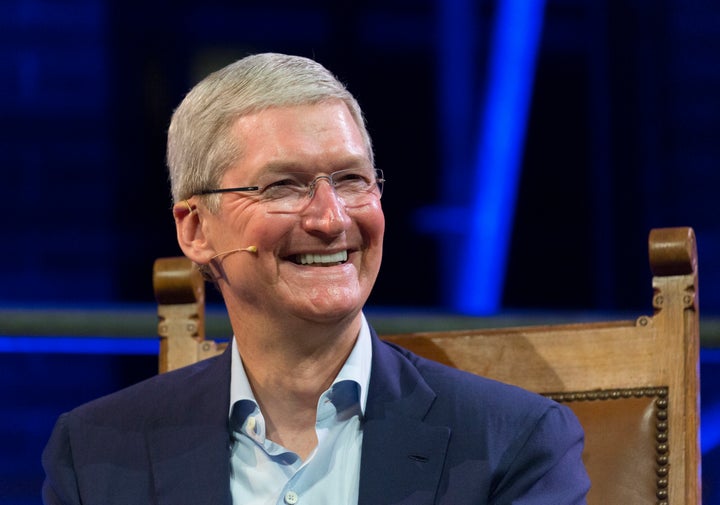 The decision by one of the United States' largest and most popular companies is the biggest corporate defection from the Republican convention, where the party will formally nominate Donald Trump. And it marks a significant win for progressive groups, which are pressuring major companies to boycott the convention over Trump.
Apple specifically pointed to Trump's comments about minority groups, immigrants and women in explaining its choice, two sources with knowledge of the decision told Politico.
"The Apple news raises the bar for other corporations," Rashad Robinson, a spokesman for ColorOfChange PAC, said in a statement. The PAC is leading efforts to pressure companies not to participate in this year's GOP gathering.
"Not only has Apple declined to support the Republican National Convention, but they've explicitly told Republican leaders that Trump's bigoted rhetoric is the reason that they're sitting out," Robinson said. "This is what real corporate responsibility looks like."
There is likely little love lost between the tech giant and the presumptive GOP nominee. Trump called for a boycott of Apple in February when the company refused to unlock the iPhone of one of the gunmen in the mass shooting in San Bernardino, California in December. (Nonetheless, Trump continued to use Apple products after his pronouncement.)
An Apple spokesman declined to comment. The Republican National Committee did not immediately respond to a request for comment.
Emily Lauer, a spokeswoman for the Cleveland 2016 host committee, a nonprofit helping finance this year's GOP convention, said the committee has already raised 90 percent of its budget. That means it raised funds at a faster rate than the previous two Republican conventions, according to Lauer.
"While the media's focus has been on those who aren't participating, what continues to be looked past is the fact that the Cleveland Host Committee continues to make forward progress in our fundraising efforts through the participation of more than 100 donors," Lauer said.
The nonprofit host committees have taken on an increasingly important role in financing the costly conventions. Unlike the party-run organizing committees, city host committees can receive direct cash donations from corporations, not just in-kind contributions.
Apple did not participate in the two major parties' national conventions in 2012, but several other companies that did are either declining to do so this year or have greatly reduced their contributions.
Wells Fargo, United Parcel Service, Motorola, JP Morgan Chase, Ford and Walgreens all contributed to the 2012 GOP convention in Tampa, Florida, and have announced they will not play a role in the convention in Cleveland this July, according to Bloomberg. The companies would not say what role Trump played in their decision.
Hewlett Packard Inc., once a major Republican funder, announced at the end of May that it would be sitting out the Cleveland convention.
Coca-Cola will be donating $75,000 to both parties' conventions, a drop from its $660,000 donation to the Republican convention in 2012.
Other titans of the technology industry, which has a socially liberal reputation, will also be providing major in-kind contributions to the GOP convention in spite of protests by civil rights groups. Google, Facebook, Twitter and Cisco Systems will all be sponsoring the convention in that fashion.
But activists aren't letting up.
"Any company that wants to be on right side of history should follow Apple's lead before it's too late," Robinson said.