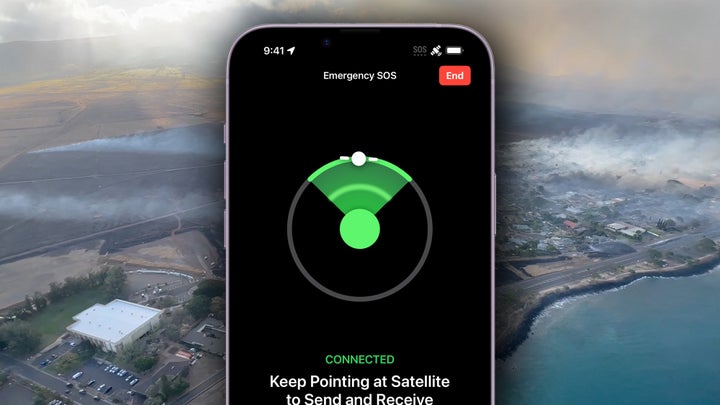 During natural disasters and emergencies, you can lose cellular and Wi-Fi coverage just when you need it most.
But as a popular story on Twitter (now X) recently suggests, it can sometimes be possible to send messages to emergency responders with the help of a satellite if you're an iPhone user ― even if you don't have a cellular connection.
Venture capitalist Michael J. Miraflor made a screenshot of an exchange between emergency responders and a family he knows that became stranded in the Maui wildfires. Miraflor said that "Apple Emergency SOS was the only way they could get in contact with first responders."
In the text exchange Miraflor shared, a person shares their location in real-time with an emergency dispatcher while communicating: "All buildings around us on fire ... visibility is zero." The emergency responder tells the person to "hang on" and put on the car's hazard lights. The text exchange ends with a confirmation to an emergency responder that the family is "rescued."
This is not the first time Apple's Emergency Text feature has reportedly been involved in a rescue. Since it became available to iPhone users in November 2022, people have been using it to text emergency services when phone calls are not possible.
In 2022, a man in Alaska activated it to get help when he was stranded on a snow machine without cellular service. This April, a group of stranded Utah hikers in a canyon used it to text emergency services when they could not call for help.
"The canyon was about 500 feet deep of sheer rock walls, but about every 20 minutes a satellite would line up where we were in the canyon and by holding the phone up we could get a signal where we could text 911 to Emery County, and that definitely saved our butts," one of the hikers described to Salt Lake City's KUTV news station about the rescue.
How Apple's Emergency Text via satellite feature works.
If your emergency call to 911 fails because there is no cellular or Wi-Fi connection, iPhones 14 and up that have iOS 16.1 will prompt you to tap the Emergency Text feature.
From there, the iPhone will ask you to answer a few questions to describe your emergency to rescuers. You will be asked to select among options, such as car issue, fire, crime, or lost or trapped, and to describe any injuries.
Then the iPhone will show you where in the sky to point your iPhone to connect to a satellite and send that initial message to emergency dispatchers who accept text messages or "to relay centers staffed by Apple‑trained specialists who can call for help on the user's behalf," according to Apple's website.
The dispatcher will receive your responses and location, including altitude, phone battery level and medical information if you have Medical ID enabled on your settings.
The transcript can also be shared with the iPhone user's emergency contacts to keep them informed about what's happening.
Here's how to turn it on for yourself:
1. Go to Settings
2. Tap Emergency SOS.
3. Choose which way you want to activate Emergency SOS. You can select either Call with Hold and Release, Call with 5 Button Presses or Call Quietly.
The Emergency SOS via satellite service is free for two years starting at the time of activation of a new iPhone 14 and up, and Apple has not shared how much the service will cost after that. This service is currently available in 14 countries, including Australia, Austria, Belgium, Canada, France, Germany, Ireland, Italy, Luxembourg, the Netherlands, New Zealand, Portugal, Britain and the United States.
For users with Android devices, the upcoming Snapdragon Satellite service is expected to help them send messages when no cellular signal is available.
Though you hope to never have to worry about using a feature like this, it's good to learn how to use it. It just might save your life.
Want to keep your battery charged on the go? Choose from these highly-rated portable phone chargers, including one solar-powered option.
HuffPost may receive a share from purchases made via links on this page. Every item is independently selected by the HuffPost Shopping team. Prices and availability are subject to change.
Support HuffPost
A No-B.S. Guide To Life
Popular in the Community