Apple's stock soared to a new record high on Tuesday, closing at $100.53.
That's the highest the stock has ever closed at, adjusting for a stock split that happened in June.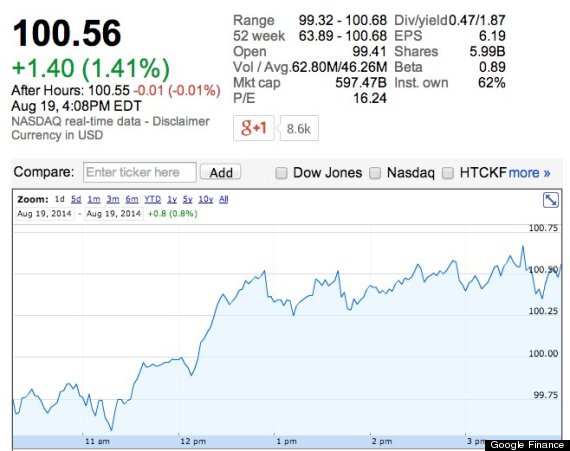 The stock price climbed even higher in after-hours trading.
The jump comes after Morgan Stanley analysts sent a note to investors on Tuesday saying Apple's stock was undervalued and setting a new target price of $110.
The tech giant completed a 7-for-1 stock split back in June -- effectively dividing each Apple share into seven. Before the split, Apple stock closed at an all-time high of $702.10 in September 2012. Adjusting for the stock split, that'd be worth about $100.30 today, according to the Wall Street Journal.
Investors are getting super excited about the expected launch of the iPhone 6 in September.
Legendary investor Carl Icahn, who bought shares of Apple last October and boosted his stake in the company in January, boasted about the move on Twitter on Tuesday afternoon:
Apple did not immediately respond to a request from The Huffington Post for comment.
Related
Popular in the Community