* Jobless claims drop to five-year low
* Apple shares drop a day after results
* Netflix jumps over 40 percent after reporting profit
* Dow up 0.3 pct, S&P inches up 0.01 of a point, Nasdaq off 0.7 pct
NEW YORK, Jan 24 (Reuters) - The smallest of gains gave the Standard & Poor's 500 its seventh straight winning day on Thursday, but the index failed to hold above the 1,500 line, restrained by Apple's worst day in more than four years.
Apple Inc slid 12.4 percent to $450.50 a day after it posted revenue that missed Wall Street's forecast as iPhone sales were poorer than expected.
The sharp drop wiped out nearly $60 billion in Apple's market capitalization to less than $423 billion, leaving the company vulnerable to losing its status as the most valuable U.S. company to second-place ExxonMobil, at $416.5 billion.
The S&P 500, however, managed to hit its longest winning streak since October 2006.
"The market has sent the message it is no longer driven by the whims of Apple," said Ken Polcari, director of the NYSE floor division at O'Neil Securities in New York.
The S&P 500 briefly traded above 1,500 for the first time since Dec. 12, 2007, but failed to hold above it, indicating that momentum is waning and a pullback is in the charts.
"If the market had a little bit more excitement to it, momentum players would have jumped after it broke through 1,500. Investors know the market is a little bit ahead of itself," Polcari said.
Economic data helped buoy equities as U.S. factory activity grew the most in nearly two years in January and new claims for jobless benefits dropped to a five-year low last week, giving surprisingly strong signals on the economy's pulse.
At the same time, Chinese manufacturing grew this month at the fastest pace in about two years, while data suggesting German growth picked up boosted hopes for a euro-zone recovery.
"PMI in Asia, Europe, and obviously, here in the United States, is moving in the right direction, and that's stuff people should be excited about," Polcari said.
The Dow Jones industrial average rose 46 points or 0.33 percent, to 13,825.33 at the close. The S&P 500 inched up just 0.01 of a point, or 0 percent, to finish at 1,494.82. The Nasdaq Composite dropped 23.29 points or 0.74 percent, to end at 3,130.38, with most of that loss on Apple's slide.
The broader Russell 2000 index also hit a milestone as it closed above 900 points for the first time.
Video streaming service Netflix Inc surprised Wall Street with a quarterly profit after it added nearly 4 million customers in the United States and abroad. Netflix shares surged 42.2 percent to $146.86, its biggest percentage jump ever.
Earnings have helped drive the stock market's recent rally. Thomson Reuters data through early Thursday showed that of the 133 S&P 500 companies that have reported earnings so far, 66.9 percent have exceeded expectations - above the 65 percent average over the past four quarters.
About 6.8 billion shares changed hands on the New York Stock Exchange, the Nasdaq and NYSE MKT, below the daily average during January 2012 of about 6.93 billion shares.
Roughly five issues rose for every four that fell on both the NYSE and Nasdaq.
Related
Before You Go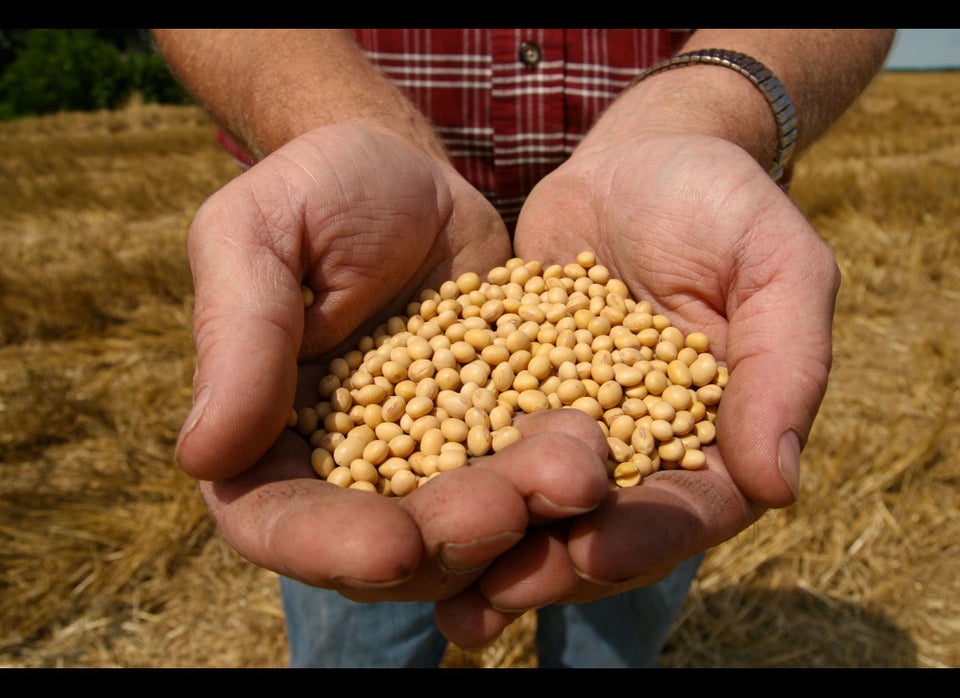 Companies That Will Save The U.S. Economy
Popular in the Community