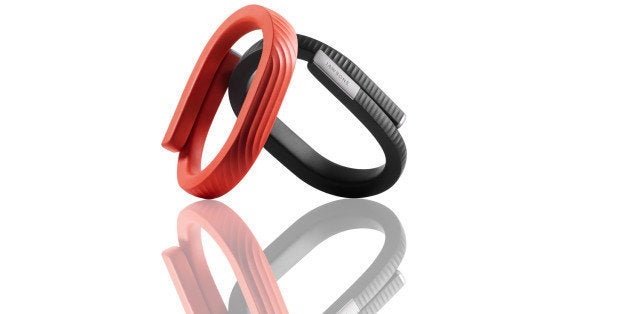 If you're looking for a Jawbone UP24 or Nike Fuelband, you're going to have to go somewhere other than the Apple Store.
The Apple Watch, which starts at $349 and goes up to a whopping $17,000 for the 18-karat gold version, has some of the fitness-tracking functions of other wrist-worn activity trackers. The device monitors heart rate and physical activity and alerts users when they've been sedentary, among other features.
Major Apple Stores in New York, Los Angeles, San Francisco and Palo Alto have stopped selling Nike's FuelBand and Jawbone's UP, and they're no longer available online, according to Re/Code's Dawn Chmielewski and Lauren Goode. Some products from Jawbone that don't directly compete with the Apple Watch, however, have not been removed: Jawbone's UP Move, a clip-on pedometer that was released last fall, is still being sold in the stores, Re/Code said, and both the UP Move and Jawbone's ERA Bluetooth headset were available in Apple's online store on Thursday afternoon.
The UP24, a wrist-worn tracker, is available for $129 on Jawbone's site, while the latest version of the Fuelband, the Fuelband SE, costs as little as $79 at certain vendors.
A small image of the Fuelband remains the icon for the "Fitness & Sport" section of Apple's website, even though there's no Fuelband to be found if you click on it.



It's unclear exactly when Apple stopped selling the activity trackers in its stores and on its website. Reached by The Huffington Post for comment, an Apple representative simply said, "We are constantly reviewing and making changes to our merchandising mix."
Last fall, after Apple first announced the Apple Watch, the company stopped selling products from Fitbit, the maker of popular fitness trackers.
Losing Apple as a retail partner for wrist-worn devices -- if that is indeed what's happening -- would be more of an issue for Jawbone than for Nike. Nike hasn't announced an update to its Fuelband bracelet in more than a year, and the team behind the product was largely dismantled last year.
CNET reported in April 2014 that Nike planned to exit the wearable hardware business. Nike's CEO said in a CNBC interview shortly after that the company planned to focus more on "the software side of the experience" than the hardware.
The Fuelband does not appear to be for sale on Nike's website, and isn't available in the Nike store in New York City's Flatiron District. However, versions of the Fuelband SE are still available online at stores like Dick's Sporting Goods, Finish Line and Best Buy.
Nike did not return a request for comment.
Apple's move might have a bigger impact on San Francisco-based Jawbone, which was supposed to come out with a new activity tracker, the UP3, before the start of 2015 -- though it still hasn't announced a date on which the device will go on sale.
The Jawbone spokesperson said the company would have an update on the UP3's availability soon, but declined to coment on the status of its retail partnership with Apple.
Daniel Matte, an analyst at the research firm Canalys, said that the loss of Apple as a retail partner "probably won't be a very big blow to Jawbone."
"They have really good international distribution," Matte said. "They've done well in markets like China, and they're not overly dependent on Apple Stores. It should be a relatively small footprint of their retail distribution."
Calling all HuffPost superfans!
Sign up for membership to become a founding member and help shape HuffPost's next chapter