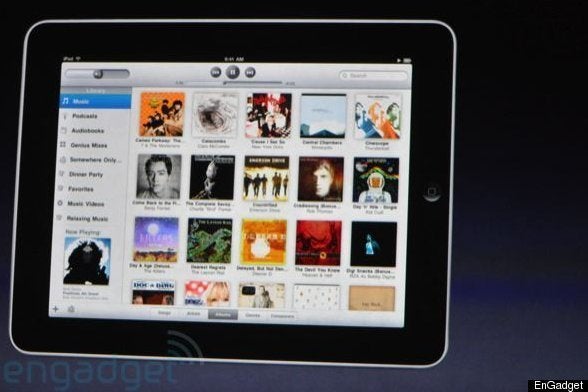 Follow the Apple announcement on our live blog or on Twitter. Send us tips and photos at technology@huffingtonpost.com.
UPDATED 2:32 PM ET: We'll be continuing our live coverage of the Apple Tablet announcement on HuffPostTech here.
Check out our slideshow of iPad pictures here.
UPDATED 1:46 PM ET: According to posts on Twitter, there will not be a camera on the iPad. Here are some features Gizmodo reports will be included with the iPad: It has 802.11n, Bluetooth 2.1 + EDR. 30-pin connector, speaker, microphone, accelerometer and compass."
UPDATED 1:35 PM ET: The 'iPad' name is already getting knocks. A CNBC commentator said, 'iPad reminds me of feminine products.' What do you think?
yuck. so it's officially called the ipad? doesn't that sound like a playtex product?
UPDATED 1:29 PM ET: A few specs on the iPad tablet: it weighs 1.5 pounds, is .5 inches thick, has a "gorgeous" 9.7 inch IPS display, which Jobs says is "super high quality." It is also Wi-Fi enabled and has 10 hours of battery life.
The music player is also very similar to the iPhone's, but also very similar to actual iTunes. It's a hybrid.
And here's the keyboard: "it's a dream to type on", and it looks like a giant iPhone keyboard. "It's almost life size."
UPDATED 1:19 PM ET: The Apple Tablet has been officially unveiled: it will be called the 'iPad.' See a photo of the iPad below, and get more pictures here.
UPDATED 1:09 PM ET: Engadget reports from Steve Jobs' keynote:
"SO all of us use laptops and smartphones... the question has arisen; is there room for something in the middle. We've wondered for years as well -- in order to create that category, they have to be far better at doing some key tasks... better than the laptop, better than the smartphone."
UPDATED 12:57 PM ET: Get live streaming video of the Apple announcement here.
UPDATED 1/27/2010 11:30AM ET:
Want to check out Apple Tablet reviews? Some early details about the product have been leaked. Get a first look at the Apple Tablet--and why it's been called "the best gadget ever."
UPDATED 1/27/2010 8:30 AM ET: The Apple Tablet announcement is expected to come today, January 27, 2010.
The rumored Apple Tablet announcement will take place in San Francisco at the Yerba Buena Center for the Arts Theater. It is set to begin at 10 AM PST.
UPDATED 1/27/2010 8:15 AM ET: Some new information has leaked in advance of the Apple announcement:
Engadget received some (unconfirmed) details on the Apple Tablet, including its price:
On a totally separate note, we also received a tip claiming to have some specs -- we can't verify any of this either, but we're told that the device will have a 10-inch screen and look like a larger iPhone with a MacBook-like aluminum back, and that pricing will run $800 on contract with Verizon and $1000 without when it arrives in March.
* * * * *
JANUARY 26 2010
We'll be posting live updates on the Apple announcement January 27, at which apple is expected to unveil the 'Apple Tablet.'
The invitation to the event Apple sent to the media did not specify what would be announced. It merely asked reporters to see what it called, "our latest creation."
Check out our comprehensive Apple Tablet coverage in the links below! See renderings of the Apple Tablet -- as well as possible leaked photos -- in the slideshow below.
Popular in the Community