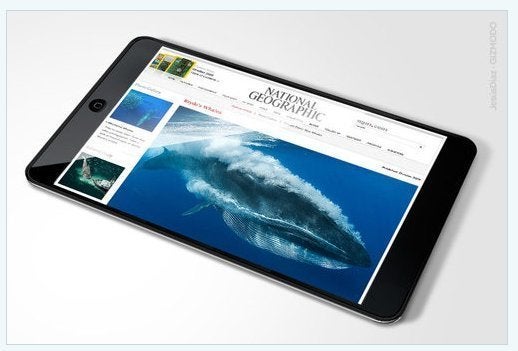 UPDATE: 01/16/2010 11:34 AM ET
The Apple Tablet release is expected to come tomorrow, January 27, 2010.
We'll be posting live updates on the Apple Tablet announcement (if that's indeed the "latest creation" Apple will be unveiling, as rumors suggest).
In the mean time, here are some details on the Apple event, as well as artists' renderings of the device (See photos below).
The rumored Apple Tablet announcement will take place in San Francisco at the Yerba Buena Center for the Arts Theater. It is set to begin at 10 AM PST. Engadget will be one of the sites covering the event live.
The invitation to the event Apple sent to the media did not specify what would be announced. It merely asked reporters to see what it called, "our latest creation."
See artists' renderings of the rumored tablet below
Apple is rumored to launch its highly-anticipated touchscreen Tablet by early 2010 and new information suggests the gadget could revolutionize print publishing by bringing book, newspaper, and magazine content onto the high-tech reader.
If Apple succeeds, the Tablet could essentially function as an iPod for text: a "print player" that displays textbooks, magazines, newspapers, and more (and which would pose a significant competitive threat to Amazon).
Apple has been negotiating with major print media companies to acquire content for the new device, Gizmodo reports, including the New York Times, McGraw Hill, and Oberlin Press. In addition, Apple seems to be working to beef up print content on its iTunes store.
Two people related to the NYTimes have separately told me that in June, paper was approached by Apple to talk about putting the paper on a "new device." The R&D labs have long worked on versions of the paper meant to be navigated without a keyboard or mouse, showing up on Windows tablets and on multiple formats using Adobe Air.
A person close to a VP in textbook publishing mentioned to me in July that McGraw Hill and Oberlin Press are working with Apple to move textbooks to iTunes.
The Tablet, which has been Steve Jobs' pet project at Apple, should be announced around January 2010, according to iLounge. iLounge also notes that the Tablet is likely to have a 10.7 inch screen (measured diagonally), run the iPhone OS, and look like an iPhone 3G.
See pictures of the tablet:
Related
Popular in the Community