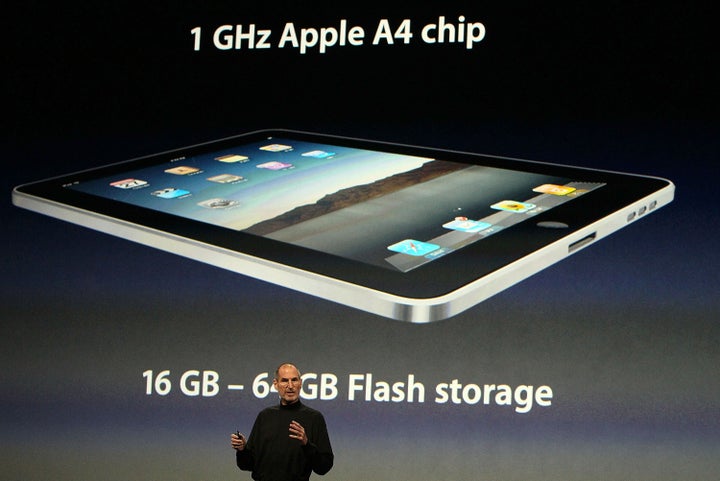 *See iPad pictures below*
UPDATE 1/27/2010 3:37 PM ET: Looking for early iPad Apple Tablet reviews? We've got you covered.
Boing Boing's Xeni Jardin tweeted out some pros and cons of the new device:
Responsiveness on iPad is springy, bouncy, delicious. Another neg: video aspect ratio issue. I need more time with it to really grok vid.
Handson positives: pleasing form, like an iPhone crepe. Thin, wide, gave me happy-palms. KB not bad. No cam, no biggie. Neg: lack of USB.
Gizmodo also has an extensive description of the iPad Tablet "hands on":
Apple didn't really sell this point, but it's the single biggest benefit of the iPad: speed. It feels at least a generation faster than the iPhone 3GS. Lags and waits are gone, and the OS and apps respond just as quickly as you'd hope. Rotating between portrait and landscape modes, especially, is where this new horsepower manifests in the OS.
HuffPost Tech blogger Tanja Aitamurto got to try out the iPad at the Apple event. She writes,
Wow! Got my hands on the iPad. feels light, sleek, almost like a friend already. It's very intuitive to use, similar to iPhone. Good for reading. IBooks store is like iTunes, funky and easy to use
UPDATE 1/27/2010 3:27 PM ET: Apple has officially unveiled its iPad Tablet, and the device's features indicate that the Tablet-related Tweets from Jason Calacanis (see below) were false.
The true specs of the device, as revealed by Apple at its recent announcement, have next to nothing in common with the features Calacanis claims to have experienced as a beta tester for the iPad. For example, contrary to Calacanis' tweets, the iPad tablet does not include a camera.
MacRumors' Arnold Kim called Calacanis' bluff in a tweet:
Calacanis was obviously lying. apple doesn't give out beta devices.
Get the real scoop on the iPad, including pricing, pictures, and apps information.
UPDATE 1/27/2010 11:13 AM: Jason Calacanis, CEO of Mahalo and allegedly an Apple Tablet beta tester, has posted what he claims are new details on the Apple Tablet.
In a series of Twitter posts, he described features of the Apple device, and praised the tablet as the "best gadget ever made and NOT overhyped." He said the Apple Tablet is "amazing," adding "steve jobs outdid himself, its greatest device ever!!!" [sic]

Here are some additional features Calacanis (@jason) highlighted in his tweets:
It looks like something between a giant iPod and a MacBook Air. It has a protective glossy coating.
facial recognition apple tablet is nuts. When you hold it up it recognizes you + pulls your desktop/apps, hand to family member it switchs
Yes, there are 2cameras: one in front and one in back (or it may be one with some double lens) so you record yourself and in front of u.
In an interview with CNBC, McGraw-Hill CEO confirmed the Apple Tablet, calling it "really terrific" and noting that it will be running on an iPhone OS.
MacRumors transcribed the relevant, Apple Tablet-related portion of the interview:
When asked about rumors that their textbooks will be on the Apple tablet, Terry MrGraw responds (2m 50s):

"Yeah, Very exciting. Yes, they'll make their announcement tomorrow on this one. We have worked with Apple for quite a while. And the Tablet is going to be based on the iPhone operating system and so it will be transferable. So what you are going to be able to do now is we have a consortium of e-books. And we have 95% of all our materials that are in e-book format. So now with the tablet you're going to open up the higher education market, the professional market. The tablet is going to be just really terrific."
See the interview below. The Apple Tablet talk comes up around the 2:50 mark.
WATCH:
REAL LIFE. REAL NEWS. REAL VOICES.
Help us tell more of the stories that matter from voices that too often remain unheard.