Apple, one of the most recognizable names in Silicon Valley, has a curious relationship with Twitter.
Head over to the account @Apple on the social media site, and you'll be greeted by this page: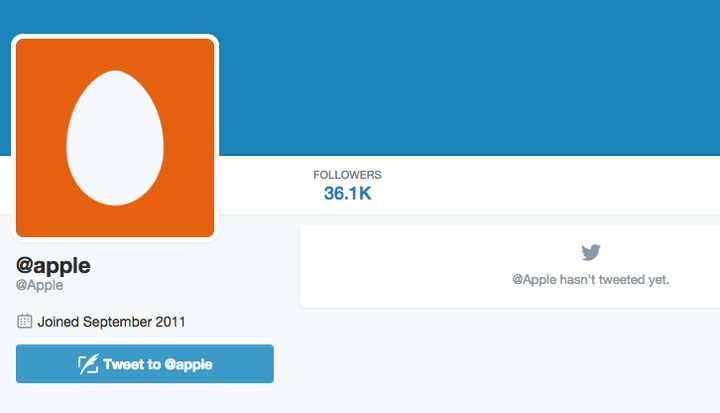 The account, created in September 2011, has amassed over 36,000 followers -- but it's never been updated. There are no tweets, and the profile picture remains Twitter's default white egg avatar. Not exactly what you'd expect from the world's most profitable company.
To be completely honest, we can't confirm that the account @Apple indeed belongs to the Cupertino-based powerhouse. Apple did not respond to a request for comment, so, for all we know, the account may have been created by an early Twitter user who decided to abandon the social network without ever posting.
However, a more probable explanation is that Apple's digital silence on Twitter is absolutely intentional. In other words, Apple made a conscious decision not to have an active brand account under the handle @Apple.
After all, the tech giant maintains a handful of verified Twitter accounts for various divisions within the company, including @AppleMusic, @iTunesTrailers and @iBooks. The company's CEO, Tim Cook, regularly uses Twitter to communicate with his 1.71 million followers.
"Tim Cook is on Twitter, and that is good enough for now," Belus Capital analyst Brian Sozzi told CNBC last year. "Apple has nothing to gain by creating an account."
"Apple isn't going to be like Starbucks and run promoted tweets offering dollars off a product for a limited time," Sozzi said. "Apple is a premium experience all around, you go to Apple, they do not go to you."
The same social media strategy can also be found in other parts of Apple's digital presence. Apple lacks an official page on Facebook, though it has pages for individual services like Apple Music and the AppStore. Similarly, the company's official YouTube account doesn't allow visitors to post comments.
We also reached out to @Apple directly, but the inquiry went unanswered. So it seems that the account owner -- whether it's the real Apple or not -- doesn't mind keeping up the mystery.
Popular in the Community