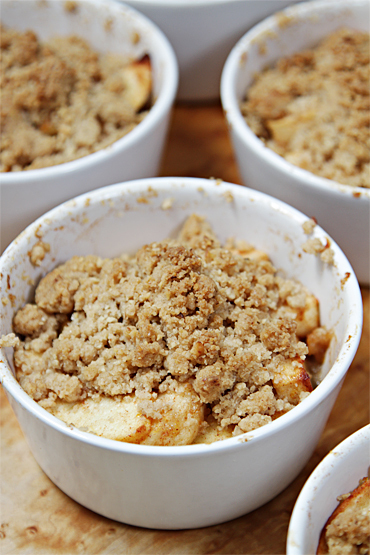 There are few things as comforting as the smell of baking apples... except perhaps digging your spoon into a warm apple dessert.
Here's a crisp that will fill your kitchen with those irresistible baked-apple aromas for sure. But once you've taken the first bite, your taste buds will be smitten not just by the delicious warm-apple flavors, but by the zestful orange and the zingy tequila too.
An apple dessert that satisfies both the child in you and your adult self.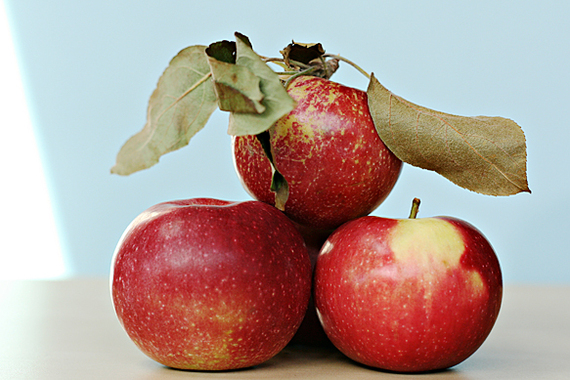 Apple-Walnut Crisps with Tequila
Serves 6
Active time: 30 min
For the apples
8 medium Gala, Fuji, Braeburn or other firm-fleshed apples - peeled, cored and cut in 1/2" slices
2 tablespoons lemon juice
1/4 teaspoon ground cinnamon
zest of 1 orange - finely grated with a microplane grater (1 1/2 teaspoons)
1/4 cup turbinado sugar
For the topping
1 cup unbleached all purpose flour
1/2 cup turbinado sugar
1/2 teaspoon ground cinnamon
pinch sea salt
4 oz (115 g) (8 tablespoons) unsalted butter - cold, cut in 1" chunks
1/2 cup walnut pieces
vanilla ice cream
6 tablespoons Reposado or Añejo Tequila
6 one-cup capacity ramequins - lightly buttered
Preheat the oven to 350°F (180°C).
Step 1: Place the apple slices in a large bowl and sprinkle with the lemon juice, cinnamon, orange zest and sugar. Toss well and set aside.
Step 2: In the bowl of a food processor, combine the flour, sugar, cinnamon and salt. Process at high speed for 15 seconds until well blended. Add the chunks of butter and process until crumbly. Add the walnuts and pulse a few more times until large, moist crumbs form. Do not over-process or the crumbs will form a dough.
Step 3: Place the apple slices into the prepared molds. Sprinkle with the crisp topping. Bake for 50 to 55 minutes, until topping is golden-brown and apples are bubbly. Remove from the oven and let cool until warm.
Step 4: Place each ramequin on a dessert plate. Top with a small scoop of vanilla ice cream. Drizzle with 1 tablespoon tequila and serve immediately.
Cook's note: The crisps can be baked up to 12 hours ahead. To re-heat, preheat oven to 350°F (180°C) and bake for 6 to 8 minutes until warm, and serve as above. The crisps are best consumed the day they're made. To make a large crisp, bake in a medium baking dish instead of individual ramequins. Follow the same directions. (Might require an extra 5 minutes of baking time.)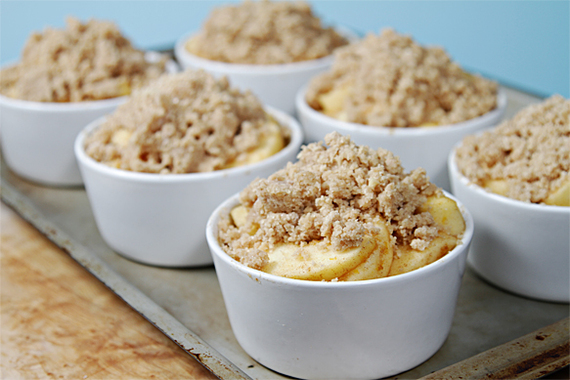 How about poaching firm-flesh apples in maple syrup and Calvados? The resulting concoction makes the most sinfully delicious topping for these ricotta pancakes.