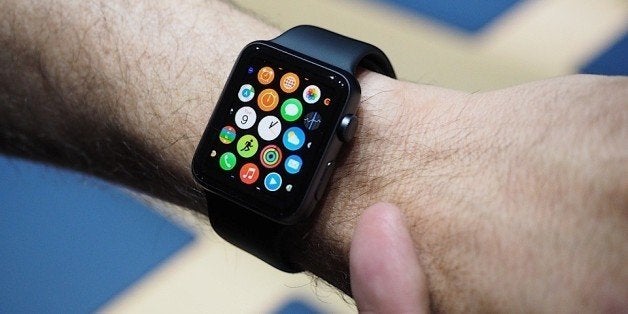 The Apple Watch is barely two months old, but there are already rumors about a follow-up device.
Mark Gurman at 9to5Mac reported Thursday that Apple will release an "Apple Watch 2" next year. Hopefully no one expected their $17,000 "Apple Watch Edition" to last forever.
The next version of the Apple Watch will supposedly include a video camera, which would allow people to make Facetime calls from their wrist. Try holding your arm up to your face for more than 30 seconds to see if you'd be into that.
Perhaps a bigger deal is the rumored addition of a "new wireless system," which would help the Apple Watch function independently of the iPhone. That seems like a logical next step for the pricey wearable, which requires a paired iPhone to do pretty much anything. Getting a text message on your Watch isn't so impressive if it's inches away from the phone you have in your pocket -- but getting one if you've left your phone in an entirely different area code is a different story.
That said, Apple's already taken a step in this direction. It announced last week that developers will be able to make standalone apps for the existing Apple Watch, meaning they won't need to run through a connected iPhone.
Apple is also said to be considering new premium models for the Apple Watch that fall somewhere between the kind-of-expensive steel Apple Watch and the absurdly pricey Apple Watch Edition. And according to 9to5Mac, they probably won't have better battery life.
None of this should come as much of a shock to anyone who's already purchased the first iteration of the Apple Watch -- or is considering one. Apple updates its iPhones every year, and there's no reason to suspect this won't be the case with the Apple Watch. Even if you paid $17,000 for it.