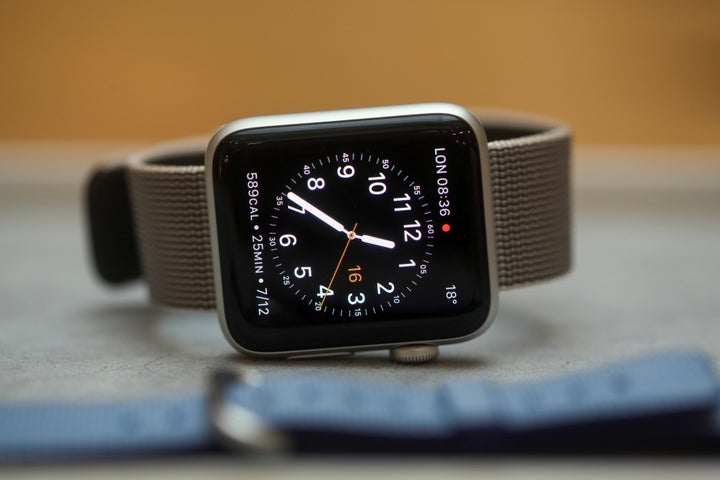 Hate it all you want, but Apple Watch users really do love the new wearable.
Ninety-seven percent of Apple Watch owners are "satisfied" with the device, according to a survey released Sunday by analyst Ben Bajarin and wearable tech research company Wristly. The survey polled 800 Apple Watch users in total.
For comparison, the original iPhone received a 92 percent satisfaction rating in 2007 and the iPad got 91 percent in 2010, according to previous surveys by ChangeWave Research.
Most panelists liked the look of the Apple Watch more than its functionality. Eighty percent of the surveyed users said they were "very satisfied" or "delighted" with the Watch's design, and 74 percent said the same about its build. However, less than half of the panelists were similarly delighted by how easy to use or functional the device is. Only 28 percent of panelists said they were extremely happy with the Watch's speed and battery performance, though 48 percent said they were "somewhat satisfied."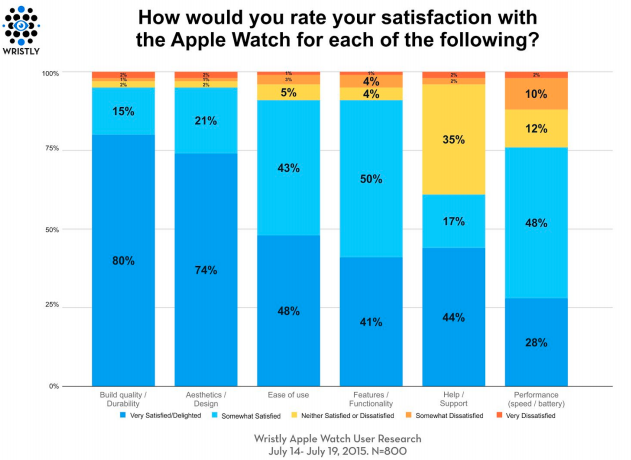 The media's initial coverage of the Apple Watch labeled it "disorienting" and "annoying," among other complaints. People were also vocal about problems with the device, ranging from confusion over how to buy it to frustration setting it up.  
Still, when the device launched in April, almost 1 million people pre-ordered it during its first weekend of availability. It took the iPhone and iPad much longer to rack up 1 million in sales. 
Although Watch owners surveyed by Bajarin were generally satisfied with the device, many said they weren't sure they would recommend it to their friends just yet. Bajarin noted in the blog Tech.pinions that many gave answers like, "I like the Watch, but I'm not sure my friends will yet as it isn't ready for the mainstream."
Bajarin also noticed that -- perhaps unsurprisingly -- tech enthusiasts and analysts tended to be more critical of the watch, while users not as affiliated with tech were much more enthusiastic about the product. "It was almost as if the farther away people were from tech or the tech industry, the more they liked the Apple Watch," Bajarin wrote.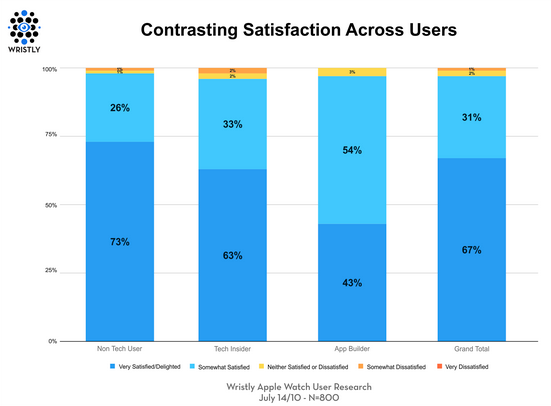 Many tech critics and consumers remain skeptical over the "need" for an Apple Watch in the first place. And many developers aren't sure how they can fit their programs onto the Watch's tiny screen, which may explain why apps like Facebook and Snapchat still don't exist on the wearable's app store.
All of this being said, rumor has it that Apple's already working on the next Watch release, which could bring new features such as iPhone-free WiFi functions and a front-facing FaceTime camera.  
Calling all HuffPost superfans!
Sign up for membership to become a founding member and help shape HuffPost's next chapter